Argentina's rustiness can be excused after overcoming Bosnia-Herzegovina in their 2014 World Cup debut. However, the Albiceleste cannot afford another game with such tactical doubt and uncertainty in the second match of Group F.
Against Iran, Alejandro Sabella's men must be all business against a clearly inferior side.
Coach Sabella, for his part, gave his side a six out of 10 rating for their 2-1 against Bosnia, which seemed fair. Argentina took the lead in the first half through a fortunate own goal but were hamstrung in their efforts to go forward.
A determined Bosnia defence and midfield undoubtedly contributed to the Albiceleste malaise. Playing in their first-ever World Cup match, the Balkan nation fought ferociously for every ball and would not be intimidated by the superstars opposite.
However, Sabella deserves the lion's share of the blame for his inexplicable tactical blunder:
Sabella wasted 45 full minutes with his weird formations and tactics. Imagine if we started with 4-3-3? Man.

— Mimi. (@BaddieMimz) June 15, 2014
Having found his best system, an attacking 4-3-3 that utilises the outrageous talents of Gonzalo Higuain, Sergio Aguero, Angel di Maria and Lionel Messi, the coach surprised everyone—including, it seemed, some of his own players—by coming out with five at the back against Bosnia.
As a result, Higuain was left kicking his heels on the bench, and what followed was possibly the worst 45 minutes of any Argentina team since Sabella took over.
Can everything be blamed on tactics?
Even while packing the defence in the first half before reverting to their favoured formation at the break, Argentina were left stretched on more than one occasion by the underdogs. Bosnia took 16 shots in the World Cup curtain-raiser, while a side containing some of the best strikers in the world managed just 12.
Messi redeemed himself with a wonderful goal in the Maracana, his first at the World Cup level since his first-ever game in the competition back in 2006. However, despite that cheer, the captain knows it is up to him to drag his team forward and banish memories of that uneven debut.
Too often against Bosnia, Messi was dragged further and further back in search of the ball. He must fight those instincts and stay around the penalty area in which he can do so much damage.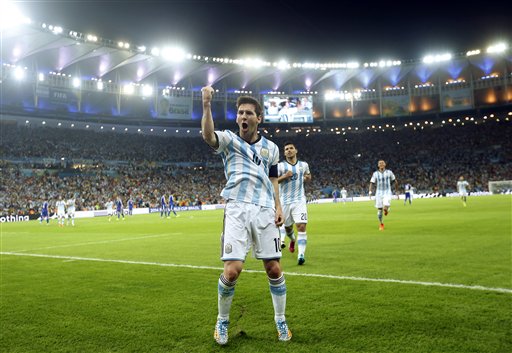 Victor R. Caivano/Associated Press
The message holds for all of the Albiceleste star quartet, none of whom shined particularly against Bosnia.
Perhaps it says everything about the type of game played in Rio that a battler like Javier Mascherano was the best player on the pitch in blue and white stripes, as he constantly strove to pull the team out of its funk.
From the evidence of the first round of matches, Iran should not pose the same obstacle to Argentina's World Cup chances. With that being said, regardless of the result, Messi and his team-mates have no excuse for taking the game lightly.
A win is obviously vital. Even more important is to win well, to hit top gear and show fans in Brazil what the team is capable of.
Sabella's squad have the opportunity to send a message to Germany, Netherlands, France and the rest of the early World Cup pacesetters. To do so, though, they must show something else entirely than what was on show in their disappointing debut.