Top 10 Starting Pitchers So Far in 2009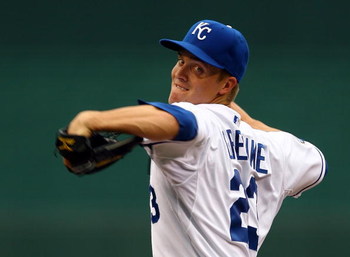 Taking a look at this baseball season, many fascinating stories have developed. Zack Greinke has showcased his stuff early, and Josh Johnson has turned from a dynamic prospect into the real deal.
Who has been the best so far though? You have the big names at the top of starting rotations like Johan Santana and Roy Halladay. Then you have the surprising names like Edwin Jackson and Tim Wakefield.
Teams are banking on these proven veterans and young guns to hold their own in the second half of the season. I am going to take a look at who have been the top ten so far and tell you why I believe they will continue with their spectacular seasons or if they will fizzle out.
10. Yovani Gallardo
One of the top young talents in the game has been showcasing his stuff so far this season. Yovani Gallardo is 8-5 with a 2.75 ERA, starting my list off at number 10.
Gallardo has struck out 115 batters in his 15 starts thus far this season. It is very tough to get an accurate read on this particular starter. In his past three starts he has lost by one run.
The Brewers need to get some offensive help when this young star takes the mound. I do believe Gallardo will be able to continue pitching this way and will also get better run support. How can he not with people like Prince Fielder and Ryan Braun in the middle of the lineup?
Look for Gallardo to finish with 13 to 15 wins and around a 3.00 ERA at the end of the season. He will be a huge factor in future starting rotations for many years to come.
9. Kevin Millwood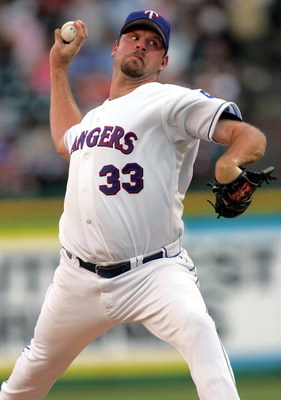 Kevin Millwood, for many years, brought up the back end of a tremendous pitching rotation in Atlanta in the late '90s. Pitching behind Greg Maddux and Tom Glavine does not put much pressure on you as a young kid just coming up to the majors.
Now at the age of 34, Millwood is the ace on the Texas Rangers pitching staff, and all he has been able to do this season is post the 5th best ERA in the A.L., which currently stands at 2.64.
He is on pace to pitch over 200 innings, something he has not done in the two previous seasons. He has only allowed 33 earned runs. He finished last season with 95 in only 168 innings pitched. He will most likely eclipse that innings pitched mark, and if he stays on pace will give up less runs then he did last year as well.
I do not see the Rangers being able to hold on in the West though. The Angels will most likely find a deal to move a top player to their roster and will finish up on top.
However, I do see Millwood keeping up his pace and maintaining that low ERA of his. He has been stellar and teams have been having a rough time trying to figure him out. Millwood's control, like with Maddux, has been the key reason for his success as he continues to get older.
8. Josh Beckett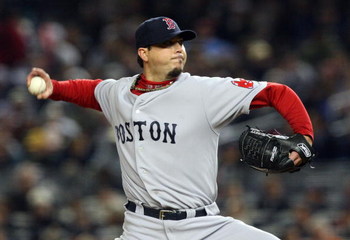 Josh Beckett is one of my favorite pitchers in the Bigs. He has decent control, but like Randy Johnson (in the early days) comes his amazing fastball, a pitch that he has blown hitters away with for most of his career.
Beckett has recorded nine wins and a 3.67 ERA. He has struck out 99 batters through the middle of the season. In the month of June, Beckett was 4-1 with an ERA of 1.51. Looks like he is starting to turn it on in Fenway.
When it comes down to it, Beckett does what every fan that is a part of Red Sox Nation loves and that is beat the Yankees! He has beat them twice this year in three starts, and pulled a no-decision in a game the Sox eventually won.
Slow starts are nothing new with Beckett. Last season in the first two months he went 5-4, before picking it up in June again. I can see Beckett winning close to 18 games this season, and he may not lose another start against the Yanks which we all know is much more important!
7. Matt Cain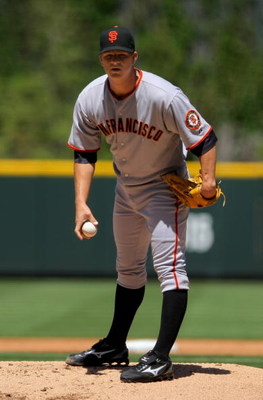 Matt Cain is a pitcher I have not heard much talk about. In Tim Lincecum's shadow, Cain has gone 9-2 with a dominating ERA of 2.57. With this one-two punch it could be the reason why the Giants and Dodgers are competing head-to-head.
Cain is 24 years old and has finally begun to start to turn into the pitcher many scouts have been waiting for him to be. He has pitched over 200 innings in his previous two seasons. He has also recorded three complete games already this season.
I do not see fatigue being a factor for this young stud, and he will most likely continue to pitch this way all year. Look for Cain and Lincecum to be challenging the Dodgers all season long.
6. Felix Hernandez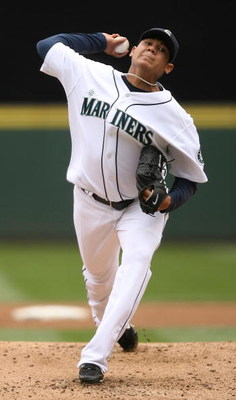 Felix Hernandez has been nothing short of spectacular. He has been consistently getting better, and the best thing about it is that he is only 23 years old.
He is 8-3 with a 2.54 ERA. I chose King Felix ahead of Cain because of the lower ERA but both of them are identical. Hernandez has 107 strikeouts in 16 starts. He could hit over 200 strikeouts this season, a number that would have us mentioning his name with the greats.
It is going to be difficult for Felix to win the Cy Young because the Mariners play in a weak division. If the Mariners are able to win the division, though, look for Hernandez's name to be in the mix for the A.L. Cy Young.
5. Dan Haren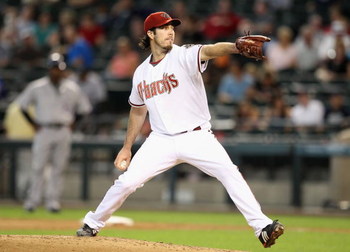 Dan Haren may be the best pitcher in baseball if he was able to get any defense and offense behind him. He has a record of 7-5, but remember this list is for the best pitchers, not the best teams. He leads the N.L. in ERA at 2.19 which is extraordinary.
Haren, in all five of his losses, has not given up over three runs. In turn he has not lost by more than 3 runs in his losses. Can anybody yell RUN SUPPORT more than Haren?
4. Tim Lincecum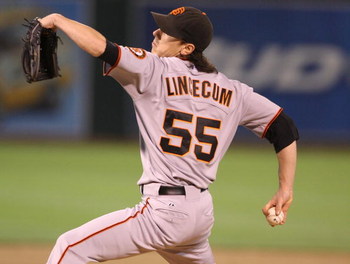 The number 55 means one thing over the past two seasons and that is domination. Tim Lincecum is well on his way toward another N.L. Cy Young and has been crushing the opposition.
There has to be something in the water in the San Francisco Bay Area. He is 8-2, which is, in my opinion, the third best stat he currently boasts. He also is second in the N.L. with a 2.37 ERA. He has blown away the competition with 132 strikeouts halfway through the season.
Those stats alone should be making you ask who else is better than this kid? To be honest, I feel like all of these pitchers are the exact same caliber.
3. Roy Halladay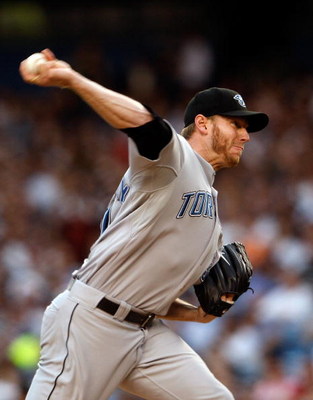 Roy Halladay. How many of you read this name and automatically think the best in the game? He has been magnificent in the first half, making fantasy owners around the baseball world fall in love.
Halladay has a 2.56 ERA with a 10-2 record. The most impressive stat is the .272 OBP (On Base Percentage). Halladay gives Blue Jays fan hope for their team every season.
I have not seen a pitcher control games like Halladay has, not only this season but the previous four. Oh, and there was that one season in 2003 when he won 22 games.
If I had to pick the A.L. Cy Young early this man would be my winner barring any injuries. On a simple note there will be no fizzling out for Roy Halladay.
2. Josh Johnson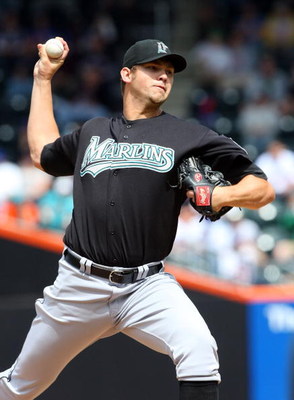 Don't look now, but these young 20-year-olds are starting to take the league by storm. Josh Johnson has a 2.76 ERA with an incredible 7-1 record. One loss? This 25-year-old came out of no where this season.
He has 97 strikeouts and has been the core of the young Marlins' pitching staff. It seems to me the Marlins seem to find great talent every five years, win a World Series, and then trade or release everyone. Maybe this will be that year.
One thing is for sure: keep your eyes on this young righty. He may still be one season away from being a solid 15 to 17 game winner, but he is on track to be just that this season.
1. Zack Greinke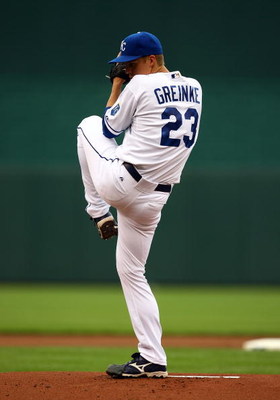 There can only be one highlander. This is him! Greinke has seemed to finally harness all the potential he has and put it into play this season. If I were to ask any baseball fan at the start of the season what they think Greinke was going to do many would respond, "Who?"
Greinke has a ridiculous 1.95 ERA and is 10-3 with the Kansas City Royals. Laughing stock of baseball no more. He has 114 strikeouts which makes this righty a must see.
He struggled in June, but look for Greinke to get back on track. He has worked too hard and been too good to let everything explode in his face. I am a believer in Greinke, and I believe the rest of baseball fans should be as well!
Honorable Mentions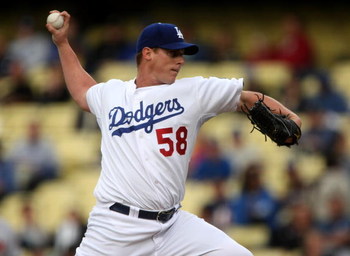 I know, I know. Most of you are wondering where is Santana? He would be number 11 on my list. He has not been Johan Santana in the first half of the season.
Also, the message I am trying to get across is I don't believe that a starting pitchers record is as important as ERA. Yes, it does factor, but if you have a huge ERA then that pitcher is not doing his job well enough to help his team.
Santana's 3.34 ERA is not ridiculous—there are just better ones out there. He is also 9-6 which is not getting it done in Queens.
Some others are:
Edwin Jackson: He may be the biggest snub on this list. The only reason the Tigers are even floating right now are because of this man. He has 2.49 ERA and a not so good record of 6-4 but a great first half for him.
Tim Wakefield/Jason Marquis: Sure both guys have won ten games so far but have very high ERA's. Marquis has a tiny excuse in Denver but I still believe he does not deserve it over the other pitchers on this list.
Chad Billingsley: Another one that may have been snubbed he may actually deserve number 11. He is 9-4 but has a ERA of 3.12 which was a huge part of my final decision. The pitchers who put up records like his with lower ERA's deserve it more because they are allowing less runs over nine innings.
Keep Reading