Croatia had plenty to fear—humidity, motivated opposition and the psychological effects of their unlucky loss to Brazil—but in the end it was nothing but a walk in the park.
Two goals from Mario Mandzukic, and one each from the brilliant Ivan Perisic and Ivica Olic were more than enough for Niko Kovac's boys to end up beating an uninspiring Cameroon in Manaus, laying the foundations for Monday's decisive match against Mexico in the last round of group matches.
For days, Kovac struggled with many issues that were not strictly related with this match. Days after Brazil defeated them in the World Cup opener, the Croats discussed the controversial penalty that was awarded to the hosts.
And just when it looked like the focus was restored, the Croatian media published photos of naked players in a swimming pool, creating a fuss in the camp and forcing the players to go "silenzio stampa". Fortunately, all of this did not disrupt their concentration, and, apart from the opening five minutes, the Croatians dominated for the whole match. In the end, they easily defeated Cameroon.
Their opponent certainly helped them, though—Cameroon's performance was by far the worst of any team in this World Cup. With the injured Samuel Eto'o left on the bench, they looked indifferent to what occurred on the pitch, obviously burdened with issues in their own locker room. That culminated at the end, when Benoit Assou-Ekotto and Benjamin Moukandjo ended up in a proper brawl. For an experienced team like Croatia, this was the chance that they just could not miss.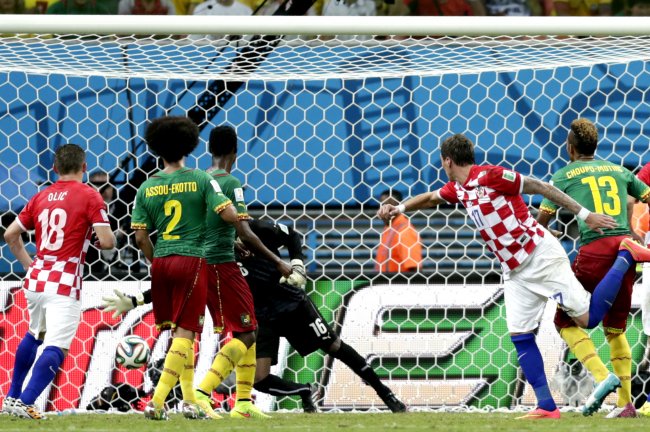 Dolores Ochoa/Associated Press
Compared with the Brazil match, Kovac made two expected changes. Danijel Pranjic occupied the left-back position, replacing the right-footed Sime Vrsaljko, while Mario Mandzukic returned after serving his suspension in place of Nikica Jelavic as the only man up front. Bayern Munich's outgoing star brought expected pace in front of the opposition's back four, bringing Croatia's pressure game to a different level.
The third change was introducing Brazilian-born Croat Sammir as a central midfielder instead of Internazionale's prodigy Mateo Kovacic. The qualities of the former Dinamo Zagreb playmaker, now at Getafe, are often questioned, and this match was supposed to be the biggest challenge for him. The truth is, however, that no one can be judged by today's showing.
Kovač: 'We weren't out best in the first 5-10 minutes, improved later. We let them have too many chances, we still have much potential left'

— Aleksandar Holiga (@AlexHoliga) June 19, 2014
This was a record World Cup win for Croatia, but their opponent's approach made things look easy. Olic's early goal stunned the Lions, who were then on the ropes after Song was sent off for a deliberate and stupid foul on Mandzukic after 40 minutes. When Perisic converted his fantastic solo run in on goal, it was all over. The opponent was knocked out, and it all went downhill quickly for Cameroon. Meanwhile, Croatia was just taking advantage as best they could.
As hard as it is to discuss the positives that Croatia showed in this match, it is even more difficult to talk about all the flaws that were evident. The scoreboard disguised all the team's issues, and Kovac is probably aware of that. What is most important for Croatia is that the job is done, three points are in the bag and now they can focus on the match that will really count for them.
Nothing has changed—Croatia still needs to beat Mexico in a match that will be completely different than Wednesday's, in order to reach the knockout stages. But, the positive atmosphere is there, and Kovac has something to build on.