The San Antonio Spurs celebrated the franchise's newest championship Wednesday night with a city-wide party, complete with river parade and sold-out pep rally at the Alamodome.
Of course, if there's any city that would be tired of championship parades by now, it would probably be San Antonio. This marked the fifth title of the Gregg Popovich era—and the fourth in the past 12 seasons.
Coach Pop didn't say anything—obviously—but he did crack a smile, and he seemingly fired shots at LeBron James and the Miami Heat with the most hilarious moment of the night:
This kind of thing just doesn't get old, though, as fans were out in force several hours before the event even started:
Fans already lining up outside the Alamodome for tonight's celebration! #GoSpursGo pic.twitter.com/Tir1aFnBFP

— San Antonio Spurs (@spurs) June 18, 2014
KENS 5 News' Jeff Goldblatt put a number on the expected attendance:
2nd deck of @Alamodome filling up fast. @spurs fans now heading to 3rd deck. Crowd of 65K expected. Here with #kens5news with live coverage

— Jeff Goldblatt (@jeff_goldblatt) June 18, 2014
Before the festivities started at the Alamodome, though, the players had to get there. And boy, did they get there in style.
Marking what is easily one of the most unique parade routes in America, the Spurs players, former players, coaches, executives, city officials and live musical entertainers created possibly the greatest flotilla ever, making their way down the San Antonio River in barges.
One of the early barges carried the "French Connection" of Tony Parker and Boris Diaw, and obviously, selfies were a must:
Manu Ginobili wasn't far behind, and the team's Twitter feed caught a video of the veteran getting the crowd fired up:
WE FOUND MANU ON THE RIVER PARADE! #GoSpursGo https://t.co/6Z8yZKDt33

— San Antonio Spurs (@spurs) June 18, 2014
"It's a very special moment for us," Ginobili told the crowd, via KENS 5's Jeff Anastasio. "You guys have been with us all along. And you probably suffered just as much a we did last year ... To come back this year and get revenge for last year was really sweet."
Kawhi Leonard was up next, and unsurprisingly, he was met with "MVP" chants from the crowd. The typically soft-spoken small forward, also unsurprisingly, acted pretty much like it was a normal Wednesday evening:
Kawhi is living it up https://t.co/3EOQIvYcdF

— Quixem Ramirez (@quixem) June 18, 2014
Don't worry. Two-time NBA champion Matt Bonner was there, too: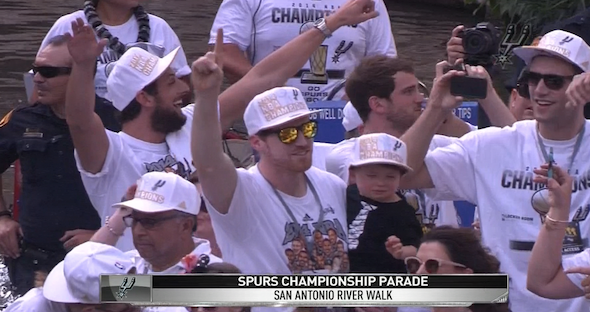 Photo courtesy Bleacher Report
Tim Duncan was last in line and received the biggest ovation from the crowd.
Crowd at @Alamodome goes bonkers as #21 Timmy Duncan introduced during #kens5news victory parade. Never old hearing Timmy get props @spurs

— Jeff Goldblatt (@jeff_goldblatt) June 18, 2014
Spurs legend David Robinson, who was on a boat of his own, was a fan of a different barge. The Admiral showed off his tremendous Twitter game:
The most fun boat just went by. # whatmysonsaid pic.twitter.com/9IZpIpSDgh

— David Robinson (@DavidtheAdmiral) June 18, 2014
As the parade moved its way to the Alamodome for even more celebration, it was clear the party in San Antonio was going to bleed deep into the night.
After such a transcendent run through the postseason, though, they have certainly earned the right to celebrate with their fans for as long as they want.