FitzMagic was in the air on June 17, when new Houston Texans head coach Bill O'Brien named veteran journeyman Ryan Fitzpatrick his starting quarterback, per the team's official site.
This was the final act in the Texans' offseason quarterback show. It opened with Matt Schaub's 2012 playoff flop, and ran through a disastrous 2013 season. Days after the Texans signed Fitzpatrick, they gave Schaub the hook, flipping him to Oakland for just a sixth-round pick.
Speculation tied the Texans to a top quarterback prospect throughout the fall, winter and spring, all the way up to May 8. Though Fitzpatrick seemed a perfect mentor and fallback option for a touted rookie prospect, the Texans didn't draft a savior—and there isn't a credible NFL starter waiting in the wings.
The spotlight is on Fitzpatrick now. Does he have anything up his sleeve?
The Magic of Football
Every single offseason, fans and media spend eight months predicting and prognosticating, mocking and taking stock. We have power ranks and projected records, Super Bowl odds and win-total over/unders. We obsess over what's going to happen for months on end...then that wobbly ovoid called a football hits the turf and everything we think we know goes sideways.
The Texans' instant collapse from Super Bowl contender to worst team in football was last season's biggest surprise, but Chicago Bears backup quarterback Josh McCown wasn't far behind. A 2002 third-round draft pick of the Arizona Cardinals now on his sixth NFL team, he'd been so anonymous for so long many forgot he's three years older than starter Jay Cutler.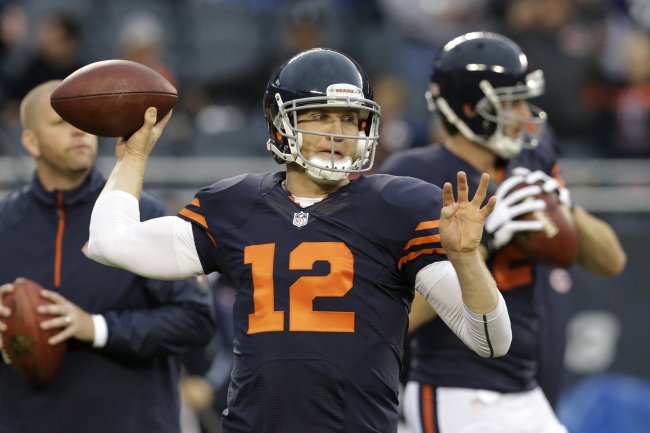 Nam Y. Huh/Associated Press
Thrown into the mix after an injury to Cutler, McCown completed 66.5 percent of his passes for 13 touchdowns, a single interception, 8.54 adjusted net yards per attempt and a jaw-dropping 109.0 NFL passer efficiency rating, per Pro Football Reference.
With the dominant receiver pair of Brandon Marshall and Alshon Jeffery, and the passing-game wizardry of head coach Marc Trestman, McCown played at a much, much higher level than he ever had in his 10 prior NFL seasons. That performance earned him a two-year deal with the Tampa Bay Buccaneers, his sixth NFL team.
Nobody expects Fitzpatrick to light it up in Houston.
The 2005 seventh-round pick has never had dominant tools, size or athleticism. The Havard grad's one exceptional attribute: Book smarts, which garnered him a 1580 on the SAT, per SportingNews.com. Too bad that marvelous brain doesn't excel at on-field decision-making; his 23 interceptions in 2011 led the NFL, per Pro Football Reference.
Then again, are some startling similarities between Fitzpatrick and McCown. Are we about to see another stunning illusion?
An Encore Performance?
The nine-year veteran is on his fifth NFL stop, like McCown was in 2013. The Texans have brought in a new head coach with a new system, just like the Bears did in 2013. Perhaps most importantly, Fitzpatrick will have a similar group of lovely assistants.
In DeAndre Hopkins and Andre Johnson, the Texans have a talented sophomore ready to break out and a veteran stud. It's easy to see them having the kind of twin-top-ten season Marshall and Jeffery had in 2013.
Check out the spookily similar career rate stats of McCown and Fitzpatrick, per Pro Football Reference:
Josh McCown vs. Ryan Fitzpatrick, Career Rate Stats

| | | | | | | | | |
| --- | --- | --- | --- | --- | --- | --- | --- | --- |
| Name | Cmp% | TD% | Int% | Rate | Y/A | Y/C | ANY/A | Sk% |
| Josh McCown | 59.4 | 3.7 | 3.4 | 77.5 | 6.6 | 11.1 | 4.86 | 7.7 |
| Ryan Fitzpatrick | 59.8 | 4.1 | 3.6 | 77.5 | 6.5 | 10.8 | 4.99 | 6 |
Pro Football Reference
They're both old-school boom-or-bust pocket quarterbacks. Neither is very efficient, and both have thrown plenty of picks and sacks along with quite a few touchdowns and a healthy yards-per-completion averages.
Fitzpatrick's career starts (77) and attempts (2,599) are roughly double McCown's (38, 1,337), so he's got a longer track record—but at age 34, with over two full seasons' worth of starts under his belt, McCown was hardly an unknown quantity.
On the other side of the ball, the Bears' defense collapsed in 2013. They went from the third-best scoring unit in football to the third-worst. Despite getting caught up in a lot of shootouts, the usually interception-prone McCown had the lowest qualifying interception rate in the NFL.
The Texans defense also collapsed in 2013, falling from the ninth-ranked unit to No. 24. With the addition of fearsome pass-rushing prospect Jadeveon Clowney and veteran safeties Kendrick Lewis and Chris Clemons, they could bounce right back, making Fitzpatrick's job easier.
So is Fitzpatrick about to saw the NFL in half?
Well... probably not.
Not Part of the Show, Folks
One of the key elements in McCown's incredible season was the fit of Trestman's offense to McCown's strengths. O'Brien's does nearly the opposite for Fitzpatrick.
O'Brien drafted 6'5", 265-pound tight end C.J. Fiedorowicz—a block of corn-fed granite with hands—with the first pick of the third round. The Texans also paid to retain free-agent tight end Garrett Graham, and 2013 sixth-round pick Ryan Griffin (who showed well in eight starts) will be in the mix.
This hearty group of tight ends will be the foundation for a conservative, run-first offense, putting a heavy load on starting tailback Arian Foster. As Brian T. Smith of the Houston Chronicle explained, "Fitzpatrick will be asked to manage games and minimize mistakes in 2014," something he's never been good at.
O'Brien, Smith reports, plans to use multiple tight-end sets in "intricate" concert with his receivers, in short- and intermediate-depth route concepts. It's exactly this kind of quick, efficient decision-making and consistent ball placement that Fitzpatrick has lacked throughout his career.
With the departure of backup tailback Ben Tate to Cleveland, running so much of the offense through the oft-injured Foster doesn't inspire confidence, either.
2013 sophomore sensation Case Keenum, a University of Houston product who delivered some exciting moments in eight losses as a starter, will be breathing down Fitzpatrick's neck. Sxith-round rookie Tom Savage, an intriguing physical talent with a short college track record, will be vying for snaps, as well. Is Fitzpatrick just a placeholder?
"He definitely earned it," O'Brien told Smith. "He earned it with his preparation. He earned it with his accuracy. He earned it with his command at the line of scrimmage."
Fitzpatrick may or not not be any good—but he's the best the Texans have.
If the defense returns to its 2012 form under new coordinator Romeo Crennel, if Johnson and Hopkins deliver, if the tight ends work out and if Foster stays healthy for 16 games, Fitzpatrick won't need to be great for the Texans to make noise in the wide-open AFC.
Then again, that's an awful lot of ifs. If the Texans are going to get back to the playoffs, Fitzpatrick is going to have to pull a rabbit out of his hat.