Updates from Wednesday, June 18
The Dodgers confirmed that Hanley Ramirez will return to the lineup tonight:
#Dodgers lineup vs. Rockies: Gordon 2B Ramirez SS Puig RF Gonzalez 1B Kemp LF Van Slyke CF Ellis C Rojas 3B Kershaw P

— Los Angeles Dodgers (@Dodgers) June 18, 2014
But later in the evening manager Don Mattingly may have changed his mind according to Ken Gurnick of MLB.com:
Mattingly said he's not sure Ramirez will start tonight.

— Ken Gurnick (@kengurnick) June 18, 2014
Original Text
The Los Angeles Dodgers got some unfortunate news during Tuesday night's game against the Colorado Rockies. Steve Dilbeck of the Los Angeles Times filled fans in on the details:
Hanley Ramirez leaving game in seventh with an apparent finger injury, hurt trying to field a bullet grounder. At least not the thumb again.

— Steve Dilbeck (@stevedilbeck) June 18, 2014
The Dodgers made things official after the game:
Hanley Ramirez left tonight's game with a right ring finger contusion. X-rays were negative, and he is listed day-to-day. #Dodgers

— Los Angeles Dodgers (@Dodgers) June 18, 2014
Dylan Hernandez of the Los Angeles Times added a bit more detail:
Mattingly unsure how long Ramirez will be out.

— Dylan Hernandez (@dylanohernandez) June 18, 2014
If there is a silver lining to this, as Dilbeck mentioned, at least it wasn't the same thumb that has hampered Hanley Ramirez in the past. Reaggravating past injuries is always a recipe for long-term concern, but that doesn't make this newest injury much less worrisome.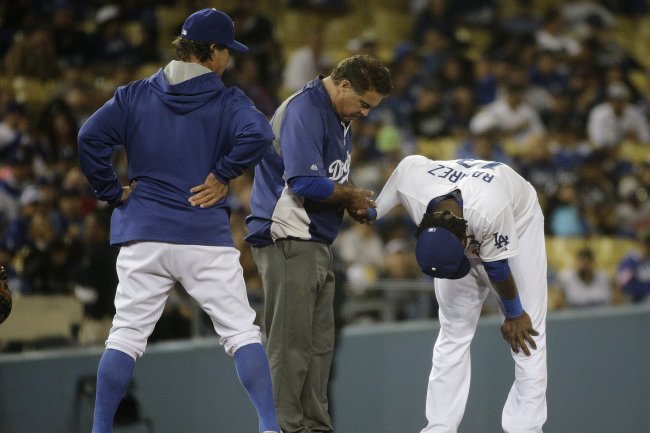 Jae C. Hong/Associated Press
Ramirez is a critical cog in the middle of that Los Angeles lineup, and losing him for an extended period of time could spell trouble. The Dodgers are currently looking up at the archrival San Francisco Giants in the National League West standings, so they need to be at full strength going forward if they want to win this division.
Ramirez was 1-for-3 with two RBI and a run scored before being pulled from the lineup Tuesday. He is hitting .260 on the season with 11 home runs, 42 RBI and nine stolen bases.
Check back for updates as they develop.