World Cup presenters are a big deal. If you're in the United Kingdom, for instance, you've probably spent more time than is healthy debating Adrian Chiles and Gary Lineker's relative merits. The same is true wherever you are.
In Mexico, however, three presenters of their World Cup coverage have gone viral.
Mariana Gonzalez, Ines Sainz, and Vanessa Huppenkothen are working for Mexican broadcasts, and—let's just put it this way—it's hopefully not a look we'll see Chiles adopt at any stage in the future:
Que privilegió haber estado en este gran partido!! Un México que inspira y convence! Un México que encanta e intimida pic.twitter.com/xIzkRo04g0

— Inés Sainz (@InesSainzG) June 17, 2014
A Mexican TV host is attracting attention outside the ground before the Brazil game [Pictures] http://t.co/NVhJBVjLhr pic.twitter.com/9bwkK8yB76

— 101 Great Goals (@102greatgoals) June 17, 2014
Their fame crossed borders, with even Lineker retweeting a picture of Huppenkothen at work: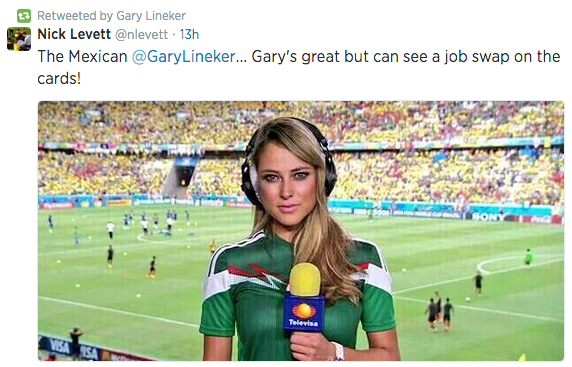 Screencap
Not sure that look will work on a wet Thursday night in Stoke.
[Twitter]