Belgium came close to seeing their World Cup dreams almost end before they had begun on Tuesday, but Marc Wilmots' men managed to come back from a goal down against Algeria, emerging as 2-1 victors in Belo Horizonte.
And that turnaround wouldn't have come to pass were it not for the impact of Premier League pair Marouane Fellaini and Eden Hazard. The former scored the Red Devils' equaliser, while the latter set up Dries Mertens' winner.
Fellaini came on as a second-half substitute at the Estadio Mineirao, and OptaJean points out just how clinical the Manchester United midfielder was in making a swift impact:
2 - Marouane Fellaini scored with his second touch inside the Algerian box. Impact. #BEL

— OptaJean (@OptaJean) June 17, 2014
FourFourTwo's StatsZone breaks down the goal, set up by a superb Kevin De Bruyne cross from the left flank:
#BEL 1-1 #ALG http://t.co/v7cHtpszNd Third time lucky for Wilmots with subs, as Fellaini glances in De Bruyne's cross pic.twitter.com/Yim4ELKzz0

— Stats Zone (@StatsZone) June 17, 2014
BT Sport's James Horncastle and The Football Front were full of praise not just for the header itself—which cracked in nicely off the underside of the woodwork—but also for his performance as a whole:
Fellaini!! How satisfying was that. Bottom of the bar. Swoon

— James Horncastle (@JamesHorncastle) June 17, 2014
Fellaini having his best game in about nine months.

— The Football Front (@ReviewFootball) June 17, 2014
However, talk did inevitably turn to Fellaini's club involvement—or often lack thereof—with Alex Shaw of ESPN noting how the player can be so disappointing one moment, but mesmerising the next:
Fellaini is so curious. He was a big, scary and talented presence for Everton. Belgium rely on him at times. So, so meek at MUFC.

— Alex Shaw (@AlexShawESPN) June 17, 2014
It wasn't long before David Moyes became the butt of the jokes, though, due to his apparent lack of tactical nous in how best to utilise Fellaini:
Only now is David Moyes learning a Plan B at Manchester United: stick it on Fellaini's head

— Huw Davies (@thehuwdavies) June 17, 2014
Moyes said whenever he watched Belgium, Fellaini was often their best player. That's because they play him in his best position, Dave #MUFC

— David McDonnell (@DiscoMirror) June 17, 2014
It's almost as if Fellaini has been terrible at Man Utd because he's constantly been played out of position. Imagine that.

— Graham Ruthven (@grahamruthven) June 17, 2014
Early on in the game, while Algeria were still in the ascendancy, some began to question whether or not this Belgian side really was all it had been cracked up to be during World Cup qualification.
The Guardian's Jacob Steinberg and Squawka's James McManus were just some of those to question the depth of genuine, top-class talent in Wilmots' pool, but neither denied the quality of Hazard:
How many genuinely top, top players in this Belgium side? Hazard, Courtois, Kompany. Then? A lot don't play for Champions League sides.

— Jacob Steinberg (@JacobSteinberg) June 17, 2014
@MrNickClark They've just got loads of decent-to-good players, Lukaku and Hazard. Nowt special about them.

— James McManus (@JamesMcManus1) June 17, 2014
Of course, the key moment came on 79 minutes, though, where a De Bruyne tackle deep inside the Belgian half eventually found its way to Hazard on the left. His driving run ended with a cross-field pass to Mertens, who took care of the rest with aplomb:
#BEL 2-1 #ALG http://t.co/v7cHtpszNd And another sub turns the game on its head: Mertens lashes home from Hazard pass pic.twitter.com/VqhxB2YWkO

— Stats Zone (@StatsZone) June 17, 2014
Lovely weighted ball by Eden Hazard for that goal.

— The Football Front (@ReviewFootball) June 17, 2014
ESPN FC's Dermot Corrigan heaped praise on the Chelsea winger for his display:
Hazard is playing pretty well / working really hard I reckon. Nobody else in central midfield creating much. Defour perhaps?

— Dermot Corrigan (@dermotmcorrigan) June 17, 2014
Hazard's been excellent whole game through.

— Dermot Corrigan (@dermotmcorrigan) June 17, 2014
FourFourTwo broke down Hazard's performance, which shows that he was indeed one of Wilmots' creative gems:
FT #BEL 2-1 #ALG http://t.co/4xbYhW6TDr Hazard most attacking passes, chances created (4) and take-ons completed (5) pic.twitter.com/XFmdIzuktO

— FourFourTwo (@FourFourTwo) June 17, 2014
It wasn't the prettiest of results for Wilmots' side, but dispatching Algeria with three points in tow is something for Belgium to be proud of, and a messy start is arguably preferable to an easy ride at the group stage.
Next up for the Red Devils comes the challenge of Russia this Sunday, with Fabio Capello's men posing the most difficult task that they're likely to face in the first round.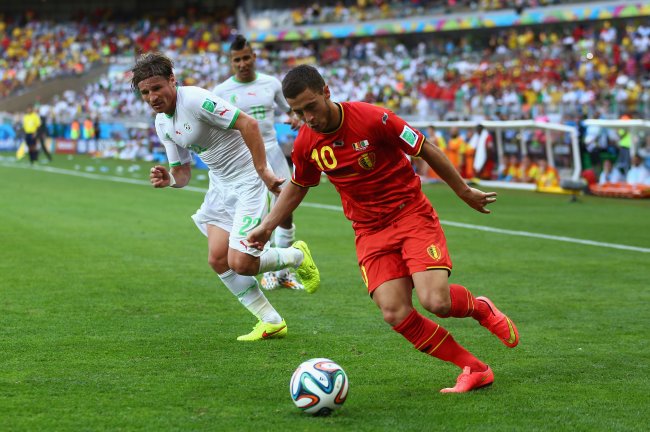 Jeff Gross/Getty Images
Fellaini's performance may have been enough for Wilmots to consider starting him in the next outing, but it's likely that tactics will play a major hand in whatever shape it is the manager intends to line up with.
Hazard, meanwhile, maintains his spot as an untouchable talent.