The United States men's national team let the moment sink in, and deservedly so—moments after an epic, on-the-ropes 2-1 victory over Ghana, Jurgen Klinsmann and his team erupted in celebration.
But as they know, their journey to advancing out of the "Group of Death" has just begun.
Monday was just about as miraculous as could be for the Americans. Clint Dempsey gave the USA a 1-0 lead before most bar-watchers could order their first drink. In resilient fashion, America fought off a late Ghana equalizer to move in front for a late 2-1 victory.
Their first win came before even taking the pitch. Germany's 4-0 victory over Portugal was a key early result for their chances of finishing behind the Germans in the group—by far the likeliest occurrence.
After both of those results, the Americans ended Monday much better than they started, per ESPN's Paul Carr:
Updated Soccer Power Index odds to advance: Germany 98%, #USMNT 63% (33% pre-today), Portugal 27%, Ghana 12%.

— Paul Carr (@PCarrESPN) June 17, 2014
But before you go celebrating long into Tuesday morning at the prospect of the Americans competing in the knockout stage, let's come back to reality for a second.
The three points were crucial against Ghana, as Klinsmann made clear some four months before Brazil to Fox Sports' Leander Schaerlaeckens. But when your first of three matches is that important, it's for a reason.
Well, in this case, two reasons: Germany and Portugal, two of top five FIFA-ranked teams and the two teams that round out Group G.
2014 World Cup: Group E

| | | | | | | |
| --- | --- | --- | --- | --- | --- | --- |
| Team | Pts | GD | P | W | D | L |
| Germany | 3 | 4 | 1 | 1 | 0 | 0 |
| United States | 3 | 1 | 1 | 1 | 0 | 0 |
| Ghana | 0 | -1 | 1 | 0 | 0 | 1 |
| Portugal | 0 | -4 | 1 | 0 | 0 | 1 |
FIFA.com
Simply put, Ghana—the team that just out-shot the U.S. 21-8 and shoved the ball down their throats for the better part of 90 minutes—is the worst team Klinsmann's crew will face in Brazil.
By far.
It does bode well for the U.S. in that they face Portugal next and Germany last. For starters, Pepe drew a red card and will be suspended against the USA, and Germany facing Ghana means they could be through and sit some key players for their final match against the United States.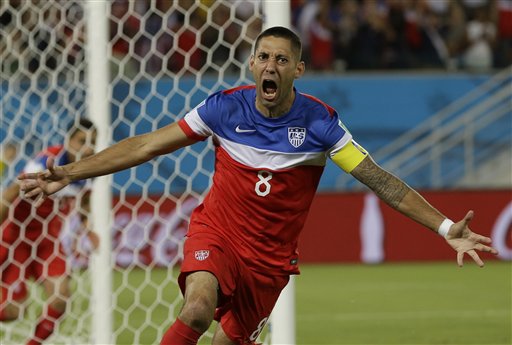 Ricardo Mazalan/Associated Press
But this is still Portugal, and if they weren't at 10 men for much of the match, it might have been a different story against Germany. Led by Cristiano Ronaldo, they can carve apart any defense. Oh, and they're pretty much playing for their World Cup lives after coming up short in the opener.
Of far more importance from America's side of things is that the U.S. might have to face both those teams without Jozy Altidore.
The valuable starting striker went down in the 22nd minute against Ghana, clutching his hamstring in a scary non-contact injury that had him carried off the pitch. Here's Altidore's official diagnosis, per ESPN's Jeremy Schaap:
A real Jozy update: tests tomorrow in São Paulo. he's in lockerroom.

— Jeremy Schaap (@JeremySchaap) June 16, 2014
Fortunately for the Americans, Altidore's untimely departure from the match came after Dempsey had put the U.S. ahead. They didn't have to continue pressing the attack, and with Ghana flying all over the pitch, they sat back.
But when Altidore left, Ghana completely took over the game, as TruMedia's Albert Larcada captured:
After Altidore's injury the US had two touches within 20 yards of Ghana's goal the rest of the match. One was a goal. pic.twitter.com/39XFjyBLx2

— Albert Larcada (@albert_larcada) June 17, 2014
Of course, Altidore's absence wasn't the main cause of the lopsidedness—it was largely because the U.S. were ahead.
But that's still concerning. Throughout the second half, the U.S. would push the ball forward after a thwarted-out Ghana attack in the hopes of a counter to extend their lead, and hardly any of those materialized.
Sports Illustrated's Grant Wahl caught a word from Dempsey on the situation, hinting at the need to fill the void:
Dempsey on Altidore's injury: "You could see the tears in his eyes going back to the locker room...Other players have to step up now."

— Grant Wahl (@GrantWahl) June 17, 2014
The Americans have the potential to be dangerous without Altidore in the fold, as they have done at times throughout the past few years. But so much of the attack in 2014 was predicated around him being the target man, and now the main target may be out of service.
Klinsmann can't feel great about having to replace Altidore in the starting lineup. Aron Johannsson was invisible in his nearly 70 minutes on the pitch against Ghana, when just a couple of decent runs would have given the defense some air. Chris Wondolowski is serviceable but has played few big moments.
Needless to say, Klinsmann has plenty on his mind in the coming days, per football writer Graham Ruthven:
Wonderful drama, and ultimately a priceless win for the US. But so much for Klinsmann to ponder before Portugal. #usmnt

— Graham Ruthven (@grahamruthven) June 17, 2014
Having Dempsey and Michael Bradley—who will need to rebound after a poor Ghana performance—can erase the void there a bit. But if the defense is stretched and stretched against Portugal like it was against Ghana, the Americans will get routed quickly.
Ghana had their way in the attacking third against the Americans, and if they had taken advantage of their quality opportunities, they could have run away with the match before the U.S. even got a sniff of the ball.
Instead of Ghana players on the attack for an equalizer slicing and dicing their way through USA's defense without fail, it will be Ronaldo—arguably the best player in the world—angry and looking to will his team to the next round after losing the opener.
Yikes.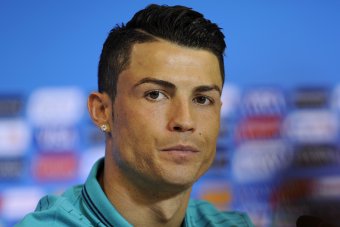 Paulo Duarte/Associated Press
In reality, the U.S. are 90 minutes away from having their backs against the wall. If Portugal top the USA and take all three points, the two will be tied. Then to close it out, the Portuguese will face Ghana and America will face Germany.
In that case, Klinsmann's crew had better hope that the Germans have already won the group and will take it easy on them. Even then, Germany's bench unit could very well pick apart the USA starters.
A draw would mean America is sitting pretty after two matches. A loss, though, would mean the USA's hopes of advancing will rely on Ghana holding Portugal and the U.S. getting a result against Germany.
After Monday, will the USA advance out of Group G?
This isn't to blow smoke over the USA's win on Monday—one of the most inspiring matches the Americans have ever played in the World Cup and a result that is incredibly crucial to their chances of advancing. Just as well, they couldn't hope for a better position after one round of play.
It will take a similar amount of inspiration and willpower to pull out any points against a Portuguese side largely fighting for its life. But if they do so and grab a point—or three—heading into the Germany match, it wouldn't be the first time they've beaten the odds.
If anything, the tough road ahead proves just how valuable Monday's results were. The impossible has now become the improbable, and at this point it would almost be a surprise not to see America's resiliency come through once again.