More shutouts than shootouts made up scores on Day 5 of the 2014 World Cup.
Monday kicked off with the top two teams in the Group of Death facing off. Group G drew the nickname "Group of Death" because it was perceived as the most stacked quartet entering competition. But now it seems like a prophecy of what the German footballers will do to their opponents.
Germany embarrassed Portugal by the score of 4-0. While the Germans are elite, having the third-highest odds to win the World Cup according to Odds Shark, the Portuguese are no slouches. They have the 10th-highest odds.
They sure looked like slouches on Day 5, though, surrendering three goals to Thomas Muller alone.
Thomas Müller's hat trick helps Germany to a 4-0 win over Portugal. #WorldCup pic.twitter.com/pfASYtheo2

— Bleacher Report (@BleacherReport) June 16, 2014
Cristiano Ronaldo, arguably the best player in the world, managed seven shots. Five were on goal.
In fact, Portugal finished with just as many shots on goal as Germany. The Germans were just more accurate on theirs—way more accurate. According to ESPN Stats & Info, Portugal has never suffered a worse loss in the World Cup.
The 4-0 loss was the worst in Portugal's #WorldCup history. Their previous worst loss was 2 goals. #GERvsPOR

— ESPN Stats & Info (@ESPNStatsInfo) June 16, 2014
The score of match No. 2 of the day was just as startling. Odds Shark pegged Iran with just 51-20 odds to force a draw against the favorite, Nigeria.
As predicted, Iran's offense was nonexistent. Nigeria goalie Vincent Enyeama may or may not have been tempted to take a nap during the match. He only needed to make one save to secure a shutout for Nigeria.
Squawka Football reported viewers did fall asleep.
The Iran vs. Nigeria game quite literally put these fans to sleep. #IRN #NGA pic.twitter.com/KWi0Vbu5Uz

— Squawka Football (@Squawka) June 16, 2014
But Iran's boring play was effective. It shut out Nigeria as well, forcing a 0-0 draw despite Nigeria having possession of the ball 69 percent of the time. This was the first draw of the 2014 World Cup.
Nigeria also attempted four times as many shots on goal. It can't be pleased with the outcome, unlike Iran, which should be thrilled.
While Iran and Nigeria couldn't score in 90 minutes, Clint Dempsey and the United States scored in one.
Clint Dempsey scores the fastest goal in US #WorldCup history to put USA up 1-0. GIF: http://t.co/2u9bVk2Sig pic.twitter.com/BsHxIY42W2

— Bleacher Report (@BleacherReport) June 16, 2014
Team USA led throughout the vast majority of the match, but couldn't keep Ghana off the scoreboard. Eighty-two minutes in, André Ayew tied the game at 1-1.
But then, just four minutes later, the U.S. took back its lead off of a header from John Anthony Brooks. The U.S. held on for the victory, winning 2-1.
Here's how to watch Day 6.
Tables

| | | | |
| --- | --- | --- | --- |
| Time (ET) | Match | Watch | Prediction |
| Noon | Belgium vs. Algeria | ESPN | 3-0 |
| 3 p.m. | Brazil vs. Mexico | ESPN | 2-1 |
| 6 p.m. | Russia vs. South Korea | ESPN | 1-0 |
ESPNFC.com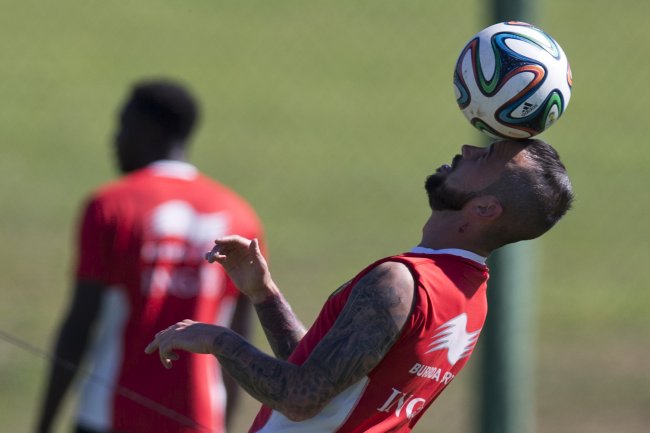 Andrew Medichini/Associated Press
Little has been predictable about the 2014 World Cup. But it would still be shocking if any of the favorites on Day 6 lost.
The first match of the day between Belgium and Algeria is between the best and worst team in Group H—the best being Belgium and the worst being Algeria. While Belgium has the fifth-highest odds to win the World Cup according to Odds Shark, Algeria has the third-lowest.
Costa Rica beating Uruguay was shocking. The Netherlands thrashing Spain was shocking. But Algeria edging Nigeria would trump all of that.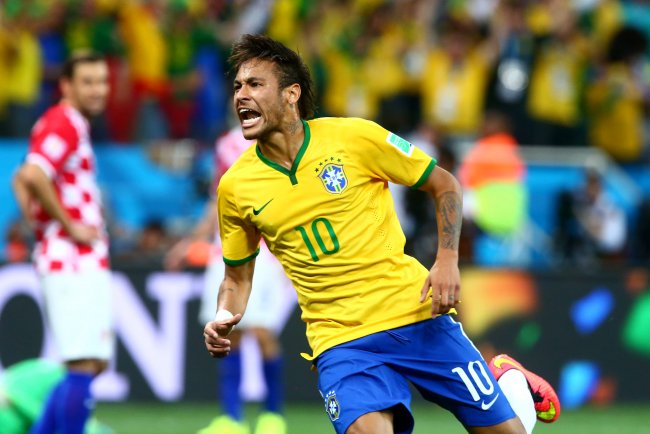 USA TODAY Sports
Mexico upsetting Brazil wouldn't be as large of a surprise. Mexico is middle-of-the-pack compared to the rest of the teams in the World Cup, and compared to Algeria, which is one of the worst. But Brazil, the favorite to win it all, losing at all in the group stage would still be shocking.
Mexico only scored one goal against Cameroon. Brazil notched three against Croatia, which entered with higher odds to advance out of Group A than Mexico, according to Odds Shark.
This may be the highlight for South Korea against Russia.
Psy to perform in Gangnam for South Korea vs. Russia game in the 2014 Brazil World Cup. -- http://t.co/2UJHKnsyWG pic.twitter.com/CcxjgDhT9s

— Koreaboo (@Koreaboo) June 16, 2014
According to Odds Shark, it has just 169-50 odds to upset Russia and 63-25 to force a draw. This would be the least surprising upset of the three matches. But it would still be one of the largest of the World Cup thus
David Daniels is a columnist at Bleacher Report. He tweets, too.