Through four days of exhilarating games on the pitch in Brazil already, Day 5 promised to bring yet another slate of highly anticipated action.
After seeing both Lionel Messi and Neymar make their case for the Golden Boot, a familiar face rose to the occasion on Monday. Thomas Mueller, who won the award during the 2010 World Cup, already notched his first goals early in the 2014 World Cup during Germany's dominant opener against Portugal.
Below is a complete list of goalscorers thus far and a look at the full results from Day 5 in Brazil.
Day 5 Results

| | | | |
| --- | --- | --- | --- |
| Group | Team 1 | Score/Time (ET) | Team 2 |
| G | Germany | 4-0 | Portugal |
| F | Iran | 0-0 | Nigeria |
| G | United States | 2-1 | Ghana |
FIFA.com
List of World Cup Scorers

| | | |
| --- | --- | --- |
| Player | Country | Goals |
| Thomas Mueller | Germany | 3 |
| Neymar | Brazil | 2 |
| Robin van Persie | Netherlands | 2 |
| Arjen Robben | Netherlands | 2 |
| Karim Benzema | France | 2 |
| Mario Balotelli | Italy | 1 |
| Claudio Marchisio | Italy | 1 |
| Daniel Sturridge | England | 1 |
| Edinson Cavani | Uruguay | 1 |
| Joel Campbell | Costa Rica | 1 |
| Oscar Duarte | Costa Rica | 1 |
| Marcos Urena | Costa Rica | 1 |
| Pablo Armero | Colombia | 1 |
| Teofilo Gutierrez | Colombia | 1 |
| James Rodriguez | Colombia | 1 |
| Stefan de Vrij | Netherlands | 1 |
| Xabi Alonso | Spain | 1 |
| Oscar | Brazil | 1 |
| Oribe Peralta | Mexico | 1 |
| Alexis Sanchez | Chile | 1 |
| Jorge Valdívia | Chile | 1 |
| Jean Beausejour | Chile | 1 |
| Tim Cahill | Australia | 1 |
| Gervinho | Ivory Coast | 1 |
| Wilfried Bony | Ivory Coast | 1 |
| Keisuke Honda | Japan | 1 |
| Enner Valencia | Ecuador | 1 |
| Admir Mehmedi | Switzerland | 1 |
| Haris Seferovic | Switzerland | 1 |
| Lionel Messi | Argentina | 1 |
| Vedad Ibisevic | Bosnia-Herzegovina | 1 |
| Mats Hummels | Germany | 1 |
| Clint Dempsey | United States | 1 |
| Andre Ayew | Ghana | 1 |
| John Anthony Brooks | United States | 1 |
Monday's scorers highlighted
Day 5 Recap
Germany 4, Portugal 0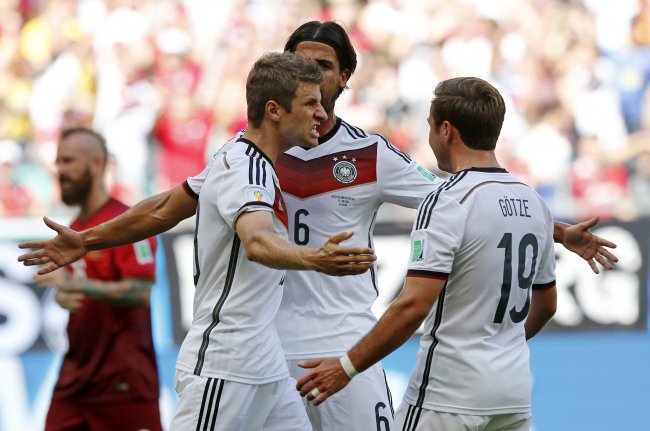 Matthias Schrader/Associated Press
Just four years after winning the Golden Boot for his country, Mueller didn't wait long before tallying his first goal in the group stage.
The 24-year-old was given a penalty-kick opportunity in the 12th minute of the opening match against Portugal. After Joao Pereira was handed a yellow card just in front of the goal, Mueller struck a beautiful strike that put his team up.
ESPN FC passed along video of the goal and a surprising statistic in the early going:
Thomas Muller's goal means all 5 penalties have been converted in the #WorldCup thus far. Still 1-0 #GER, 26' http://t.co/epMCwtCaF6

— ESPN FC (@ESPNFC) June 16, 2014
Mueller would play an important role later in the match but not before another goal for the Germans.
On a corner kick, Mats Hummels rose above the Portugal defense for a header that secured his first goal in the World Cup. Hummels' goal gave Germany a commanding lead, but that wouldn't be the end of the scoring for the first half of play.
The header from Hummels was just another in a long line of great goals from the Germans, as ESPN Stats & Info noted:
Mats Hummels with a headed goal to put Germany up 2-0. It was Germany's 36th headed WC goal since 1966, no other team has more than 19.

— ESPN Stats & Info (@ESPNStatsInfo) June 16, 2014
Just five minutes after the second goal, Portugal were dealt another huge blow. After witnessing two goals from the Germans, the Portuguese lost Pepe due to a headbutt to Mueller in the 37th minute.
Pepe was clearly upset with some acting from Mueller after making contact with the German but committed a senseless act that will hurt his club moving forward. Pepe's headbutt and the subsequent red card were captured by Bleacher Report UK and Fox Soccer:
#POR's Pepe sent off for this incident with Thomas Muller https://t.co/lPs3GRtiR3

— Bleacher Report UK (@br_uk) June 16, 2014
RED CARD, Portugal! Pepe is off for unsportsmanlike conduct. Headbutt on Muller. #GERvsPOR

— FOX Soccer (@FOXSoccer) June 16, 2014
Much like earlier in the match, Mueller had an impact yet again to close out the first half for the Germans. He found the back of the net yet again to put his country up 3-0 and secure his second goal in the half.
The young striker has a knack of showing up on the big stage and has done so in nearly every match he's played in the World Cup:
That's 7 goals in 7 career #WorldCup games for Thomas Müller, who puts Germany up 3-0 on Portugal just before the half. #GERvsPOR

— ESPN Stats & Info (@ESPNStatsInfo) June 16, 2014
That statistic would change later in the match for Muller again.
Following a sensational first half of play, the next 45 minutes were much tamer. Germany weren't showing the same urgency after a hot start, and Portugal failed yet again to find scoring opportunities.
That was until Mueller once again found an open opportunity in the 78th minute to secure the first hat-trick of the World Cup thus far. Mueller's hat-trick helped Germany hand Portugal their worst loss on the World Cup stage at 4-0.
Thomas Müller's hat trick helps Germany to a 4-0 win over Portugal. #WorldCup pic.twitter.com/pfASYtheo2

— Bleacher Report (@BleacherReport) June 16, 2014
The dismissal of Pepe due to the red card not only affects Portugal for the opener but also rules him out of the following match. Therefore, Team USA face Portugal without a central defender in their second match of the group stage.
While that would appear to be a positive for the U.S. contingent, Jonah Freedman of MLSSoccer.com notes it might work in Portugal's favor:
So... Pepe missing out on #USA game. That actually works against Americans. Big liability for #POR when he's out there.

— Jonah Freedman (@jonahfreedman) June 16, 2014
Portugal might also be down another defender due to injury. Fabio Coentrao went after the ball down the sidelines and went down with an apparent lower-body injury, which led to the Real Madrid defender being taken off the pitch and subbed out.
With Coentrao pulling up lame, ESPN FC notes the defense for Germany might look drastically different against Team USA:
Coentrao pulls up with an apparent groin injury and is immediately subbed off. Portugal could be without 2 first-choice defenders vs #USMNT

— ESPN FC (@ESPNFC) June 16, 2014
Germany come away on top of Group G but will have to wait to see the decision between Ghana and the United States to see where they ultimately stand moving forward.
Iran 0, Nigeria 0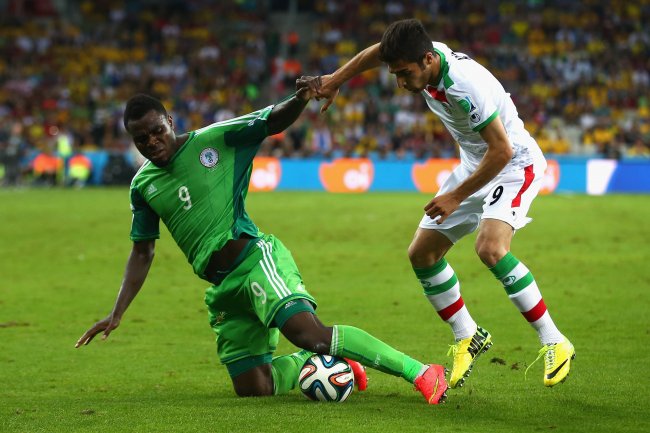 Julian Finney/Getty Images
While the Germans came out firing with an onslaught of goals in the opening match on Monday, it was far from a similar story between Iran and Nigeria.
No Golden Boot contenders emerged from the second match of the day as no goals were scored in the draw between the two teams. The action on the pitch wasn't exactly enticing, but that didn't stop fans in attendance from showing their support, per ESPN FC:
The scoresheet is empty for #IRNvsNGA (22') but the spirit in the stands remains full. pic.twitter.com/g1I0XspG85

— ESPN FC (@ESPNFC) June 16, 2014
In one of the most offensive World Cups in recent decades, the draw was quite a surprise after Germany's rout.
Fox Soccer points out the draw was the first of the World Cup thus far in Brazil:
FT: It happened! We have our first draw - and goalless match - of the #WorldCup. Iran and Nigeria spit the points. pic.twitter.com/IfKtWpF6oX

— FOX Soccer (@FOXSoccer) June 16, 2014
Several Team USA fans anticipated the final match of the day with hopes of seeing yet another great match on the pitch between Iran and Nigeria. Mark Armstrong of WTVD in Raleigh, NC was simply hoping the matchup would come to an end after a few hours of scoreless play:
They weren't all gonna be great games, but boy, this one is terrible. Get it over with already Iran and Nigeria.

— Mark Armstrong (@ArmstrongABC11) June 16, 2014
It wasn't all bad for both teams, though, as each country earns one point in Group F. After Argentina earned a 2-1 win over Bosnia and Herzegovina, both Iran and Nigeria hold an advantage in points and goal differential over the loser from Sunday.
With a daunting task ahead of both countries in Argentina, both teams will need to find offense moving forward—fast.
USA 2, Ghana 1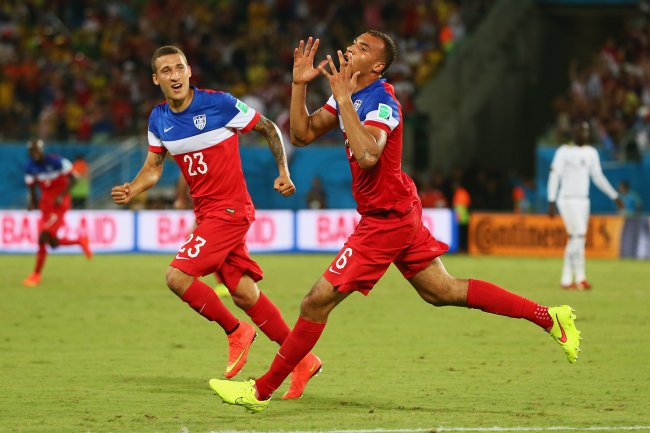 Kevin C. Cox/Getty Images
After a tremendous start to the opening match for Team USA, they had to come back late to clinch the win over Ghana.
Clint Dempsey got the scoring started the scoring with a goal in the first minute, sending the crowd into a frenzy. The Washington Post gives a look at the celebration and the official time for the first American goal:
FIFA: Dempsey's goal was at 34 seconds http://t.co/KrIY0AIi2p pic.twitter.com/Ed03Ak80AL

— Washington Post (@washingtonpost) June 16, 2014
Even our UK brethren got behind Team USA following Dempsey's masterful goal to put the team ahead:
Some @clint_dempsey love from our American brothers @BleacherReport #USA pic.twitter.com/a0RAgZTTOt

— Bleacher Report UK (@br_uk) June 16, 2014
After being eliminated by Ghana in the last two World Cup's, Team USA knew they still had to play a solid game to finish out the victory.
While no more scoring would be had during the remainder of the first half, the Americans suffered a huge blow. Jozy Altidore, who scored two goals in the final friendly, was carried off the pitch after an apparent injury.
Grant Wahl of Sports Illustrated points out a crucial part of the injury for Team USA:
US isn't allowed to call in a replacement if Altidore is out of the tournament.

— Grant Wahl (@GrantWahl) June 16, 2014
The second half of the match started with Ghana on the offensive, controlling possession for much of the next 45 minutes.
Ghana's attack finally paid off when Andre Ayew knotted up the match at 1-1 in the 82nd minute. Here's an overhead view of the goal:
Andre Ayew slices through the defense for the equalizer at 82'. Ghana 1, USA 1 pic.twitter.com/js9ri76MFh

— Bleacher Report (@BleacherReport) June 16, 2014
ESPN Stats & Info also notes the slew of late goals thus far in the World Cup:
After Andre Ayew's goal, 4 of Ghana's 10 #WorldCup goals have come after the 80th minute #GHAvsUSA

— ESPN Stats & Info (@ESPNStatsInfo) June 16, 2014
With just minutes remaining in the match and subsequent stoppage time that stretched out the game, the Americans had hardly and chance to earn three points. That was until a 21-year-old named John Anthony Brooks stepped up with the header heard around the country.
Brooks' goal was captured in the highlights by ESPN following the match:
The US was on its way to a draw, but John Brooks' late header gave the Americans a 2-1 victory. #GHAvsUSA #WorldCup http://t.co/ikMnunf4De

— ESPN Highlights (@HighlightsESPN) June 17, 2014
With just a one-goal differential, America are currently sitting behind Germany in the standings. The final goal gives the United States a crucial three points with a dismantled Portugal team lying ahead on Sunday night.
Follow @RCorySmith on Twitter.