For the fifth time since 1999, the San Antonio Spurs are celebrating an NBA championship. Given the ease with which the team dispatched the Miami Heat in the Finals, they should have plenty of energy for the victory parade.
According to Hector Ledesma of Fox 29 in San Antonio, the Spurs' parade will take place on Wednesday:
Source within #Spurs just confirmed parade will be on Wednesday

— Hector Ledesma (@HectorLedesmaJr) June 16, 2014
The team confirmed the report early Monday morning, via Josh Baugh of the San Antonio Express-News, with a celebration on the San Antonio River starting at 6 p.m. local time and a ceremony in the Alamodome starting at 9 p.m.
This coronation has been two years in the making, following the heartbreaking loss against the same Heat team in 2013, so you know the city of San Antonio will be raucous welcoming back the Larry O'Brien Trophy for the first time in seven years.
Champs again. #GoSpursGo pic.twitter.com/nHN9siU5V2

— San Antonio Spurs (@spurs) June 16, 2014
Sunday's celebration wasn't limited to just the people in the AT&T Center. San Antonio Mayor Julian Castro took time out of his schedule to congratulate the team, as well as provide a message to fans who tend to get rowdy in celebration:
Congratulations to our San Antonio @spurs ! Just as they're the class of the NBA, celebrate with class tonight San Antonio. #5

— Mayor Julián Castro (@JulianCastro) June 16, 2014
Even though there is a lot of credit to go around for the Spurs' victory, starting at the top with head coach Gregg Popovich and consummate professional Tim Duncan, the NBA's newest star and Finals MVP Kawhi Leonard figures to get a very warm reception during the parade.
Fans in the AT&T Center were chanting MVP at the 22-year-old Leonard very early in Game 5. He rewarded those cheers with a team-high 22 points and 10 rebounds. It was his third straight game with at least 20 points, the longest streak of his career.
Despite his star-making turn in these Finals, Leonard, in typical Spurs fashion, was quick to defer credit to Duncan's role on this team and helping his development in the postgame press conference, via Kurt Helin of NBCSports.com.
Just coming here and seeing (Duncan) prepare every day and having that drive and will to want to win at the age he is and after winning all the championships he's won before I got here just motivated me to go even harder because I'm young, and I couldn't really do it every day. Just seeing him at that age just inspired me.
Duncan has always been the guy who isn't going to get proper credit until his playing days are over—there's nothing sexy about a player nicknamed The Big Fundamental—yet all you have to do is look at the level of consistency for the last 16 years to know this is a special talent.
The 2013-14 Spurs epitomized the team-first mentality that often gets lost in today's NBA, so it's only fitting this squad would basically steamroll its way to a title after needing seven games to beat Dallas in the first round of this postseason.
Weather Forecast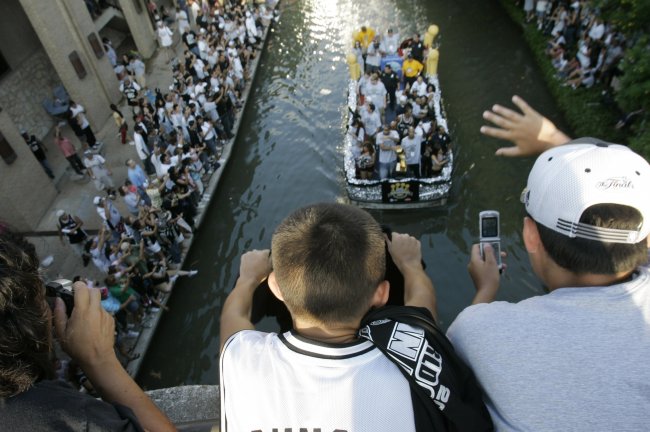 Eric Gay/Associated Press
Just as the Spurs made it rain on the floor in the NBA Finals, Mother Nature might make it rain on San Antonio's parade.
According to The Weather Channel, Wednesday's forecast in San Antonio calls for warm temperatures during the day—up to 88 degrees—with a 30 percent chance of rain and isolated thunderstorms.
The evening looks more promising with a low temperature of 75 degrees, just a 10 percent chance of rain and a good breeze around 11 miles per hour.
Of course, even if the weather is a factor, it's hard to imagine a fanbase as passionate as San Antonio's staying away from a celebration with this team.
How To Watch
The San Antonio River celebration, as well as the Alamodome event, will be shown live on local affiliates, with full coverage starting at 6 p.m. CT. Fans will also be able to stream the event live on NBA.com.
Parade Route
According to the Spurs' website, the river parade will start at the Arneson River Theater with stops at the River Center extension, Convention Center and Rivercenter Mall before ending at the Navarro Street Bridge.
After the parade is over, the ceremony at the Alamodome will follow at 9 p.m. local time. Fans will be allowed into the arena at 4:30 p.m. if they are unable to attend the river parade, or just want to watch it on one of the Alamodome's LED screens, and no tickets are required to get in.
If you want to talk sports, hit me up on Twitter.