Coming into the 2014 NBA Finals, many of the storylines centered on LeBron James' quest to cement himself among the all-time greats. Leaving the NBA Finals, there was absolutely zero doubt that the historically better team led by the historically excellent centerpiece was the true champion.
The San Antonio Spurs not only exacted revenge on James and the Miami Heat for last year's Finals; they possibly obliterated the entire Big Three era in South Beach.
San Antonio capped off its title run with a 104-87 victory Sunday in a game that wasn't even as close as the 17-point deficit would suggest. In fact, Ethan J. Skolnick of Turner Sports summarized the progression of the game perfectly with this tweet:
This is a 59-22 run. This is like nothing we've ever seen in the NBA Finals.

— Ethan J. Skolnick (@EthanJSkolnick) June 16, 2014
The win marked not one, not two, not three, not four but five championships for this dominant franchise since 1999. The Spurs' only loss in the NBA Finals came last year, and they were less than 30 seconds away from winning that before Ray Allen saved Miami.
Yes, San Antonio has the 1999, 2003, 2005, 2007 and 2014 Larry O'Brien trophies, but it is also a contender every single season. Regardless of the fact that it is a small-market team that hardly ever gets a high draft pick, San Antonio pushes all the right buttons on the court and in the front office.
There are international sensations on this roster, overlooked gems from the draft and a certain Finals MVP who was brought over in a brilliant draft-night trade with the Indiana Pacers for point guard George Hill.
Perhaps nothing highlighted the Spurs' place in history more than their 2014 playoff run and the absolute steamrolling it laid on the two-time defending NBA champs. Sunday was the 12th time this postseason San Antonio won by 15 or more points, which is an all-time record, and Kevin Pelton and Basketball-Reference pointed out just how dominant it was for two months:
Per @bball_ref, the Spurs' +214 point differential is the highest ever for a playoff run (was +205 for 1987 LAL): http://t.co/5JBzdGavkw

— Kevin Pelton (@kpelton) June 16, 2014
The Spurs defense got the job done against two of the best players on the planet, even if Dwyane Wade is past his prime. Tom Haberstroh of ESPN.com and ESPN Stats & Info pointed out how effective San Antonio was against Wade in the paint:
Per @ESPNStatsInfo: Dwyane Wade is 2-15 FG in the paint over last two games. Insane.

— Tom Haberstroh (@tomhaberstroh) June 16, 2014
As for James, when he went up against Finals MVP Kawhi Leonard, he attempted a field goal on 19 percent of his touches as opposed to 33 percent against other defenders. James was also held without a touch 33 percent of the time when guarded by Leonard and only 23 percent of the time against other defenders, and Leonard held other Heat players to 27.8 percent shooting.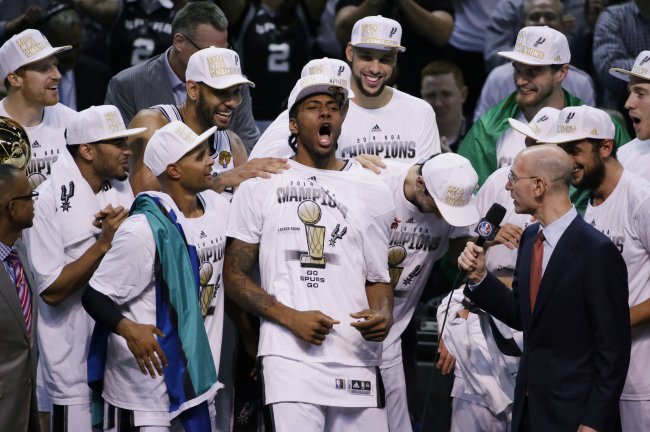 Tony Gutierrez/Associated Press
On the offensive end, San Antonio averaged an astounding 118.5 points per 100 possessions and shot an effective field-goal percentage of 60.4. Both of those totals were the highest in an NBA Finals since the 1979-80 campaign.
ESPN.com pointed out just how dominant San Antonio was in terms of strict field-goal percentage from a historical perspective:
Highest NBA Finals Field-Goal Percentage

| | | |
| --- | --- | --- |
| Year | Team | Field-goal percentage |
| 2014 | Spurs | 52.8 |
| 1991 | Bulls | 52.7 |
| 1989 | Pistons | 52.7 |
| 1987 | Lakers | 51.5 |
| 1984 | Lakers | 51.5 |
ESPN.com
San Antonio also helped cement its place in history with an incredibly focused and goal-oriented mindset. It overcame not only the 2013-14 Heat but the demons from last year's heartbreaking miss in the Finals. A mentally weak team would have collapsed and taken too long to recover, but the Spurs earned the No. 1 seed and absolutely zeroed in on revenge all season.
Who is more likely to return to the Finals next year?
Tim Duncan discussed as much after the win, according to the Associated Press, via ESPN.com: "We remember what happened last year and how it felt in that locker room and we used it and built on it and got back here and it's amazing. It makes last year OK."
Speaking of Duncan, he is that historically great centerpiece for this team who needs to be included in the best-player-since-Michael-Jordan conversations from here on out. ESPN's Numbers Never Lie highlighted how Duncan is much closer to His Airness than either James or Kobe Bryant is at this point:
DO NOT SLEEP on Tim Duncan, when talking about the all-time greats. pic.twitter.com/FMi0WMsZl0

— Numbers Never Lie (@ESPN_Numbers) June 16, 2014
This isn't just a retrospective piece, though.
The future is absolutely bright thanks to the presence of Finals MVP Leonard. Alex Kennedy of Basketball Insiders pointed out just how young Leonard truly is:
I'll say this again: Kawhi Leonard is 22 years old - younger than some prospects in the 2014 NBA Draft. And now, your Finals MVP.

— Alex Kennedy (@AlexKennedyNBA) June 16, 2014
Leonard will eventually take the torch from Duncan, Tony Parker and Manu Ginobili and uphold the responsibility of being the face of this franchise. The fact that he already has reached the pinnacle of the NBA in dramatic fashion by containing James of all people will only serve to boost his self-confidence going forward.
Perhaps there is another ring or two on the near horizon.
Advanced stats used here courtesy of ESPN.com.
Follow me on Twitter: