Let the speculation officially begin—as if it hasn't already.
The Miami Heat's Big Three now have the opportunity to terminate their contracts and explore free agency. Asked about their plans following Miami's Game 5 loss in the NBA Finals, they weren't giving away any hints.
According to USA Today's Jeff Zillgitt and SI.com's Ben Golliver, LeBron James certainly wasn't making any promises:
LeBron James on potential free agency: "I haven't even really thought about that just yet."

— Jeff Zillgitt (@JeffZillgitt) June 16, 2014
LeBron James: "I love Miami. My family loves it. Right now, I'm not even thinking about that." Said he will sit down with family/friends.

— Jeff Zillgitt (@JeffZillgitt) June 16, 2014
"You guys are trying to find answers and I'm not going to give you one." LeBron James on his future

— Ben Golliver (@BenGolliver) June 16, 2014
As noted by Bleacher Report's Ethan Skolnick, neither was Chris Bosh:
Chris Bosh doesn't know what will happen with opt outs... "I don't know if I'm going to have Frosted Flakes or Honey Nut Cheerios tomorrow."

— Ethan J. Skolnick (@EthanJSkolnick) June 16, 2014
Marc Spears of Yahoo Sports revealed that Ray Allen—who, at age 38, may be contemplating retirement—was similarly noncommittal:
Ray Allen says he will see where his "true heart lies" in a couple of days in terms of playing or retiring.

— Marc J. Spears (@SpearsNBAYahoo) June 16, 2014
With so many open ends, many understandably will wonder what to make of the radio silence.
In fairness, this probably wasn't the right time to unearth any answers. Fresh off a disappointing Finals loss to the San Antonio Spurs, the Heat need some time to lick their wounds and turn their attention to the future.
All the same, the disappointment over Sunday night's loss spoke volumes in its own right.
If James and Co. are going to stick around, they may need some assurances that they'll be surrounded by improved talent going forward.
It was San Antonio's role players who consistently made the difference in the Finals, and the Heat will almost certainly look to respond by acquiring an improved supporting cast of their own.
Will some signs of progress be enough to keep the current core intact? Only time will tell.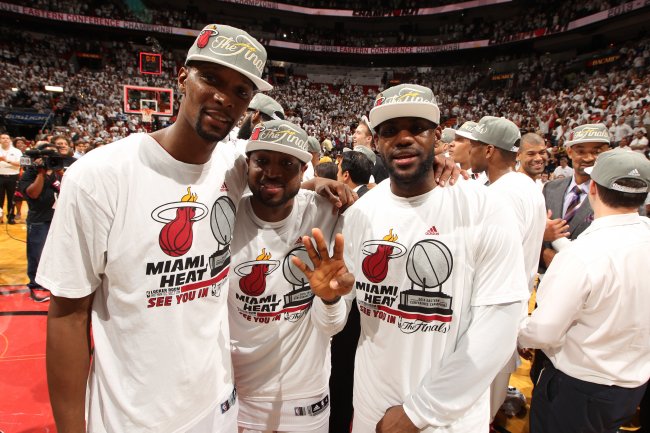 Issac Baldizon/Getty Images
Back in April, The Palm Beach Post's Jason Lieser reported that Heat owner Micky Arison sounded confident about the organization's chances of keeping a good thing going:
The most recent indication that those three will stay, be it through not opting out or by opting out and signing longer contracts, is from owner Micky Arison. When asked Monday by 790 The Ticket to give a percentage chance of keeping them with the Heat, he responded, '100 percent.'
CBSSports.com's Zach Harper explains that James, Bosh and Dwyane Wade could opt out simply to reconstruct more lucrative long-term deals:
Not all three players have to opt out of their current deals this summer, although it's expected they will just to keep fitting in more years at big money in their careers. All three players are signed for just over $20 million next season, but have the opportunity to execute an early termination option this summer to become free agents. If they don't execute that option, they'll have a player option on the 2015-16 season for just over $22 million they could exercise.
Matters could also be complicated in the event that Miami attempts to create cap space for a further premier addition.
Just days ago, ESPN.com's Brian Windhorst and Marc Stein reported that the Heat are contemplating a move to sign Carmelo Anthony:
Sources told ESPN.com that Heat officials and the team's leading players have already started to explore their options for creating sufficient financial flexibility to make an ambitious run at adding New York Knicks scoring machine Carmelo Anthony this summer in free agency.
In that event, the Big Three would opt out only to re-sign cheaper deals. That would be the optimal outcome. In a worst-case scenario, however, James could look to join another franchise, taking his talents to yet another stop in his quest for titles. From there, the dominos would start falling.
For now, James, Bosh and Wade aren't thinking about that. Or, in any case, they certainly aren't talking about it.