The NBA draft is fast approaching, but teams in the middle of the first round received some surprising news Sunday that could impact their draft strategy, via Adrian Wojnarowski of Yahoo! Sports:
Agent: In a surprise, 7-foot Kristaps Porzingis will withdraw from the 2014 NBA Draft: http://t.co/astSdG9OUy

— Adrian Wojnarowski (@WojYahooNBA) June 16, 2014
Kristaps Porzingis checks in at 7'0'' tall and could be a real game changer on both ends of the floor at the NBA level. Instead, his agent Andy Miller said the big man will return to Europe next season, per the Yahoo! report, to play for Sevilla in the elite Spanish ACB League.
The logic behind the move was that he could climb higher than the potential top-20 status he currently enjoys now in next year's draft class.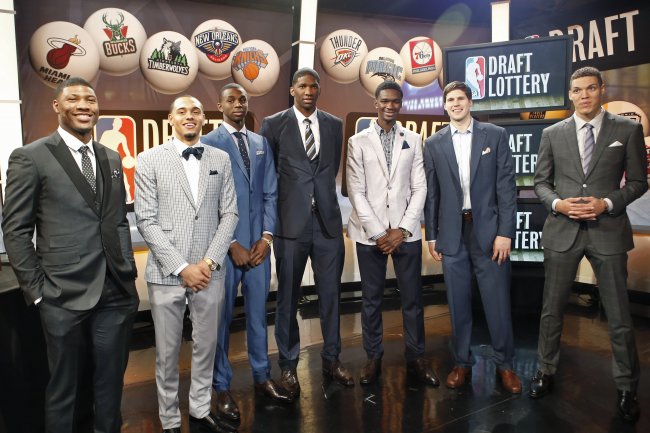 Kathy Willens/Associated Press
He is an athletic specimen with an explosive first step and vertical leap, which helps him play above the rim and dominate on the glass. Porzingis also gets out in transition like a stretch forward and swats shots away on the defensive side. Even when he doesn't register a block, he alters enough shots to be a true asset in the paint.
Chad Ford and Royce Young of ESPN.com both had interesting tidbits about Porzingis' potential draft stock in the 2014 draft:
Agent Andy Miller tells ESPN Kristaps Porzingis withdrawing from 2014 Draft. Surprise. Was late lottery to mid 1st rd. Yahoo reported 1st.

— Chad Ford (@chadfordinsider) June 16, 2014
Thunder had reportedly made him a promise. MT @WojYahooNBA Agent: In a surprise, Kristaps Porzingis will withdraw from the 2014 NBA Draft.

— Royce Young (@royceyoung) June 16, 2014
The Oklahoma City Thunder have the Nos. 21 and 29 picks and need some depth in the big-man department because Kendrick Perkins isn't quite Shaquille O'Neal in his prime out there, but they apparently have to look elsewhere.
Of course, this 2014 class is seen as particularly loaded, so this decision could prove beneficial in the long run. However, Danny Ainge had other thoughts about this class, via John Gonzalez of CSN Philly:
I've been saying all along that the experts on ESPN and so forth are blowing this draft out of proportion. There are a lot of nice players and players that we'll be excited to work into the development, but they're not going to come in and turn our team around in one year or two years.
Still, the perceived strength of this class among teams still trends toward strong, and this tidbit from Ford puts this decision in perspective:
Porzingis was concerned he wasn't ready for NBA. Wanted to keep developing. A likely top 5 pick in 2015 if he progresses.

— Chad Ford (@chadfordinsider) June 16, 2014
Developing for another season and ending up as a top-five pick makes this choice seem rather straightforward for Porzingis.