Top Five College Quarterbacks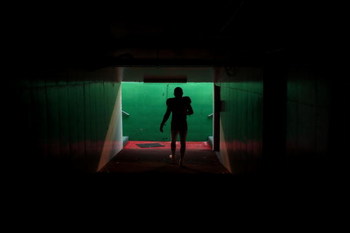 College football has transformed from a running game to a throwing game—it's all about the quarterbacks now.
The championship game last year featured two of the best quarterbacks in the nation, and it turned out to be a great game.
The Big 12 Conference was known for quarterback play last year, and the best in that conference have returned for another year, which will surely lead to some exciting football this season.
If you like big-time offense, follow these quarterbacks' teams next year; you won't be disappointed.
5: Todd Reesing. University of Kansas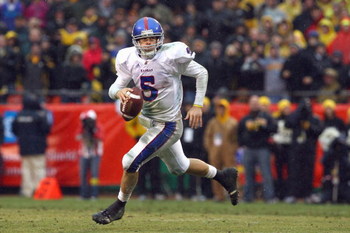 Todd Reesing is one of the most exciting quarterbacks to watch in college football. Quite simply, he can do it all.
His great pocket presence, combined with an uncanny ability to scramble and avoid sacks, help him produce some brilliant plays.
One such play happened in the final game of last season, against rival Missouri.
With 30 seconds left in the game, and his team down 37-33, on fourth down on Missouri's 27 yard line, the pocket collapsed around Reesing.
He scrambled to his right, keeping his eyes down field, and found his favorite target, wide receiver Kerry Meier, wide open for the last-second game-winning touchdown.
Such abilities have allowed him to average close to 3700 yards and 33 TDs over the last two years.
Look for him to continue on those numbers this year when throwing to one of the most talented receiving groups in the nation.
4: Case Keenum. University of Houston
Keenum is not well-known nationwide, but he is the only returning QB to throw for 5,000 yards last year (Graham Harrell was the other).
After starting for Houston his freshman and sophomore seasons, I expect to see even more improvement in his junior year.
Throwing for 5,020 yards and 44 touchdown last year, there isn't a whole lot of room to improve statistically speaking, but he can learn to get rid of the ball quicker after doubling his sack total from freshman year.
Just because he doesn't get coverage on ESPN doesn't mean he's not a great college quarterback. Keep your eye on this guy next year, and you might be pleasantly surprised.
3: Colt McCoy. University of Texas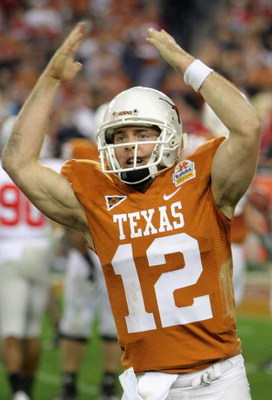 McCoy was a Heisman finalist last year, and set an NCAA record by completing 76.7 percent of his passes.
I want you to think about that statistic for just a moment—76.7 percent of his passes were completed. That is just ridiculous.
McCoy was lucky that he returned one of his favorite targets in WR Jordan Shipley, who petitioned the NCAA for a sixth year of eligibility because of injuries.
McCoy made the right decision to stay in school, as he wanted another shot at the national title game, and to improve his game for the pros.
He may not throw the ball downfield often, but when you have a short threat like Jordan Shipley, there is no reason to look anywhere else.
Look for this kid to have another huge year, throwing close to last year's totals of 3,800 yards and 34 TDs.
2: Sam Bradford. University of Oklahoma
While Bradford may be the best pro prospect of the bunch, he's not the best college QB.
While rival McCoy was completing a ridiculous percentage of passes last year, Bradford was completing passes for insane yardage.
Bradford threw for over 4,700 yards and 50 touchdowns last year, while only throwing eight interceptions and taking 11 sacks.
While a lot of this success can be credited to the massive offensive line he had at his disposal last year, most of the key cogs in that line will be playing on Sundays this year.
One of the most dangerous receiving threats in the country, Jermaine Gresham, returns.
While he may have peaked statistically, look for another monster year from this future first-round draft pick, and maybe he can improve his game even more.
1: Tim Tebow. University of Florida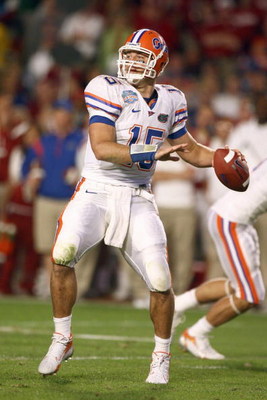 There should be no debate about this decision—Tebow has already cemented himself as one of the greatest college football players to ever play the game, and he returned to add to his resume.
Every year he has been in college, he's been at the top of college football.
His freshman year, he backed up senior Chris Leak, but was a key role player on the national championship team.
He followed this performance by winning the Heisman Trophy in his sophomore season, becoming the first underclassman to win the award.
Then, last season, in his junior year, he beat Oklahoma in the national championship game to get his second ring in three years.
If he can manage to win another Heisman or national championship, he would cement his college legacy as one of the all-time greatest college football players.
Florida is stacked with enough talent to make a run, and we all know what happens when Tebow gets upset—he will work as hard as anyone to prove to himself that it won't happen again.
Watch out—if someone or something upsets him, we could see him wearing three national championship rings in four years.
Keep Reading

Oklahoma Sooners Football: Like this team?