Arsenal are likely to be very active in the summer transfer window as manager Arsene Wenger looks to strengthen his side to make them genuine title contenders.
The Gunners sat atop the Premier League for more days than any other side last season, per the competition's Twitter feed, but ended up in fourth place:
.@MCFC led the #BPL for 15 days in the 2013/14 season. Days at the top: 128 - Arsenal 64 - Chelsea 59 - Liverpool 15 - Man City

— Premier League (@premierleague) May 12, 2014
Eventual winners Manchester City finished seven points ahead of the north London outfit in 2013-14, and greater depth is needed if Arsenal are to bridge that gap.
Let's take a look at who Wenger is targeting over the summer in order to make Arsenal more competitive next season.
Striker Needed
Claudio Villa/Getty Images
Olivier Giroud was the only Arsenal player to score more than 10 goals in the Premier League last season, per BBC Sport.
He was often isolated at the head of the Gunners attack, and a lack of back-up saw him fade away slightly in the latter stages of the season.
A new front man of genuine quality to partner and rival Giroud is absolutely essential at the Emirates and the Frenchman seems to agree, per InfoSport+ via Sky Sports: "I can tell you Arsenal will add a striker to the team. We need another striker. Great clubs have several good strikers, who compete with each other."
Bayern Munich's Mario Mandzukic is reportedly on Wenger's shortlist, per James Dickenson in the Express, and the Croatian is eager to leave the Bavarian outfit, per ESPN FC:
Mario Mandzukic confirms he has asked to leave Bayern Munich: http://t.co/Nz1H6R6wFv

— ESPN FC (@ESPNFC) June 9, 2014
He would certainly add a great deal of quality to Arsenal's attack and is proven at the highest level, having won the Champions League and bagged 18 goals in the Bundesliga last season, per WhoScored.com.
Mandzukic is a particularly talented aerial threat, per Opta, and his heading ability and physical presence could add a new dimension to Arsenal's play:
24 - Since joining the Bundesliga in 2010, Mario Mandzukic has scored 24 headed goals (no other player more than 17). Wanted. @FCBayern

— OptaFranz (@OptaFranz) June 10, 2014
Aside from the Croatian, Wenger reportedly has Mario Balotelli and Karim Benzema on his striker shortlist, per 101 Great Goals:
Arsenal boss Arsene Wenger arrives at the World Cup to scout Mandzukic, Balotelli & Benzema http://t.co/vtUFVMNuCj pic.twitter.com/3qIjyPpAdZ

— 101 Great Goals (@102greatgoals) June 12, 2014
Either of them would provide the goals that Arsenal need, although the Italian Balotelli's temperament could be an issue as it was when he was at Manchester City.
Benzema is a proven goalscorer and netted 17 times in La Liga last season, per WhoScored.com, and he is currently trying to secure a new contract at the Spanish giants, per AS:

Benzema extension talks stall on pay rise demands http://t.co/uxHP6xTo3f

— AS English (@English_AS) June 13, 2014
Arsenal need the type of striker they have been lacking since the departure of Robin van Persie to Manchester United and Wenger appears to be looking at the right kind of players.
The Frenchman needs to spend some money in the summer to secure a player of proven quality who can score the goals that may lead them to an English title for the first time since 2004.
Sagna Replacement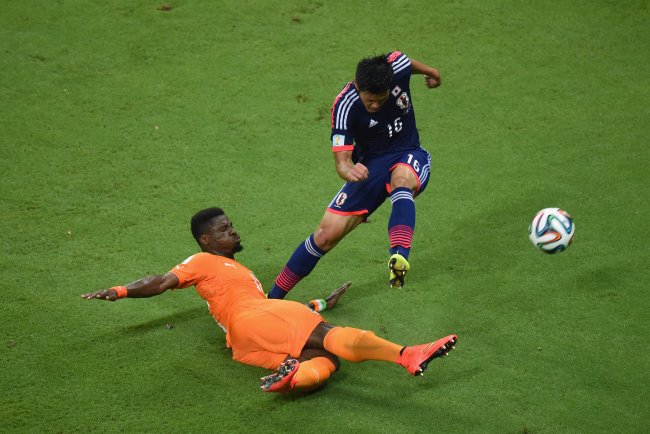 Matthias Hangst/Getty Images
Right-back Bacary Sagna left the Emirates after his contract expired at the end of last season, having played for the club for seven seasons. He has now joined Manchester City, per the Premier League:
After 213 #BPL appearances for @Arsenal, Bacary Sagna is to join @MCFC. Read more: http://t.co/z1f38dZHp7 pic.twitter.com/LsLt4OioZ1

— Premier League (@premierleague) June 13, 2014
It seems that Toulouse's Serge Aurier is at the top of Wenger's list to replace the Frenchman, and the 21-year-old would be a good fit in North London.
He made 34 appearances in Ligue 1 last season and scored six goals while providing the same amount of assists per WhoScored.com.
Ivorian Aurier would be a quality signing for Wenger and Arsenal and looks a more than adequate replacement for Sagna per the Daily Mirror's Darren Lewis:
Super goals from Bony and Gervinho. Fantastic crosses both times from Aurier. Looks a quality replacement for Sagna at Arsenal.

— Darren Lewis (@MirrorDarren) June 15, 2014
The youngster hinted earlier this month that the deal for him to move to Arsenal was on, per Squawka, and reports suggest that he could be snapped up for £7 million, per Goal.com:
Serge Aurier tells Arsenal fans that he'll be joining the Gunners this summer. More here: http://t.co/puNxQ1Fwfi pic.twitter.com/MEjLwUBjoh

— Squawka Football (@Squawka) June 2, 2014
Arsenal need more quality in their ranks if they are to contest domestically and in Europe next season.
The Gunners eschewed the opportunity to re-sign former captain Cesc Fabregas—who moved to Chelsea—but need more quality throughout the squad.
A new striker and right-back could massively improve Arsenal and make them a genuine title contender next term.