2009 Arkansas Razorbacks: What to expect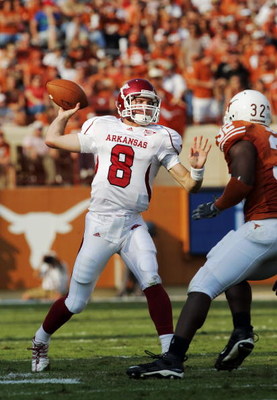 Arkansas will be one of the most improved teams in the country this coming year.
Some have said Arkansas will surprise many people. This slideshow will breakdown Arkansas's opponents, excluding Eastern Michigan, Missouri State, and Troy, and judge what the outcome might be in each game.
Sep. 19, Arkansas vs. Georgia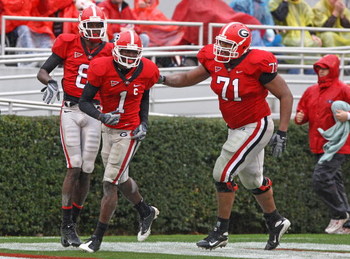 After the season opener with Missouri State, Arkansas opens SEC play with Georgia at home. Knowshon Moreno and Matthew Stafford may be gone, but that doesn't mean the game will be any easier.
The Bulldogs' defense, led by standout linebacker Rennie Curran, will be great once again. Reshad Jones is a safety to look out for. Jones had 76 tackles and five interceptions last year.
Georgia's offense will be much different from last year, as Georgia's top two playmakers are gone.
Caleb King has great potential to be another great Georgia running back. At quarterback, Joe Cox is unproven and may struggle in his second SEC game. He will have a great receiver in A.J. Green to throw to.
Let's not forget Mark Richt is good at winning road games in the SEC. That said, Georgia may be tired after playing at Okie State and South Carolina.
I'll call this game in favor of Georgia.
UGA 27, Ark 24 (1-1)
Sept. 26, Arkansas @ Alabama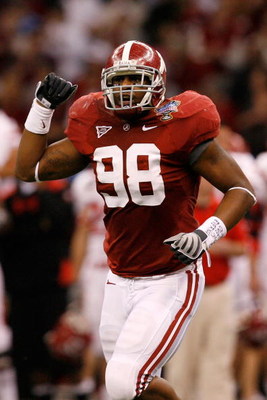 This game is going to be another tough one.
Alabama has nine returning starters on defense, including huge defensive tackle Terrance Cody.
Linebacker Dont'a Hightower, the freshman all-American, will be back with a year of SEC play under his belt.
On offense, Julio Jones will be very hard to cover and should have a great game against a below average secondary.
If Alabama wins, it will be the first time that any team in the series has beaten the other three times in a row.
This one won't be close; but will be closer than last year.
Bama 35, Ark 14 (1-2)
Oct. 3, Arkansas vs.Texas A&M (@ Arlington)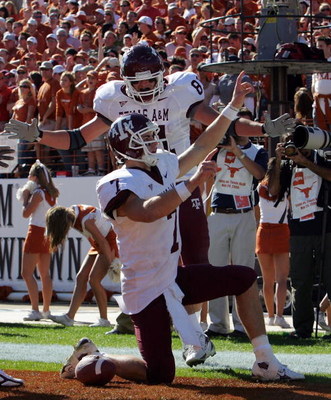 This game should be exciting, as it takes place in the Dallas Cowboys' new stadium. Arkansas will be eager for a win at this point.
A&M's offense has many returning starters. They are still young at wide receiver and running back. A&M does have an experienced offensive line with three seniors returning.
Arkansas' offense will have a good day with A&M's defense. The Aggies are very young on defense and Arkansas is expected to have a great offense. Arkansas has a good chance to have a great running game. Texas A&M is just not very talented.
Ark 31, TAMU 24
Record: 2-2
Oct. 10, Arkansas vs. Auburn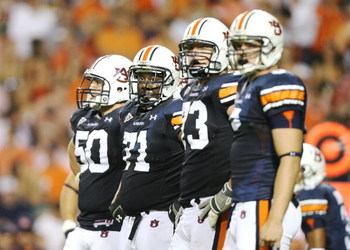 Arkansas comes back home to face Auburn in Fayetteville.
Auburn will have a stout defense with seven starters returning, including Antonio Coleman at defensive end and free safety Zac Etheridge.
Their offense is another story. While Gus Mahlzan might be the best offensive genius out there, Arkansas will know what to expect from Auburn's offense. The Tigers still have a quarterback battle raging between Kodi Burns and Neil Caudle.
Since Auburn does not have much of a passing attack, the running backs figure to have a busy year. Yet, the key components aren't there for Auburn to run their offense. Arkansas should have a great game defensively.
Auburn does have a good chance of controlling the line of scrimmage with decent offensive and defensive lines.
Ark 27, Aub 20
Record: 3-2
Oct. 17, Arkansas @ Florida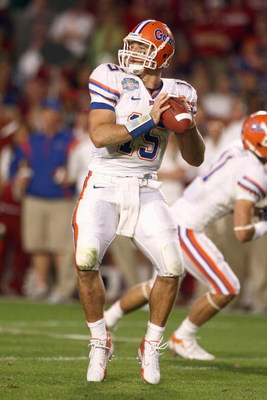 There's not much to say on this one. Florida should dominate this game.
The Gators' defense, with all their starters returning from last season, will be the best in the nation by far. Brandon Spikes is probably the best OLB in the country. This defense will give Arky's offense trouble throughout the game.
The offense will be outstanding, as well. Percy Harvin won't be there, but look for Emmanuel Moody to have a good game along with Tim Tebow.
UF 42, Ark 10
Record: 3-3
Oct. 24. Arkansas @ Ole Miss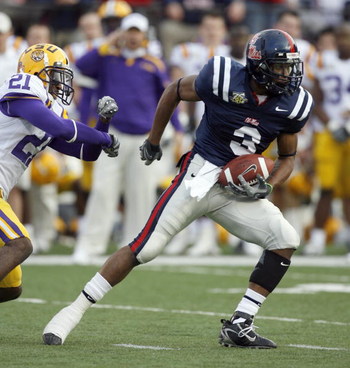 This is yet another tough game in Arkansas's grueling schedule as the Hogs go down to Oxford to take on Ole Miss. Ole Miss is looking to carry over last season's success into 2009.
The Rebels' defense will be just as good, if not better, than last year's. Ole Miss will have a fantastic defensive line with Greg Hardy and Jerrell Powe. They'll have a relatively easy time shutting down the Hogs' running game. Ole Miss' secondary will also be very experienced with three returning starters.
The offense will be even better with Jevan Snead, one of the best quarterbacks in the country, returning for his junior season. The agile all-purpose man, Dexter McCluster, is back and will rack up big numbers this year, as well.
Mississippi safely wins this one.
OM 38, Ark 21
Record: 3-4
Nov. 7, Arkansas vs. South Carolina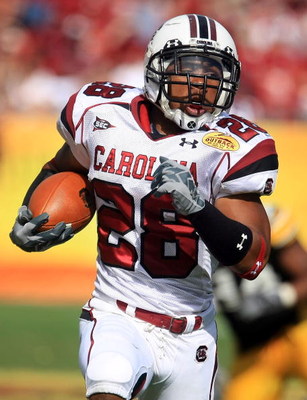 After taking on Eastern Michigan, Arkansas resumes SEC play with the Gamecocks.
The Gamecocks' defense will still be pretty tough with Eric Norwood at linebacker. South Carolina also has a pretty good defensive line. Arkansas will have to go to the air or run many sweeps to avoid the agile front four.
South Carolina must stay with one QB, which may not happen. Stephen Garcia may have played some last year but he's only a sophomore and didn't have much SEC play. His performance was less than stellar last year, as well. The running backs didn't really separate themselves in talent over the spring, either.
South Carolina may be too distracted by what happened at the Tennessee game a week earlier, win or loss.
Ark 31, SC 28
Record: 5-4
Nov. 21, Arkansas vs. Mississippi State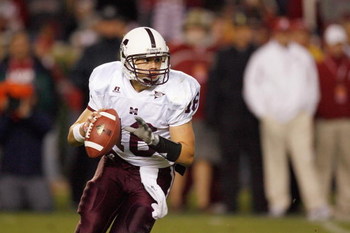 Mississippi State heads to Little Rock to take on the Razorbacks in Arkansas's second to last game. Arkansas played Troy the previous week.
Mississippi state's defense actually isn't bad. Linebacker Jamar Chaney, an all-SEC player in 2007, is back from an injury that set him out most of last year.
K.J. Wright is back at linebacker, as well, after 72 tackles and four sacks in 2008. They have only one starter returning from the secondary in Marcus Washington, who had 44 tackles last year. The defensive front has no returning starters.
Arkansas will have an easy time with this defense.
Their offense looks to be bad again this year. They are not very good at QB or receiver, which are the two key components to Mullen's offense. Anthony Dixon will run the ball well like he did last year against the Hogs. Count on Arkansas to play the linebackers close in order to stop Dixon.
Arkansas runs off with this game easily.
Ark 41, MSU 17 (7-4)
Nov. 28, Arkansas @ LSU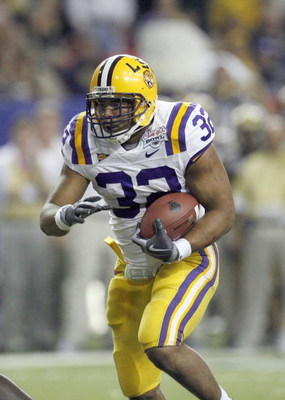 Arkansas goes off to Baton Rouge to take on LSU in the annual rivalry game.
The Razorbacks' luck will most likely run out this year. Their defense looks to improve after a dreadful year in 2008.
The secondary will be good with Patrick Patterson and Chris Hawkins at CB. However, LSU was very vulnerable to throwing the ball deep last year. Look for Arkansas to do it again. This will open up the inside lanes for passing since LSU will be worried about the deep ball.
Their offense will be amazing with Jordan Jefferson, Charles Scott, and Ciron Black looking to have great seasons.
Arkansas will have trouble stopping Scott and LaFell at receiver. The Hogs might try to keep the linebackers floating around the middle to stop big runs and crossing routes down the center. This game will probably end up very close again.
LSU 45, Ark 42
Arkansas finishes 7-5
Keep Reading

Arkansas Razorbacks Football: Like this team?