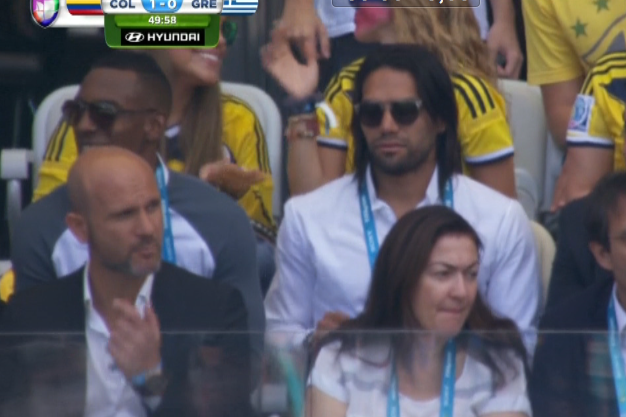 Credit: Univision
Players missing the World Cup due to injury is one of those painful but inevitable realities of sport, but Radamel Falcao has made the best of it and gone to Brazil to watch his Colombia team-mates.
The striker could not recover from a major injury on club duty with Monaco in time for the tournament. But as you can see from the tweet above, he got on the plane to Brazil with his wife, put his Colombia shirt on and made sure to watch the team's opener against Greece in the stadium.
"Hinchas inseparables," written on his shirt, translates approximately to "inseparable fans," and it's a nice example of a player crossing the dividing line between participant and fan.
He was also spotted in the crowd by cameras later on, and, as you can see below, had time to grab a quick selfie with team-mate Fredy Guarin.
Junto a Amaranto, @fguarin13 y Pascual. Siempre apoyando a nuestros compañeros. #VamosColombia #HinchasInseparables pic.twitter.com/FQ0SpBEB2q

— Radamel Falcao (@FALCAO) June 14, 2014
[Twitter]