The Top 10 Current College Football Coaches
In this day and age of college football, establishing who can lead a team effectively is judged by his team's success and by its longevity.
Every team feels that its coach is the best for many different reasons—such as winning big games or holding a very long winning streak over its biggest rival.
Here's a look at the 10 best coaches of the current era.
10. Chris Petersen, Boise State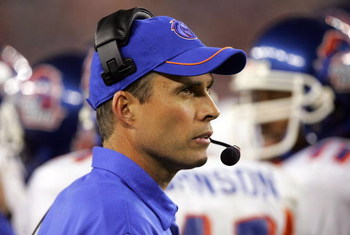 Only three years into his coaching career, Chris Petersen has led Boise State to two undefeated regular seasons and a BCS win over Oklahoma in the 2007 Fiesta Bowl.
Even though the WAC is not the most difficult mid-major conference, losing just four games in three years at any school is a major challenge, especially at a school with a limited local recruiting talent pool.
Petersen's name has been repeatedly floated for bigger jobs. But as long as he is coaching on the blue turf, Boise fans are in for a winning, exciting brand of football.
9. Joe Paterno, Penn State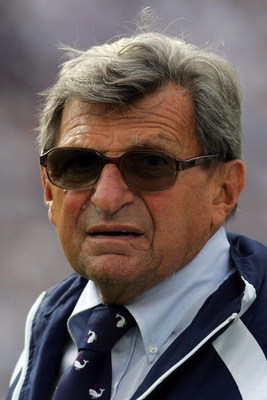 Even though JoePa is the winningest coach in FBS history, recent history has not been as good as the past for the Nittany Lions.
However, two Big Ten titles in the decade show that Paterno is still among the game's legendary coaching figures.
2008 showed that he is willing to adapt to the times with the explosive Spread HD offense that Penn State rode to the Rose Bowl.
It's unclear how much longer Paterno will stay at Happy Valley, but he is expected to lead PSU to another great season in 2009 at the age of 83.
No one may be able to beat Paterno in longevity for a long time.
8. Nick Saban, Alabama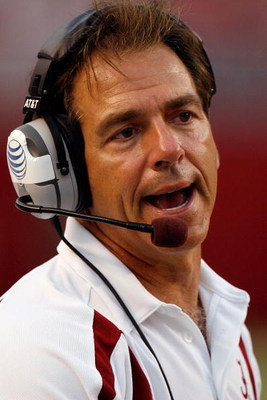 Wherever he's been—Michigan State, LSU, or Alabama—Nick Saban has been a winner. In just a few years at Alabama, Saban has turned the program around and took them to the SEC Championship Game this past year, only to lose to Florida.
Despite a loss to Utah in the Sugar Bowl, Saban has injected new life into the Crimson Tide program in very little time.
Although he has only one national championship to his credit, Saban has been great at revitalizing programs in need of a turnaround.
Alabama fans are hoping that Saban stays in Tuscaloosa for a long time if they liked the results of 2008.
7. Les Miles, LSU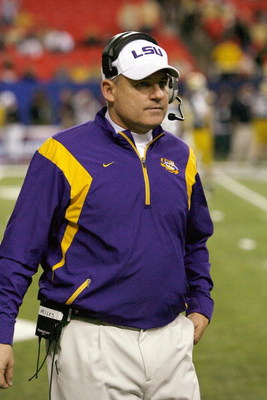 Nick Saban's successor has done a tremendous job in filling in, notching a BCS title in 2008—with LSU being the only team to win a national championship with two losses.
Miles has been perfect in all four bowl games at Baton Rouge, not to mention being a very good recruiter in a rich area of talent with proximity to Texas and Florida players.
Only 11 losses in four seasons—10 in the volatile SEC—are a testament to Miles' intelligence and his flair for the dramatic (see 2007 LSU vs. Auburn).
LSU's struggles in the past season, uncharacteristic of the Miles era, were mostly from QB struggles.
If they can find a solid starter—possibly freshman Russell Shepard—expect Miles to lead LSU on a path to the conference title game for the third time in his LSU tenure.
6. Frank Beamer, Virginia Tech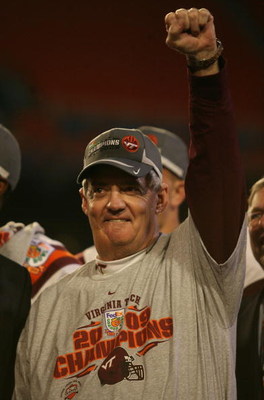 One of the most underrated coaches in college football, all Frank Beamer has done at Blacksburg is win.
Beamerball has been a fixture in Virginia Tech since 1991, and he has led the Hokies to six conference titles—including three since joining the ACC in 2004.
He has had the privilege to coach such great players as Michael Vick in the 1998 national runner-up season. More recently, he had Eddie Royal, who was great in his rookie year with the Denver Broncos.
Beamer has notched double-digit win totals in every season while in the ACC. He remains under the radar because his style is not flashy, but it just produces.
5. Bob Stoops, Oklahoma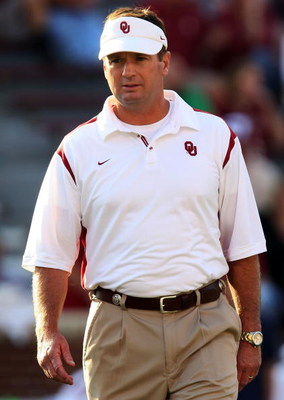 Oklahoma football has enjoyed tremendous success in the Bob Stoops era in Norman, featuring the 2000 National Championship.
Five additional conference championships in the Big 12 are a testament to consistency and success for the Sooners.
However, his losses in five of the last six bowl games keep him from being higher on the list. No doubt Stoops has been an amazing recruiter, creating a program that seems to reload year after year in Norman.
If he can start winning some big BCS games, Stoops will rise higher among the elite coaches of the game. But with superstars all over the field, Bob Stoops has a legacy established that will only continue to grow over time.
4. Mack Brown, Texas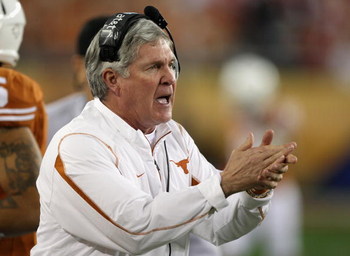 The other coach of the Red River Shootout, Mack Brown has led much more talented teams in the recent years of his tenure, including Vince Young's 2006 championship team.
Brown has notched five consecutive double-digit win seasons in a difficult Big 12 South and won all five bowl games in that time span—including a 3-0 record in the BCS.
Brown's success is tied to a combination of the immensely deep Texas high school talent pool and developing a group of very talented players into solid, cohesive units.
Brown has created one amazing program in Austin, one that can consistently contend for a conference and national title for years to come.
3. Jim Tressel, Ohio State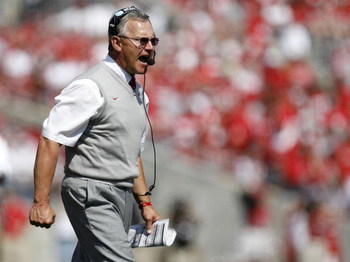 Jim Tressel took the Ohio State job in 2001, and Buckeye Nation could not have asked for anyone better.
All Tressel has done is win five Big Ten titles and go 7-1 against the Michigan Wolverines.
He has established a defensive mindset and won the 2003 National Championship with one of the best defenses of the current era.
No coach has been as scrutinized as Tressel, losing consecutive BCS National Championship Games in 2007 and 2008.
But he has rebounded and utilized the Ohio recruiting firms to keep the shelves fresh every season and keep Ohio State among the best in the game.
2. Urban Meyer, Florida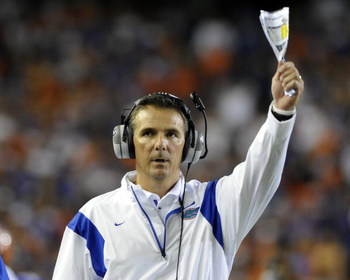 If anyone has done more in less time, Urban Meyer's name has to be up there as far as coaches go.
In just four seasons in Gainesville, Meyer has won two national championships, in 2007 and 2009, and brought an electrifying spread offense to the Swamp.
Meyer has just been a coach for eight seasons, but his career is already more decorated than men who have coached for 20 to 30 years.
He has been criticized for being harsh to former alums, but Gator fans have nothing to be worried about, especially if Meyer continues to add to the trophy case. Time will tell, though, if Meyer can stay on top of his game when Tim Tebow leaves at the end of the season.
Conventional wisdom says he will be fine with Tebow's successor in 2010. Gator Nation has reason to be excited for the post-Tebow future.
1. Pete Carroll, USC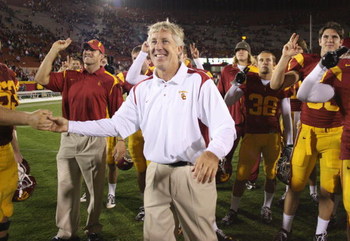 The USC Trojans have been the closest thing to a dynasty in college football in this decade, and Pete Carroll has been the ringleader of this powerhouse program.
USC had been mediocre for some time before Carroll's arrival, but they have been unstoppable on the West Coast for this decade.
Eight straight Pac-10 titles and a 33-game winning streak, to go with a national championship in 2005, speak for themselves—not to mention three Heisman Trophy winners as well.
The only criticism of Carroll is his team losing games to teams far inferior to their own. But they more than make up for it by dominating the talented teams at every opportunity possible.
He is probably the best recruiter in the country, and losing players every year doesn't affect the steam of the Trojan machine.
Pete Carroll has created the program of the decade in college football, and he intends to keep it that way for as long as he stays in Southern Cal.
Keep Reading