Brazil just got a lot more orange.
Or "Oranje," if you prefer. On Friday, the Netherlands absolutely dominated and embarrassed Spain, beating them, 5-1, in one of the most shocking World Cup results in years. Robin van Persie and Arjen Robben each notched a brace in the blowout and made it known in no uncertain terms that they were now the favorites in Group B.
And in the process, perhaps let it be known that the golden generation for Spain has come to a close. If you missed the highlights, ESPN FC has you covered:
HIGHLIGHTS: Spain suffers the worst loss by a defending champion in World Cup history as Netherlands raze La Roja 5-1 http://t.co/VJuObrcfI8

— ESPN FC (@ESPNFC) June 13, 2014
Of course, it's a bit soon to throw roses on the grave and lower this Spanish side into the ground. But goodness, were they outclassed over the last 46 minutes of the match by the Dutch. And goodness, was this loss not only brutal, but it was historically brutal for the Spaniards.
Consider this, from Nate Silver of FiveThirtyEight:
The last time Spain conceded 5+ goals was June 13, 1963, in a friendly against Scotland.

— Nate Silver (@NateSilver538) June 13, 2014
Or this, from ESPN Stats & Information:
Spain allowed 6 goals in its last 2 World Cup appearances total (11 matches). Spain has allowed 5 goals today. #ESPvsNED

— ESPN Stats & Info (@ESPNStatsInfo) June 13, 2014
And then there's this, from Ben Smith of BBC Sports:
Spain, the World & European champions, have now lost their past two matches in Brazil by a combined score of 8-1. pic.twitter.com/8QGICrudEf

— Ben Smith (@BenSmithBBC) June 13, 2014
The other loss he's referring to is the 3-0 beat down Brazil put on Spain in the Confederations Cup final in 2013. Suffice to say, the Spaniards aren't loving Brazil at the moment.
But let's give the Dutch credit amid this Spanish eulogy. Almost across the board, they were brilliant. While Van Persie and Robben will earn the plaudits, the Dutch were solid everywhere on the pitch. Graeme Bailey of Sky Sports picked out two players in particular:
Away from outstanding Dutch frontline, De Vrij and Martins Indi showed real quality - both will move in the summer and likely to England.

— Graeme Bailey (@GraemeBailey) June 13, 2014
Still, the Netherlands' most valuable player may have been wing-back Daley Blind. Just check out these stats, via ESPN Stats & Information:
Daley Blind was 43-of-53 passing and had 4 of the Netherlands' 10 chances created and 2 assists. #ESPvsNED

— ESPN Stats & Info (@ESPNStatsInfo) June 13, 2014
But for all of the Dutch brilliance, the epic failure of the defending World Cup champions will be the storyline. So what happened?
Dermot Corrigan of ESPN FC has his theories:
FT Spain 1-5 Holland. Dont think anybody saw that coming, even at HT. Spain just too weak / open thru centre, Holland poured right thru.

— Dermot Corrigan (@dermotmcorrigan) June 13, 2014
So too does Miguel Delaney of ESPN FC:
Where to start with that. Could have been different game if Silva took that chance, but Spain just couldn't handle it after equaliser...

— Miguel Delaney (@MiguelDelaney) June 13, 2014
... it was as if they weren't used to it and then just caved. Didn't know what to do. Also, does he drop a World Cup legend like Casillas...

— Miguel Delaney (@MiguelDelaney) June 13, 2014
... now? Probably has to. A complete liability. Admirable the way Holland just went for them and went for them though. No respect.

— Miguel Delaney (@MiguelDelaney) June 13, 2014
It's very possible we won't see Iker Casillas again in this tournament. It's just as likely Diego Costa will be done after he got away with a head-butt during the game. Expect a forthcoming suspension for that.
Of course, if you are looking for a bit of levity after that weighty failure from Spain, SportsNation notes that Spain wasn't the only team to lay an egg in the past 24 hours:
Yikes... Even the Heat think that Spain didn't show up today...

— SportsNation (@SportsNation) June 13, 2014
Zing!
So now what? Well, the Dutch will face Australia and then Chile, and they almost assuredly will survive this group now. And the matchup against the fast, aggressive Chileans should be brilliant.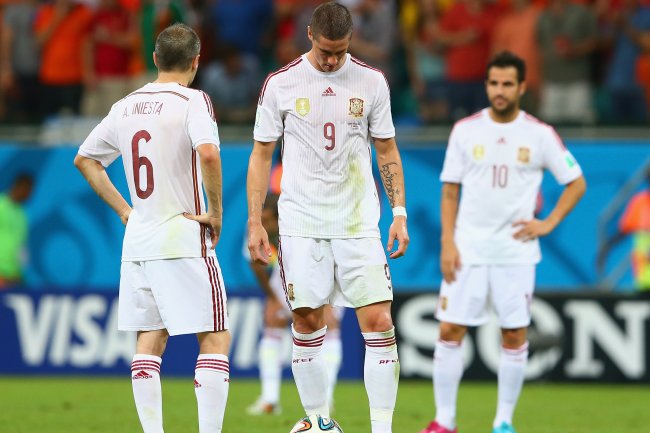 Quinn Rooney/Getty Images
As for Spain, they had better fix their defending woes in a hurry, because Chile will be even more aggressive than the Dutch were. Spain now faces a very real fight just to move on to the knockout phase of the tournament.
Who thought we would be saying that a few hours ago?