The "Dos" in Giovani dos Santos' name currently stands for the number of incorrectly disallowed goals he scored against Cameroon in Mexico's World Cup opener. And yet despite both indignities, El Tri pushed through the controversy and earned a vital three points, winning 1-0.
It's that type of resiliency that bodes very well for their chances of making a run at this year's World Cup.
And Mexico had every right to be overcome by frustration and disgust with the officiating. Just take a look for yourselves. Here's the first disallowed goal, via ESPN FC:
WATCH: Here's Dos Santos' disallowed goal. Was it offside? You be the judge #MEXvsCMR http://t.co/CMR5bRxx31

— ESPN FC (@ESPNFC) June 13, 2014
And here's the second:
HT: Mexico have had 2 goals disallowed due to offside. Here's the 2nd. Still 0-0 #MEXvsCMR http://t.co/63KDFmXoEL

— ESPN FC (@ESPNFC) June 13, 2014
Both should have stood as good goals. Neither did. But rather than sulk, Mexico kept pressing, kept asking questions of Cameroon's back four, kept taking the game to their African rivals. Eventually, Dos Santos got another chance to score. He couldn't find the back of the net, but his strike partner Oribe Peralta did.
SportsCenter on Twitter shared that goal:
Victory for El Tri! Oribe Peralta scores the lone goal as Mexico beats Cameroon 1-0 in their World Cup opener. VIDEO: http://t.co/cJLHgVNqfL

— SportsCenter (@SportsCenter) June 13, 2014
Sure, the next two games in Group A, against Brazil and Croatia, will be far more difficult than Cameroon proved to be. But in overcoming two incorrect offside calls, Mexico proved that the horror of 2013 and the team's poor form in CONCACAF qualifying is well behind them.
After barely even qualifying for a playoff to get into the World Cup—in the greatest insult of all, it was a win from their rivals on the final day of qualification, the United States, that got them into the playoff—Mexico's chances in Brazil seemed poor at best. Add in the fact that they changed managers more often than Mad Men changed actors to portray Bobby Draper, and expectations were low for this tournament.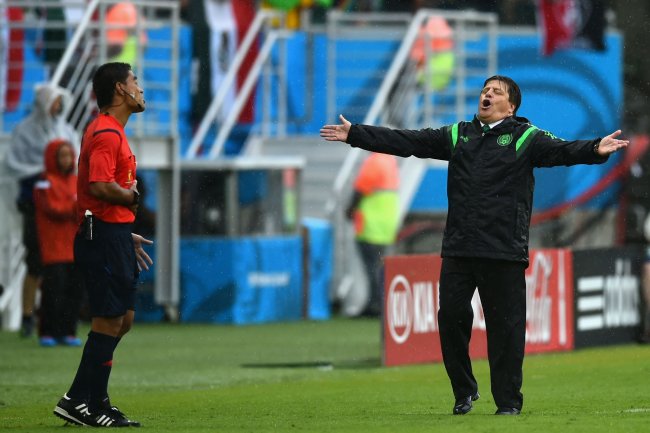 Matthias Hangst/Getty Images
But with Miguel Herrera in charge, the team has turned things around.
Herrera himself was impressed by the performance, even if he thought it should have been more decisive, as he told Tom Marshall of ESPN FC:
Miguel Herrera: "We should've scored more goals."

— Tom Marshall (@mexicoworldcup) June 13, 2014
And Dermot Corrigan of ESPN FC thinks they'll be a force to be reckoned with in Group A:
Already looking forward to both Mexico's other two games. They wont fear Brazil I reckons... and could easily cause em problems.

— Dermot Corrigan (@dermotmcorrigan) June 13, 2014
So, is Mexico back? Is the El Tri we've all become accustomed to seeing back on track?
For one day, it certainly appeared that way. It was an excellent showing against Cameroon, even if the African side played poorly. But more important than the result was how Mexico handled adversity.
If they continue to remain poised, rugged and unaffected by controversy, the Mexicans are going to be very, very difficult to beat in Brazil.