The 2014 U.S. Open is now in full swing, and it's already turning into a one-man show.
Martin Kaymer of Germany, the 28th-ranked player in the world, has taken over through two rounds. There's still plenty of golf to play, however, so it will be interesting if he can maintain this blistering pace.
The usual names are still in the hunt, even if Kaymer's unbelievable showing has them far off the lead. Phil Mickelson, Adam Scott and Rory McIlroy can still make a run at the No. 1 spot on the leaderboard before play ends this weekend, though it will take some astounding golf to do so.
Day 2 from Pinehurst, North Carolina delivered us some shocking results. Continue to check back here throughout the day for updated leaderboard scores.
Updated Leaderboard
The graphic above will update throughout the day. Be sure to check back frequently to see how it changes.
Day 2 Scores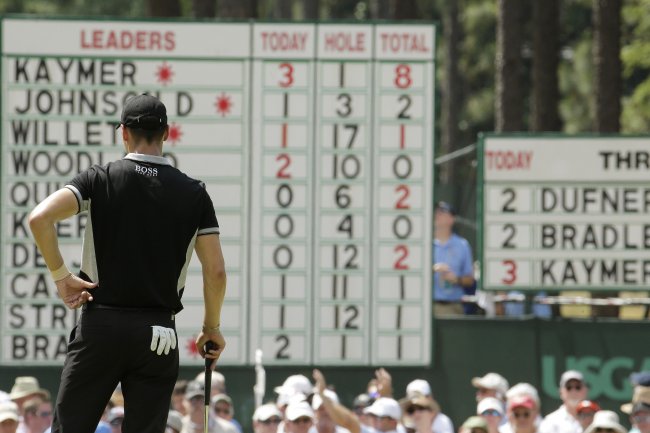 Charlie Riedel/Associated Press
Pinehurst No. 2 proved to be unforgiving on Day 1, as many of the sport's best players struggled through stretches of the rigorous course. Day 2 wasn't any easier, as ESPN's Dottie Pepper tweeted out the pin positions on each green:
Today's Rd 2 hole locations. A few beauties incl. # 17 in a newly created position. pic.twitter.com/PWKL325RKK

— Dottie Pepper (@DottieandBogey) June 13, 2014
Those pin positions didn't affect Kaymer, however, as he continued his impeccable Day 1 performance with one for the ages on Day 2. In fact, the German's performance over the past two days has been record-setting.
Ron Driscoll of the United States Golf Association wrote about the accomplishment, via USOpen.com:
Martin Kaymer of Germany, ranked No. 28 in the world, completed the first two rounds of the 2014 U.S. Open on Pinehurst No. 2 in record fashion on Friday, breaking Rory McIlroy's 36-hole scoring record with rounds of 65-65 for a 10-under-par total of 130.
McIlroy posted rounds of 65-66 at the 2011 U.S. Open in the first two days of an eight-stroke victory at Congressional Country Club's Blue Course in Bethesda, Maryland.
Paul Newberry of the Associated Press pointed out that Kaymer is on pace to set yet another record, via ABCNews.com:
Kaymer walked off the course with a staggering eight-shot lead, with many of the top contenders still waiting to tee off. The largest 36-hole lead at the U.S. Open is six shots, set by Tiger Woods in 2000 and matched by Rory McIlroy three years ago.
Kaymer's hot start generated quite a buzz on Friday. Pat Forde of Yahoo Sports took notice:
Martin Kaymer is going Tiger-at-Pebble-in-2000 on the US Open field. My goodness.

— Pat Forde (@YahooForde) June 13, 2014
Jason Sobel of GolfChannel.com provided one of the better quotes of the day from Keegan Bradley, though he also clarified the statement:
Keegan Bradley on Martin Kaymer: "He doesn't seem to get up and down." He's talking emotions. Otherwise, gets up and down from everywhere.

— Jason Sobel (@JasonSobelGC) June 13, 2014
Even Atlanta Braves legend Chipper Jones chimed in on the action:
Martin Kaymer is running away and hiding in this US Open!

— Chipper Jones (@RealCJ10) June 13, 2014
While the first two days were dominated by Kaymer, other golfers also put together quality performances. Scott, Bradley, Dustin Johnson, Brooks Koepka and others are still on the prowl.