Liverpool need to bolster their squad, so could Mainz's Cameroonian international Eric Maxim Choupo-Moting be a summer transfer window target?
To cover that hypothetical, here is a scouting report on Choupo-Moting, a 25-year-old 6'3", 185-pound footballer.
Grading Choupo-Moting vs. Mexico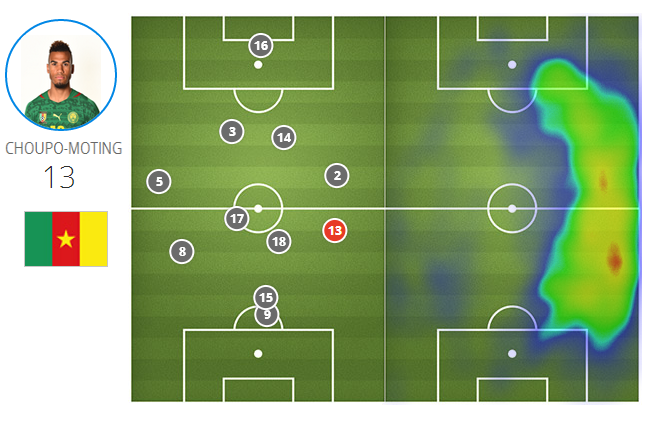 Source: FIFA.com.
Choupo-Moting predominantly stayed on the left wing providing defensive cover for Cameroonian left-back Benoit Assou-Ekotto.
This restricted Choupo-Moting from expressing himself and he provided less going forward than Assou-Ekotto.
Benoit

Assou

-Ekotto
Eric Maxim

Choupo

-Moting
Chances Created
3
0
Shots On Target/Shots Taken
0/3
0/2
When Choupo-Moting did find himself in the attacking half, he demonstrated substandard decision-making.
He misplaced 60 percent of his passes during an offensive play, per FourFourTwo.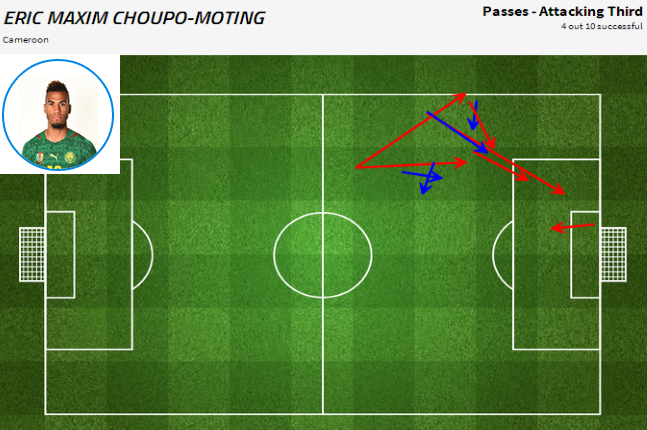 Source: FourFourTwo.com.
Choupo-Moting attempted three dribbles and was dispossessed twice, per Squawka.com.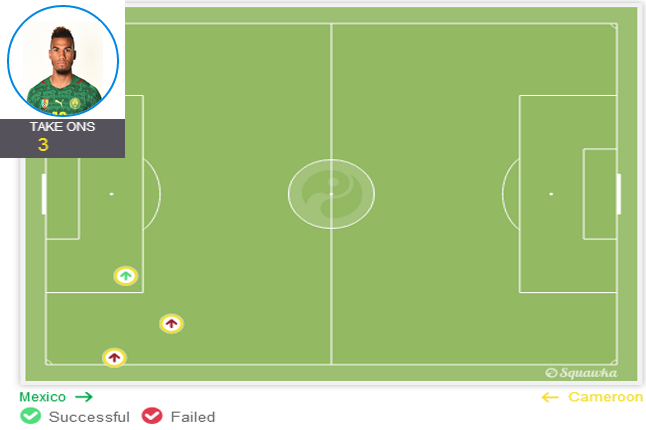 Source: Squawka.com.
It was as if the indecisive and herky-jerky Hamburg edition of Choupo-Moting had replaced the upgraded Mainz version.
Transfer deadline disaster. Hamburg's Choupo-Moting's move to Cologne failed due to a broken fax machine delaying the transmission of papers

— Christian Machowski (@Christian_ESEM) February 2, 2011
Shooting star! Maxim Choupo-Moting's @Mainz05en form is reaping rewards for club and country http://t.co/bL0hrWtHUh pic.twitter.com/dDcZSPjcP3

— Bundesliga (@Bundesliga_EN) June 13, 2014
Mexico was a winnable game and Choupo-Moting did not show up for Cameroon.
Positives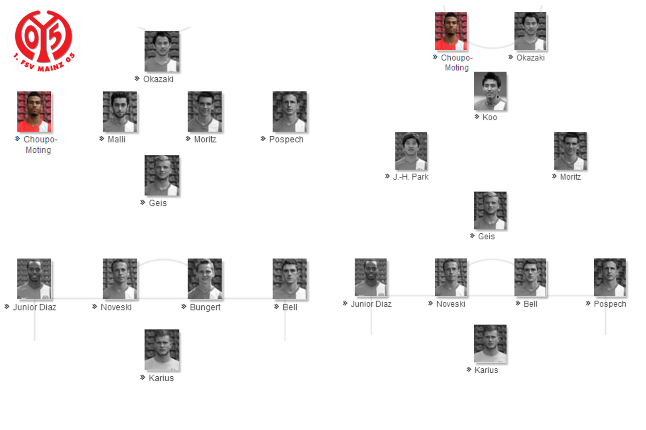 Source: Kicker.de.
Choupo-Moting can start as a left attacking midfielder or as a centre-forward for Mainz.
He regularly interchanges from out wide to up front.
This was the case when he evaded Bayer Leverkusen utility player Emre Can, made a pass on the right wing, which led to Ja-Cheol Koo creating a goalscoring chance for Mainz centre-forward Shinji Okazaki.
Eight minutes later, Choupo-Moting was in the No. 9 position and scored a back-heeled goal via Mainz centre-back Stefan Bell's pass.
What makes Choupo-Moting special is he possesses a combination of power, speed and finesse, like Real Madrid left-forward Cristiano Ronaldo.
Choupo-Moting glided past Hertha Berlin right-back Peter Pekarik after two fleet-footed step-overs.
The reason why Pekarik dived in was due to experience from a previous game, where he jockeyed Choupo-Moting but it did not work.
Choupo-Moting cut in, did a ball roll and created a goal for Mainz right attacking midfielder Nicolai Muller.
League Only
Eric Maxim

Choupo

-Moting

Cristiano Ronaldo

Dribbles Per Game
3.6
2.2
Free Kicks Won Per Game
1.2
1.9
Choupo-Moting is a more prolific dribbler than Ronaldo.
In addition, Choupo-Moting's take-on success percentage (61, per Squawka.com) is 22 percent higher than Liverpool deep-lying forward Luis Suarez (39, Squawka.com).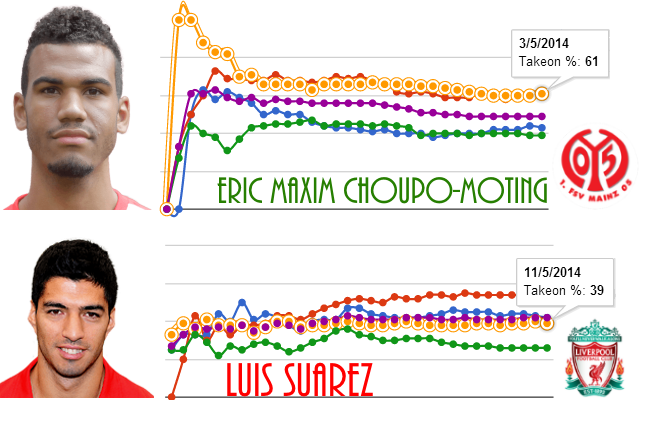 Source: Squawka.com.
While Choupo-Moting only averages 0.8 key passes per game (pass leading to goalscoring chance), he has shown glimpses of playmaking, like a dinked through-ball to Muller against Stuttgart.
Negatives
There is a Theo Walcott-like mercurialness to Choupo-Moting's game.
He will go missing for an extended period of the season, before turning into the Cameroonian Ronaldo for several games.
This was why then-Mainz manager Thomas Tuchel preferred to utilise Choupo-Moting off the bench.
Choupo-Moting was one of the best super-subs in Europe as he scored 50 percent of his goals playing that role.
ANSWER: I am Eric Choupo-Moting. Well done @VanWolfswinklex on the first correct answer! #WSBrazil14 #cmr pic.twitter.com/4I9m4PyHcm

— WhoScored.com (@WhoScored) June 13, 2014
Bottom Line
Choupo-Moting matches Ronaldo physically and technically, but consistency is the reason why the two are miles apart in performance.
Liverpool manager Brendan Rodgers took a calculated gamble on Can, who lacks consistency, but he is five years younger than Choupo-Moting.
If Rodgers is seeking an impact sub, then Choupo-Moting is the ideal candidate.
Though, Choupo-Moting's anonymous display against Mexico reinforces the belief that he will always be a tantalising talent.
A happy 25th birthday to @Mainz05en's forward Eric-Maxim Choupo-Moting pic.twitter.com/9uD11ynrcG

— Bundesliga (@Bundesliga_EN) March 23, 2014
Statistics via WhoScored.com