Brazil's 3-1 win over Croatia in the opening game of the 2014 World Cup on Thursday will perhaps look lopsided on paper, and the history books will likely remember Neymar's brace more than anything else. But the entire game turned in the second half on a Fred dive in the box that was ruled a penalty by referee Yuichi Nishimura.
The penalty came with the game tied at a goal apiece, and Neymar stepped up and converted the penalty kick to give Brazil both the lead and momentum. Suffice to say, after the game Croatia manager Niko Kovac was still—and justifiably—fuming over the call.
The money quote is passed along by Bleacher Report UK:
#CRO coach Niko Kovac didn't like the penalty decision. At all. Watch it here - http://t.co/qPJ3xVMny8 #WorldCup pic.twitter.com/XmeYw5aItv

— Bleacher Report UK (@br_uk) June 12, 2014
But he wasn't done there. In fact, he very specifically singled out Nishimura in a post-match rant, via Ian Herbert of The Independent:
Croatian manager Niko Kovac has attacked Japanese over tonight's pen decision. "I must say the referee was completely out of his depth."

— ian herbert (@ianherbs) June 12, 2014
Kovac: 'If someone's not up to scratch to referee the first game then find someone else. Two and half billion people saw this wasn't a pen.'

— ian herbert (@ianherbs) June 12, 2014
He continued to put Nishimura on blast, per Owen Gibson of The Guardian:
Kovac: "The referee was well placed, he was not unsighted. He saw everything. I don't blame Fred at all. I blame the referee."

— Owen Gibson (@owen_g) June 12, 2014
And he made it known that the officiating would have to improve over the course of the tournament, via Gavin Hamilton of World Soccer:
Croatia coach Niko Kovac not a happy man on the penalty: "If we continue in this way, we will have a circus"

— Gavin Hamilton (@WorldSoccerEd) June 12, 2014
Replays would show that while Dejan Lovren did put his hand on Fred's shoulder as the Brazilian tried to turn toward goal with the ball, there was virtually no contact with Fred's legs or tugging on the shoulder from Lovren. Indeed, Fred simply took a dive once he felt the slightest bit of contact.
As J.A. Adande of ESPN notes, Fred was looking for the call immediately:
Fred was looking for the call before he even hit the deck pic.twitter.com/ieGOSx3WTD

— J.A. Adande (@jadande) June 12, 2014
Here's another look.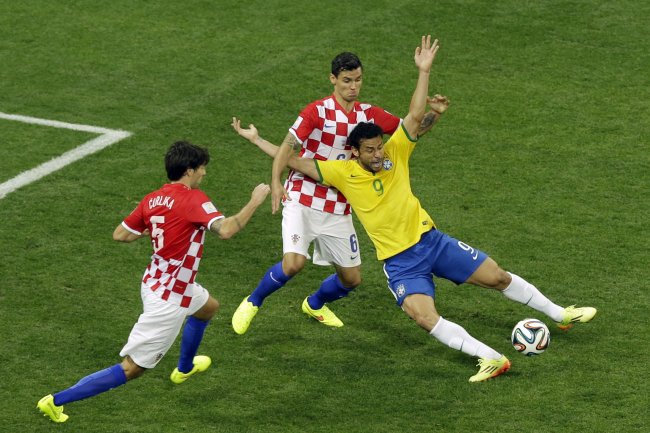 Thanassis Stavrakis/Associated Press
Added Paul Heyward of The Daily Telegraph:
Fred used hand on shoulder as excuse to collapse in box. Ref used minor infringement to give penalty. Neither can be proud.

— Paul Hayward (@_PaulHayward) June 12, 2014
While a call should have been made on the play, it should have been a yellow to Fred for simulation. Trying to eliminate flopping from the game as much as possible has become a big discussion in footy circles, so the fact that such a play was the defining moment in the World Cup's first game will be disappointing to many.
Kovac's comments won't be popular with FIFA, that much is for certain, but one would guess Nishimura's performances will also be very closely monitored from here on out. It's also quite possible it's the final time we'll see this particular referee in the World Cup. Without question, Croatia have a major gripe.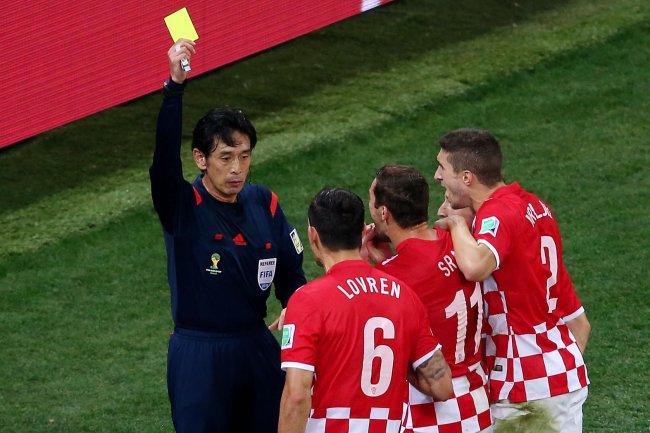 Elsa/Getty Images
What they cannot do, however, is allow that one call to dictate their tournament. Beating Brazil without star striker Mario Mandzukic was always going to be difficult, but they still have two very winnable games ahead of them against Mexico and Cameroon.
Kovac had his moment to rant. Now, he must tell his squad to move on from the bad call and look forward.