The first day of the 2014 U.S. Open at Pinehurst No. 2 in North Carolina was nothing short of spectacular. A leaderboard featuring many of golf's most prominent stars, an exotic, redesigned course that offered a fair but stern test and characteristically tough greens defined Thursday's play.
Martin Kaymer grabbed sole possession of the lead through the first round at five-under par. Surprise contenders in Kevin Na and Brendon de Jonge are three strokes off the pace, along with 2010 U.S. Open champion Graeme McDowell.
The Associated Press' Doug Ferguson noted just how historic Kaymer's round was:
A par on 18 gives Martin Kaymer the lowest round ever at Pinehurst in US Open. He's at 5 under after 3 birdies on the last 4 holes.

— Doug Ferguson (@dougferguson405) June 12, 2014
Kaymer is a former world No. 1 who won The Players Championship a month ago. The course began to firm up during the afternoon wave, which made it all the more impressive that Kaymer and de Jonge held their ground.
For a moment 6 players from the afternoon wave had tied the lead at -2, only 2 of them are left: Brendon de Jonge & Martin Kaymer. #USOpen

— Golf Central (@GolfCentral) June 12, 2014
When it looked as though no one would rise up and seize control of the 114th U.S. Open, Kaymer exploded. He made four birdies on a majestic back nine that didn't feature a single bogey. It was capped with a key one-putt par on the last hole to secure his 65 and put serious distance between himself and what's otherwise a jumbled leaderboard.
The tournament's official Twitter account quoted Kaymer following his brilliant display:
"I hit very good shots, and I didn't miss many greens. It's always nice not to think about technique." Martin Kaymer, first-round leader.

— U.S. Open (USGA) (@usopengolf) June 12, 2014
Perhaps most surprising about his day was that Kaymer found 11 of 18 greens in regulation despite missing just one fairway. That shows how a great short game can be the difference between contending and floundering at Pinehurst No. 2.
Wider fairways and a lack of lush rough allowed players to post better numbers from tee to green; McDowell was no exception. The Northern Irishman is a reputable straight driver of the ball, and he found 13 of 14 fairways in regulation along with 13 greens. Golf Channel's Ryan Burr provided further context for McDowell's round:
Graeme McDowell 5th time last 6 U.S. Opens he has opened with round of par or better Went on to finish in top-20 each of the previous 4times

— Ryan Burr (@RyanBurr) June 12, 2014
McDowell has been the most consistent and seasoned of the leaders, and he shared his thoughts afterward:
Solid start to proceedings here @usopengolf. Greens were a tad softer early this morning than practice. Lots of decent scores. #keepgrindin

— Graeme McDowell (@Graeme_McDowell) June 12, 2014
Where to even start with regard to the golfers at one-under par?
For one, the likes of Matt Kuchar, past FedEx Cup champs Brandt Snedeker and Henrik Stenson, prodigy Jordan Spieth and long-distance hitter Dustin Johnson are all among the best stars yet to win a major.
Snedeker had quite the roller coaster of a round. Just missing a short putt on the par-three ninth still allowed Snedeker to turn in a four-under 31, yet it seemed to have a psychological effect on him. He completed the next three holes at four-over par, but battled back and managed to post one under.
Getting as low as three under, it appeared as though Kuchar would lead heading into the clubhouse after teeing off in the morning. However, he started leaking oil down the stretch, thankfully escaping with a clutch par save on the par-four 18th:
Credit: SnappyTV (via @usopengolf Twitter account)
Golf Channel's Justin Ray brought up an interesting stat in referencing how well Kuchar and McDowell were faring in the early going:
5 players in this week's field are inside top-20 this season in both SG putting & scrambling. 2 of them - Kuchar & McDowell - top of board.

— Justin Ray (@JustinRayGC) June 12, 2014
Before the day started, ESPN's Bob Harig outlined the implications for Stenson that would make a potential maiden major triumph even more meaningful:
Henrik Stenson and Bubba Watson can overtake Adam Scott for No. 1. They would need to win, Adam needs to be outside top4/5 #USOpen

— Bob Harig (@BobHarig) June 12, 2014
Stenson posted a strong number, while the past two Masters victors and other Top Three players in the world rankings in Bubba Watson and Adam Scott struggled. Watson was wayward all day en route to a 76, and Scott continued a shaky track record at the U.S. Open in shooting a 73.
Hitting more than seven of 14 fairways would lead to a better score for Johnson, whose power could bring Pinehurst to its knees. He still seemed pleased with his score, per PGATour.com's Amanda Balionis:
"I'll take 1-under every time on this golf course." - Dustin Johnson

— Amanda Balionis (@Amanda_Balionis) June 12, 2014
Those who turned in respectable performances at even par are headlined by Phil Mickelson, a six-time runner-up at this event. Mickelson hasn't finished better than a tie for 11th all season, yet he's keen on completing the career Grand Slam this weekend and is in ideal position to strike.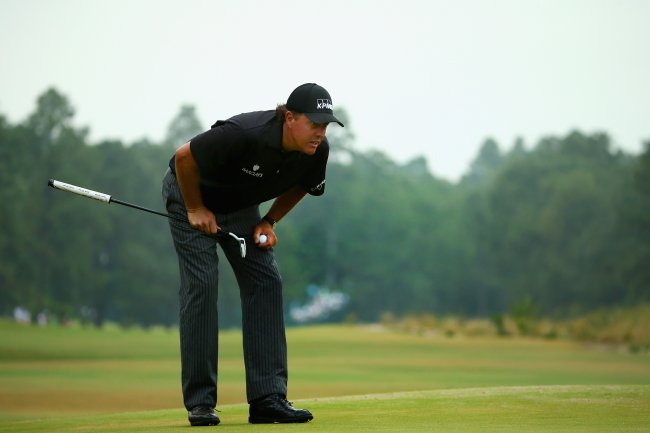 Streeter Lecka/Getty Images
Think the greens at Pinehurst are tough? It may be frustrating to cheer on gallery favorites such as Mickelson and Rory McIlroy, another heavy U.S. Open favorite.
Ryan Lavner of Golf Channel pointed out how both could have finished much lower had a few more putts rolled in:
Rory (71) & Phil (70) hit 14 & 13 greens, respectively. Also took 33 & 31 swipes. Their Round 1 scores about as high as they could have shot

— Ryan Lavner (@RyanLavnerGC) June 12, 2014
Unlike the man to which he is often unfairly compared, Tiger Woods, McIlroy has been seeking advice from all-time major record-holder Jack Nicklaus. He thought of Nicklaus after one of his disappointing displays on the greens:
Rory McIlroy: "When I three-putted at 16, the first thing I thought of was Jack (Nicklaus). I know how much he hates three putts." #USOpen

— PGA TOUR (@PGATOUR) June 12, 2014
The two subsequent U.S. Open winners after McIlroy, Webb Simpson and defending champion Justin Rose, played with him Thursday and shot 71 and 72, respectively.
Another maverick in terms of course management is young gun Rickie Fowler, whose game was on off the tee and with his irons, as he hit 15 of 18 greens to match Mickelson's 70. Fowler wore knickers in honor of the late, great Payne Stewart, who won the 1999 U.S. Open at Pinehurst:
Back 9 Network tweeted what had to be the most powerful image of the day with respect to Stewart's legacy, as his daughter took a unique photo opportunity:
Chelsea Stewart: Like Father, Like Daughter: http://t.co/WJ868RXXkH @usopengolf pic.twitter.com/zOSnWFGyVQ

— Back9Network (@Back9Network) June 12, 2014
The stylish clothing Fowler sported had the game to match. However, Spieth was part of Fowler's trio along with recent Memorial Tournament conqueror Hideki Matsuyama. Both outplayed Fowler en route to sitting four off the lead.
Yahoo Sports' Shane Bacon, like many others, couldn't get over how composed the 20-year-old Spieth continues to be on professional golf's biggest platforms:
Interesting fact about Jordan Spieth - he had his nerves removed at age 9.

— Shane Bacon (@shanebacon) June 12, 2014
Jason Sobel of Golf Channel pondered the significance of Fowler and Spieth—two of American golf's great young hopes—potentially battling over the weekend:
Keep getting asked what golf "needs" to appeal to younger fans. Welp... Jordan Spieth and Rickie Fowler battling at a major wouldn't hurt.

— Jason Sobel (@JasonSobelGC) June 12, 2014
FedEx Cup points leader Jimmy Walker posted even par, as did Ryder Cup stalwart Ian Poulter, WGC-Accenture Match Play Championship runner-up Victor Dubuisson and veteran Steve Stricker. One dark horse in that cluster is Paul Casey, whose round would have been a lot better if not for a calamitous chip on the par-four eighth that led to double bogey.
Casey has been featured in the top five in the world before, always possessing premier talent. His ball-striking was superb in matching de Jonge for the field lead with 16 greens hit. This monster birdie putt on No. 7 helped keep his momentum going:
Credit: SnappyTV (via @usopengolf Twitter account)
It would be extremely impressive to see Kaymer pull off wire-to-wire victories at both the Players and the U.S. Open in the same season. No one has ever won those two events in the same year before. The
swing changes
Kaymer endured over the years that led to so much frustration seem to be paying huge dividends as of late.
Who poses the biggest threat to Martin Kaymer's lead?
With Kaymer's swing seemingly squared away and extreme confidence with the putter, he has the game to run away from his competitors. However, there are so many talented players in hot pursuit. The course is going to dry out over the next three rounds, most likely causing scores to inflate. When the pressure ramps up, there should be multiple stars with a real shot at winning this prestigious trophy.
For now, Kaymer, the 2010 PGA Championship winner, is flashing the form that once had him ranked as the best on the planet. Should it continue, he will be hard to beat.