After the world patiently waited for the start of the 2014 World Cup, the opening match did not disappoint as Brazil defeated Croatia 3-1.
The first match had everything fans could have wanted, featuring four goals with a penalty kick, an own goal and plenty of controversy. Fortunately, this is just the start of what will be a thrilling month-long event that will keep fans glued to the television every day.
Here is a breakdown from the first day of action, followed by a look at what's up next in Brazil.
Day 1 Results
Brazil 3, Croatia 1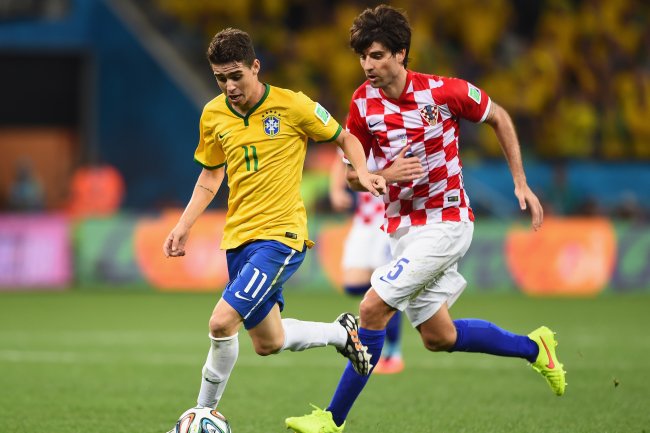 Buda Mendes/Getty Images
Brazil did not make things easy, but they did enough to escape with a 3-1 victory in the first match of the tournament.
Croatia surprised many by getting on the scoresheet first. The attack was aggressive and found a way to get the ball into the Brazil box, which eventually led to an own goal by Brazilian defender Marcelo.
Gaizka Mendieta of Sky Sports described the shocking moment in the match:
OG Marcelo 0-1 probably not the start he had in mind...now time for Brazil to try to break through the Croatian wall! Won't be easy#BRAvCRO

— Gaizka Mendieta (@GaizkaMendieta6) June 12, 2014
This Croatian lead held until the 29th minute when Neymar did his best to live up to the hype with a long-range effort that just slipped past the opposing 'keeper, off the post and into the net.
Miguel Delaney of ESPN FC pointed out how important the star is this month:
That was a genuine hair-standing-on-end moment in the stadium. Neymar has a lot of responsibility on his shoulders, but he demanded it there

— Miguel Delaney (@MiguelDelaney) June 12, 2014
Neymar was able to put his side on top with his second goal of the match, but this one came with plenty of controversy. The referee called a penalty on Croatian defender Dejan Lovren after Fred went down in the box, a call that many watching around the world disagreed with.
Richard Deitsch of Sports Illustrated gave his succinct opinion:
That is an outrage for Croatia.

— Richard Deitsch (@richarddeitsch) June 12, 2014
ESPN FC's Craig Burley was outraged as well:
Fred dive for Brazil penalty. End of story. 1st game and its started already.#cheats

— Craig Burley (@CBurleyESPN) June 12, 2014
However, Neymar scored the penalty to give Brazil a 2-1 lead. After a few close calls defensively, the hosts then added to the lead when Oscar scored on a counter-attack.
Although the score does not accurately reflect the match, Croatia were unable to come away with a point against one of the favorites to win the tournament.
Brazil came into the World Cup as confident as anyone. Manager Luiz Felipe Scolari had big words for his home fans, via Delaney:
Scolari: "So, for all Brazilians, I want to say our time has arrived. We want to go together. This is our World Cup."

— Miguel Delaney (@MiguelDelaney) June 11, 2014
Although there were some struggles early on, Brazil got the points they needed from the first match and will now feel confident going forward in Group A. With plenty of talent and luck, they should be able to be a top contender for the title.
Day 2 Preview
2014 World Cup Schedule (June 13)

| | | | | |
| --- | --- | --- | --- | --- |
| Time (ET) | Match | Watch | Where | Prediction |
| 12 p.m. | Mexico vs. Cameroon | ESPN2 | Natal | 1-0, Mexico |
| 3 p.m. | Spain vs. Netherlands | ESPN | Salvador | 2-1, Spain |
| 6 p.m. | Chile vs. Australia | ESPN2 | Cuiaba | 3-0, Chile |
via FIFA.com
While the hosts were happy to get their first match out of the way, things pick up on Friday with three matches that each provide their own intriguing storyline.
Mexico and Cameroon will first battle in an extension of Group A. After both Brazil and Croatia showcased plenty of ability in the opening match, it is clear that the other two squads will be in for a challenge.
El Tri have the talent to make a deep run in this tournament, but they have not shown enough over the past few years to trust them. That being said, they are in better shape to succeed than Cameroon, which does not feature enough young stars to carry the tradition from the past.
Meanwhile, the true battle will be in Group D, which will likely become a three-way battle between Spain, Netherlands and Chile.
Mario Kempes of ESPN FC breaks down why Chile is so dangerous this summer:
These are not all players on big international clubs and they are not household names. But rather than let their anonymity become a weakness, the squad has a remarkably well-balanced offense.

Chile are capable of beating any big team, including Brazil. And really, if there's a squad that can beat the home team in this World Cup, it's going to be one from South America.
Although the aggressive team can make mistakes, they should easily be able to defeat Australia in the opening match.
This leaves the 2010 World Cup final rematch between Spain and the Netherlands. Spain came away with a 1-0 win in that last match, and they should be able to replicate the victory this time around.
The Dutch were impressive in qualifying, but the biggest stars have moved past their prime and there are not enough youngsters to fill in the gaps. On the other hand, Spain have the depth in the midfield to control the match and ensure the victory, putting them in a good position to advance.
Follow Rob Goldberg on Twitter for the latest breaking news and analysis.