Returning to the Warpath Part 2: Defense and Special Teams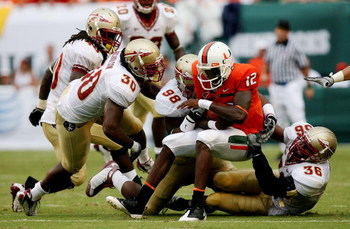 Despite the recent shortcomings of the team over the past years, the Florida State defense has remained the stalwart unit it always has. Defensive Coordinator Mickey Andrews has made sure of that.
This year Andrews has had to deal with the loss of seven starters, probably the largest number of losses in a single year for a long time.
The good news is that with the successful recruiting FSU should be able to rebuild without too much difficulty, although there will likely be a few early season bumps.
Defensive Line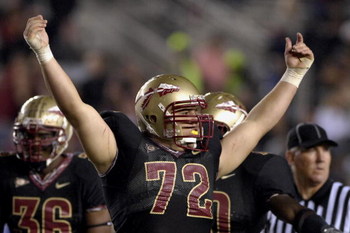 If there is one thing I will miss from the 2008 team, it was watching defensive ends Everette Brown and Neefy Moffett terrorize opposing backfields. I especially savor the sweet revenge they wreaked upon Clemson quarterback Cullen Harper, after the three straight losses to Clemson and Harper's personal attack on Tommy Bowden I'm a big fan of the Bowden family.
This season, the defensive line returns the majority of its inside presence with a youth movement at end.
One of the starters at end should be Kevin McNeil. He had a decent season as a backup, managing to get four sacks. At the other spot, expect JUCO transfer Markus White to develop into a top playmaker at end. While only managing one sack as a backup last year, White has shown great potential during spring camp and should help ease the loss of Brown with his speed rush skills.
The backups include Brandon Jenkins, the recruiting class' lone early enrollee who showed impressive skills as a pass rusher in spring ball. Sophomores Jamar Jackson and Toshmon Stevens also have a chance to make an impact, but have yet to make a favorable impression.
At defensive tackle, Florida State returns an undersized group whose lack of production received much of the heat for allowing last season a mediocre 132.5 ypg on the ground. Seniors Kendrick Stewart, Justin Mincey, and Budd Thacker are the most experienced, but need to have productive years in order to have a favorable place in fans' memories.
Sophomore tackle Moses McCray, and DT/DE tweener Everett Dawkins, each earned playing time as freshmen, and McCray impressed coaches during spring practice.
With the interior in a less than solid state, expect Jacobbi McDaniel, 2009's top DT prospect, and highly touted DL Demonte McAllister, to make early impacts.
Linebackers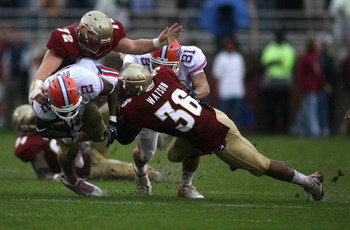 Historically one of Florida State's best positions, this season is no different for the Seminoles as linebacker appears to be the highlight of the defense.
The headliner is strong-side linebacker Dekoda Watson. Watson a third-year starter, who was the team's third leading tackler, and is a freak of an athlete and of a playmaker. He blocked several kicks, has 19.5 career tackles for a loss, and can be a vicious sack artist. Add to that his outstanding intangibles such as leadership, his over-the-top passion for the game, and a work ethic which that only his physique can match, and you've got what most preseason media have as a first team All-ACC linebacker.
At middle linebacker Kendall Smith takes over, who has made strong contributions as a back-up and started in Watson's spot when he was suspended for the 2006-2007 academic scandal. He made the switch from strong side to middle linebacker, and to the surprise of the coaches the transition was very smooth and the junior 'backer should be a solid playmaker this season.
This leaves the spot at weak side linebacker open to a slew of talented sophomores, including Nigel Bradham, Nigel Carr, and Vince Williams. The likely starter appears to be Bradham, the headliner of FSU's 2008 class and the player most familiar with the weakside spot.
Expect Carr and Williams to be contributors as back-ups, however. Also, Maurice Harris and Recardo Wright look to aid as backups and on special teams, but Harris was recently suspended for yet another run-in with the law.
Also, expect converted DB Mister Alexander to give situational help in a role similar to that of Kenny Ingram last year, who was also a converted DB.
Secondary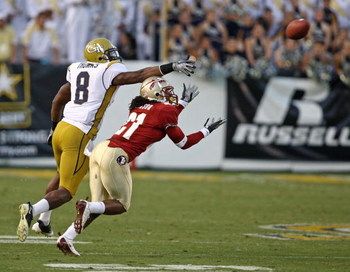 The last two seasons FSU has had the luxury of returning the majority of their secondary, and this helped them become last year's top pass defense in the ACC and one of the top nationally.
This year, paired with a brutal schedule is much less experience and little margin for injury or error.
The top two players are the Robinsons, who aren't related. Corner Patrick Robinson, was a dynamic playmaker who nabbed six picks as a sophomore in 2007, but was limited by injuries and suspension last year, though he still made a big impact when on the field. He has the athleticism, justcheck out his forty times, and the ability to have a breakout season this year, and some of his coaches think he could be a first round pick in the 2010 draft.
Jamie Robinson made the switch from reserve cornerback to free safety last year, and had a decent season while splitting starting time with the graduated Darius McClure. He looked outstanding during spring ball, making two interceptions during the spring game, and should be a top playmaker in his senior season.
After them is where the issues began. It is one thing to lose two starters in your secondary, but when you lose two hard-nosed players who have each started at their position since their freshmen years, you're going to have to revamp to survive.
At rover, the 'Noles lose Myron Rolle, who took the opportunity as a Rhodes Scholar to study at Oxford. They also suffer the graduation of four- year starter and defensive captain Tony Carter.
At rover, the top two candidates are Korey Mangum and Terrance Parks. Mangum is a converted corner who has been inconsistent during early practice, and is still learning the position. While he may be not be a solid prospect right now, he is known for his brutal hitting ability, and should at least intimidate opposing receivers.
Terrance Parks is a prospect whose abilities were compared to that of Eric Berry, and coaches are waiting for him to break out. He has yet to showcase his ability.
They will be pushed for playing time by incoming freshmen Gerald Demps, Jajuan Harley, and Justin Bright, all talented prospects. Also watch for redshirt freshmen Nick Moody and Ed Imeokparia to contribute. If D'Vontrey Richardson chooses to stay, he should see time also.
At the other corner spot, the competition is between Ochuko Jenije and Dionte Allen, a former top recruit from Detroit. They will continue the battle into the fall, as neither has gained a notable lead over the other, and will likely share time.
This will also give much-heralded cornerback recruit Greg Reid a shot at early playing time, along with redshirt freshmen A.J. Alexander. Reid was rated as high as the #15 overall prospect, and while he is a bit on the short side a 5'9", he makes up for it with exceptional speed, quickness, and leaping ability. He also has a good set of hands to make plenty of picks.
Defensive Prediction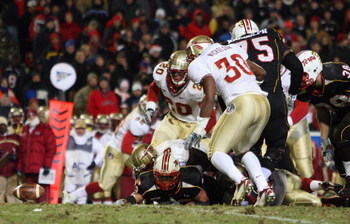 Expect the defense to remain in the top twenty nationally despite the recent slew of player losses. Coaches Andrews and Amato will have the defense ready for a brutal schedule, and the 'Noles will maintain their nasty defensive reputation.
As long as Andrews is around, the defense won't lose its identity as consistently one of the best in the nation.
Special Teams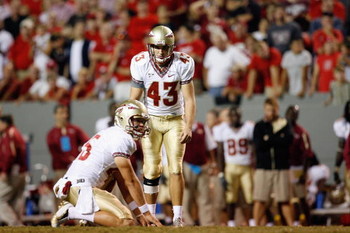 As far as graduation damage, special teams likely took the most losses. FSU first has to find a way to replace the Lou Groza winning punter/kicker Graham Gano, and then they have to replace dynamic returner Michael Ray Garvin, who led the NCAA in average yards per return and led the ACC in three different categories.
Sophomore Shawn Powell should handle the punt duties, while Dustin Hopkins, the nation's top kicker prospect, will battle James Esco for the kicker role.
As far as returners, Bert Reed was given some time last year, but coaches may limit him considering they need him healthy to play receiver. DB A.J. Alexander earned his high prospect rating for his exceptional return skills, and should be one of the primary returners. Also watch for 2009 signee Greg Reid to share some of the return load due to his dynamic skill set.
Look for the third and final piece of Returning to the Warpath where I discuss and analyze the expectations for the teams as a whole along with schedule analysis and prediction.
Keep Reading

Florida State Football: Like this team?