Nostalgic college basketball fans were able to rejoice Tuesday when Georgetown and Syracuse announced that their historic rivalry would be re-ignited in 2015 at the Verizon Center, as noted by ESPN's Andy Katz:
Want to make clear that the Syracuse-Georgetown series is a four-year deal. All home-and-home with the start at Georgetown in '15-16.

— Andy Katz (@ESPNAndyKatz) June 10, 2014
The four-year home-and-home series will see two of the biggest rivals in the sport compete in a matchup that saw plenty of terrific games while the teams were in the Big East Conference.
The last meeting between the two sides in 2013 saw the Orange win in overtime of the Big East tournament semifinals, 58-55.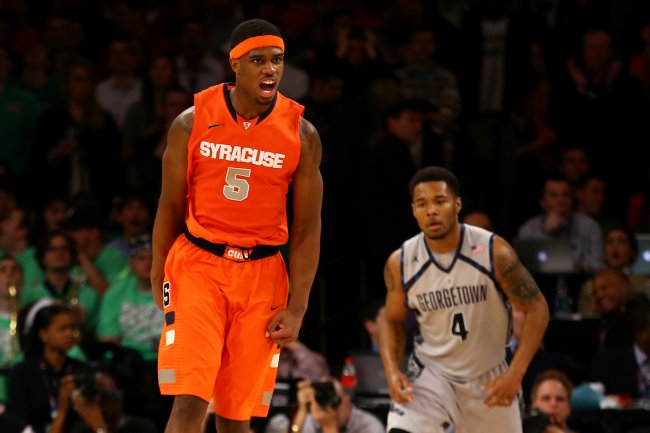 Al Bello/Getty Images
Some thought that this rivalry would not survive after the Big East as we knew it dissolved into a few factions before last season, especially since Syracuse now enjoys the riches of the ACC.
By renewing such a historic showdown, the Hoyas and Orange proved that longstanding rivalries can still last during a time of rapid expansion and realignment.
When the Big East fell victim to a purge from the ACC that saw Syracuse, Pittsburgh and Notre Dame leave for the powerhouse basketball conference, many assumed that these three teams would not pursue an extension of past rivalries so that they could play higher-profile nonconference games.
A step was made in the right direction last season when Syracuse took on Villanova in the first game of a three-year series, but after 2015, there is no guarantee that the Orange and Wildcats will play each other.
Villanova will host Syracuse on Saturday 12/20/14 at the Wells Fargo Center, source told @CBSSports. 2nd year of 3-year series. 2015 at MSG.

— Jon Rothstein (@JonRothstein) June 9, 2014
Fans of the old Big East also received a taste of the past when Villanova played UConn in the 2014 NCAA tournament, but the 40 minutes of play in Buffalo was just a short reminder of how much fans miss the rivalry clashes.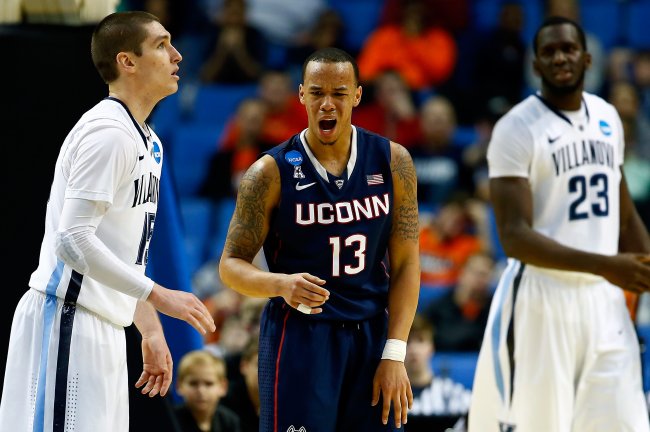 Jared Wickerham/Getty Images
The issue is not limited to teams on the Eastern seaboard, as the teams that used to play in the Big 12 are facing the same problems with teams now in the Big Ten and SEC, especially in football.
While Nebraska-Oklahoma or Texas-Texas A&M may not be marquee games in college basketball, they were once traditional yearly games in college football that drew plenty of interest and sparked a ton of hatred in both sets of fans.
Now Nebraska is in the Big Ten, where as an emerging basketball power, it will face a more difficult schedule that does not feature any true rivals in conference play.
At least the Huskers have Creighton as a rival, but the Bluejays are without Wichita State on their schedule thanks to a move to the Big East to play DePaul and Seton Hall twice a year.
There is no doubt that the money grab known as conference realignment butchered the tradition that basketball fans relished for years, but not all hope is lost yet.
A ton of credit must be handed to Syracuse, which has attempted to build a bridge once again with its old Big East rivals to give fans a game to look forward in an otherwise weak nonconference slate.
Now, if only a few other teams could follow in the direction of the Orange and give fans the rivalry they have desperately yearned for since the power conferences began the realignment process.
Follow Joe on Twitter, @JTansey90.