Few surprises were expected of Argentina coach Alejandro Sabella as he stepped up to give his final list of 23 players ahead of the World Cup. Those determined to criticise the trainer had already enjoyed their moment in the announcement of the shortlist.
The absence of Carlos Tevez, despite the fact that everybody knew he would not be present in Brazil, stirred up some predictable grumblings. Players such as Willy Caballero, Esteban Cambiasso and Federico Fazio were also signalled as possibilities unlucky not to receive a call-up.
But the former Sheffield United player, and deputy to Daniel Passarella in the 1998 World Cup, did have one shock up his sleeve. The news began to filter through Argentine papers and news agencies early on Tuesday: Newell's Old Boys midfielder Ever Banega was out, in favour of Benfica's Enzo Perez.
Ever Banega was the most high-profile player excluded as Argentina confirmed their final 23-man World Cup squad pic.twitter.com/qU2UQg0GF7

— FansAllStar Football (@FASfootball) June 3, 2014
Unkinder followers of the Argentina team will suggest that Perez got the nod due to his Estudiantes connections; a host of the current Seleccion, such as Agustin Orion, Mariano Andujar, Federico Fernandez and Marcos Rojo have represented the Pincha. But there is also a more straightforward footballing reason for the switch.
Banega was given every chance to shine by the coach in international colours. But a combination of poor form and bad luck with injuries scuppered his hopes of carving out a regular first-team place. Having moved back to Argentina with Newell's at the start of this year to strengthen his claim for a World Cup place, per Yahoo! Sports, the former Valencia man played just 14 out of 19 league matches, failing to help the club progress in either the 2014 Final or the Copa Libertadores.
Perez, on the other hand, is a player whose stock has risen greatly over the last 12 months. Originally a winger or attacking midfielder, the Mendoza native has adapted his game to play in the middle of the pitch, offering both stability and some creation in that crucial position. Three titles for the Lisbon club during the 2013/14 season, in which Perez clocked up no less than 47 matches, demonstrated that he had matured into a fine player.
That consistency, and Banega's less than satisfactory Final campaign in Rosario, appear to have moved Sabella's hand and given the coveted World Cup place to his former charge, who helped him to Copa Libertadores glory in 2009.
However, this may not be the best gauge of a player's worth once in Brazil. Banega is blessed with a vision and creativity that Perez, for all his positive attributes, simply does not possess. The ex-Valencia man may be out of form and questioned for his attitude, but he is a footballer who, to put it very simply, makes things happen.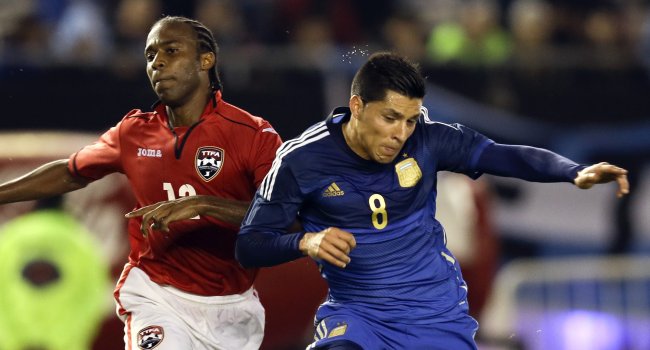 Natacha Pisarenko/Associated Press/Associated Press
The pair were fighting for the post of Fernando Gago's understudy in the World Cup. The Boca Juniors man is highly rated by Sabella, and has won himself a crucial place in the starting XI as the playmaker from deep. It is Gago who galvanises the counter-attack with his cross-field passing and combinations with Lionel Messi and Angel Di Maria further up the pitch.
But there are valid questions over whether Gago, who has suffered a string of niggling injuries over the past 12 months, can support the strain of a World Cup campaign. Should he be forced out of the reckoning early, Sabella will have to go to his reserves in order to fill the gap.
Banega, with his Exocet passing and calm on the ball, could fill in for Gago in the blink of an eye, while Perez would slow down the team somewhat, adding stability in the middle at the cost of creativity and urgency. If the worse should occur, Sabella and his coaching team could live to regret overlooking the Newell's man at the last minute.