At a press conference held at their practice facility, the New York Knicks officially announced Derek Fisher as the team's new head coach Tuesday afternoon.
The hire ends a weeks-long courtship between the two parties—one that got a little too close for the NBA's comfort while Fisher was still in the employ of the Oklahoma City Thunder, resulting in a $25,000 fine for the Knicks (per the New York Daily News' Frank Isola).
One team Fisher says didn't try and woo him: The Los Angeles Lakers, with whom Fisher won five championships between 2000 and 2010 alongside new boss Phil Jackson.
Fisher: "It was a very casual, informal reach out from the Lakers. I don't know if they ever really considered me as 1 of their candidates."

— Arash Markazi (@ArashMarkazi) June 10, 2014
Fisher didn't quite elaborate on what "informal" meant. Was it a phone call? A carrier pigeon? Really elaborate smoke signals sent from a landfill fire?
Fisher said he told Lakers he was already far down the road with Phil Jackson. So unless they had serious interest in him, it would be hard

— Mark Medina (@MarkG_Medina) June 10, 2014
Adrian Wojnarowski reported the Knicks would ink Fisher to a five-year, $25 million deal, meaning the Lakers would have to have been more "serious" than...five years and $25 million.
Now, both the Knicks and the Lakers essentially operate as their own U.S. Mints, so if L.A. really wanted to blow New York's offer out of the water—and that of pretty much any other offer for a first-time NBA coach—it certainly could've. It just didn't want to.
Why? Judging by their list of noted candidates, per Sam Amick of USA Today, the Lakers are looking for a seasoned vet to help right the ship, and quick, ahead of next summer's free-agent bonanza.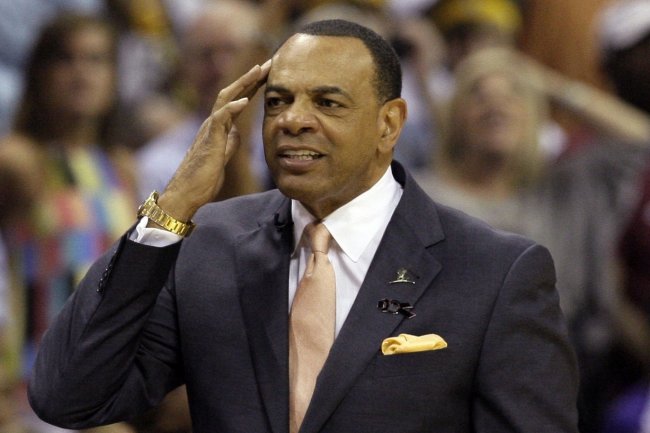 Danny Johnston/Associated Press
So far, George Karl, Alvin Gentry, Lionel Hollins, Mike Dunleavy and Byron Scott have all found their way to the top of L.A.'s short list, with a few slightly less experienced candidates—Kurt Rambis being one—thrown in for good measure.
However, the New York Post's Marc Berman reported Tuesday that Rambis is expected to join the Knicks as part of Fisher's coaching staff.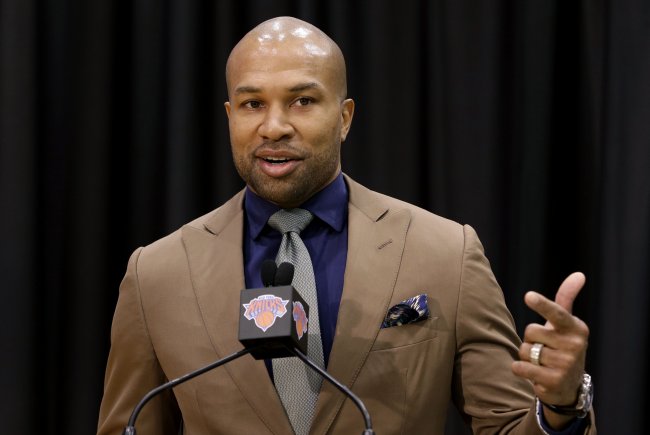 Seth Wenig/Associated Press
Fisher certainly didn't sound offended by L.A.'s lack of an aggressive pursuit, taking the occasion of his first presser to note that he looked forward to braving the ballyhoo of Manhattan after so many years in the City of Angels.
Why has the Lakers' coaching search taken so long? Amick surmises L.A. may have bigger designs on its mind. Specifically, this summer's free-agency bonanza:
The slow pace of the Lakers' coaching search that began April 30 when Mike D'Antoni resigned has been timed deliberately with the upcoming free agency period in the NBA, according to a person with knowledge of the situation. Specifically, the idea that the Lakers could beat the odds and land the likes of the Heat's LeBron James, the New York Knicks' Carmelo Anthony or any of the other superstars who may be free agents on July 1 has led the Lakers to plod through their process so as to not limit their potential options. The person spoke to USA TODAY Sports on the condition of anonymity because of the private nature of the search.
The thinking here seems pretty clear: Should the Lakers somehow find themselves without a shot at a superstar to pair with Kobe Bryant, there's sure to be at least a handful of proven coaches still on the market waiting for that phone call.
With the team's near-future fortunes tenuous at best, L.A. likely doesn't want to shoot for the moon with its next hire, making someone like Hollins or Karl a much more prudent option.