Highly aggressive, short of stature and obsessed with power—sound familiar, anyone?
Some of you are thinking of a certain, bantamweight French emperor, while others are picturing Joey Crawford tossing Tim Duncan for giggling on the bench.
As it turns out, Crawford's domineering style of officiation may be an example of the "Napoleon Complex" at work.
Reuben Fischer-Baum of Deadspin spotted news of a recent study titled "Napoleon Complex: Height Bias Among National Basketball Association Referees."
Pioneered by Paul Gift of Pepperdine University and Ryan M. Rodenburg of Florida State, the study concludes that shorter NBA officials call more fouls than their taller colleagues.
Gift and Rodenburg's abstract describes the NBA as a "real-world laboratory" that has allowed them to take a look into how height-based discrimination in the workplace occurs. After looking at four years of NBA games from 2008-12, the researchers found that teams of NBA officials with relatively shorter overall heights tend to rule over the game with a heavier hand.
Controlling for a plethora of referee-specific characters and including 4,463 regular season games from 2008 to 2012, we find that (i) more personal fouls are called when a relatively shorter three-person officiating crew is working and (ii) no more or fewer fouls are called when games involve relatively taller players. Such biases are probably not large enough to impact game outcomes but could affect gambling markets.
In other words, short referees are quicker to blow the whistle regardless of how many 7'0" giants are lumbering about the floor. Player height does not affect referee treatment.
Furthermore, the increase in foul calls is probably only enough to affect the point spread, as opposed to wins and losses.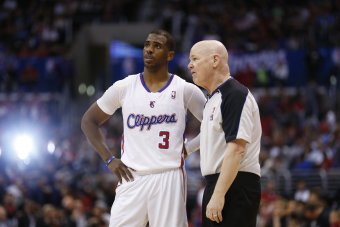 Danny Moloshok/Associated Press
Fischer-Baum writes that referee heights weren't listed in the study, but that Crawford certainly fits the criteria for a "shorter" referee.
"The researchers had to reconstruct the refs' heights themselves and did not list them individually," Fischer-Baum writes. "Joey Crawford is definitely shorter than 6 feet, though."
So there you have it: Shorter NBA officials, like Miniature Pinschers, are prone to making noise to remind you who's in charge.
And as loud and obnoxious as some may be, their high stepping and ball boy badgering isn't likely to adversely affect the outcome of the game.
Just don't try to tell that to Kevin Durant.
On the Twitters.