Pittsburgh Penguins center Sidney Crosby is widely regarded as the NHL's best player, and it was determined Tuesday night that he is also the league's most valuable, as he captured the Hart Memorial Trophy for the second time in his career.
The Penguins official Twitter feed had the news:
And your 2014 Hart Trophy winner is… SIDNEY CROSBY! Congrats Sid! #NHLAwards pic.twitter.com/9p5wEZGQvj

— Pittsburgh Penguins (@penguins) June 25, 2014
ESPN's SportsCenter Twitter account reminded fans just how impressive Crosby has been:
Sidney Crosby joins Mario Lemieux as only Penguin to win multiple Hart Trophies. Lemieux won award 3 times. pic.twitter.com/Jx2bI2sBdU

— SportsCenter (@SportsCenter) June 25, 2014
Although most viewed Crosby as the clear front-runner, he faced some deserving competition in Anaheim Ducks center Ryan Getzlaf and Philadelphia Flyers star Claude Giroux. Ultimately, neither Getzlaf nor Giroux truly stood a chance, however.
Upon finding out about his nomination in May, Crosby made mention of how much the award's history means to him, according to Rob Rossi and Jason Mackey of the Pittsburgh Tribune-Review.
"It's an honor," Crosby said. "To get recognized with that group of players, to know who's won that trophy in the past, it's definitely an honor."
Scoring is at a premium in the NHL these days and nobody contributed to more goals than Crosby. He led the league in points by a large margin with 104, which put him 17 points ahead of Getzlaf and 18 ahead of Giroux.
Hart Trophy voting. Crosby received 128 of 137 first-place votes. pic.twitter.com/84jPzpUJ1z

— James Mirtle (@mirtle) June 25, 2014
Crosby also led the NHL in assists with 68 and was seventh in goals with 36. Add in a solid plus-18 rating, and there wasn't much to dislike about Crosby's game over the course of the season.
There were arguments to be made in favor of other players winning the Hart Trophy, but Chris Adamski of the Pittsburgh Tribune-Review maintained that nobody deserved it more than No. 87:
Frankly, if you don't think Sidney Crosby deserves the Hart Trophy, you're either overthinking or you have an anti-Sid/Pens bias.

— Chris Adamski (@C_AdamskiTrib) April 1, 2014
That point of view was unsurprisingly popular. James Mirtle of The Globe and Mail didn't expect the Hart Trophy voting to be much of a competition:
Crosby, Getzlaf and Giroux are the three nominees for the Hart. Sid likely wins in landslide.

— James Mirtle (@mirtle) May 1, 2014
The same went for Dejan Kovacevic of the Pittsburgh Tribune-Review:
Crosby, Getzlaf, Giroux named Hart Finalists. This won't be close.

— Dejan Kovacevic (@Dejan_Kovacevic) May 1, 2014
Crosby's status as the odds-on favorite wasn't limited to the Pittsburgh area, as TSN's Bob McKenzie conducted a league-wide poll that tabbed Crosby as the unanimous Hart Trophy choice as well:
Hart: Crosby unanimous, 16 for 16. ANA's Getzlaf clear runner up, PHI's Giroux 3rd. No one else close tho Pavelski, Rask, Chara mentioned.

— Bob McKenzie (@TSNBobMcKenzie) April 9, 2014
Playoff performance doesn't factor into voting for the Hart Trophy, but many hockey enthusiasts will remember Crosby's poor showing in the postseason rather than his dominance throughout the regular season.
Crosby's Penguins were disappointingly eliminated in the Eastern Conference semifinal by the New York Rangers. Crosby's struggles had plenty to do with that, as he posted just one goal and nine points in 13 postseason games, which is unacceptable for the NHL's biggest star.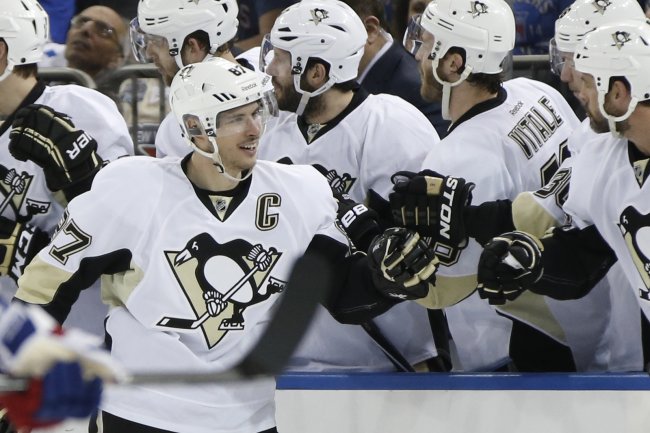 Kathy Willens/Associated Press
At the same time, Crosby's subpar playoff production doesn't erase everything he accomplished during the regular season. The Pens never would have gotten as far as they did without Crosby, as there was no better player in the league through 82 regular-season games.
There are currently plenty of very good players in the NHL, but Crosby is the one true superstar. In an era that doesn't see many 100-point scorers, Crosby consistently tops that mark when healthy. He may not be the second coming of Wayne Gretzky, but nobody is closer.
Who most deserved to win the 2013-14 Hart Trophy?
Crosby is deserving of every individual accolade that comes his way, but the true test moving forward will be leading the Penguins to another Stanley Cup triumph.
Despite Pittsburgh's talent, the Pens have not won a Cup since the 2008-09 season. Crosby has dealt with some injury issues since then that have impeded the Penguins' progress, but he proved in 2013-14 that he is back and better than ever.
If Crosby can translate his regular-season success to the playoffs, then he will be lifting a far more coveted trophy in the near future.
Follow @MikeChiari on Twitter