With the 2014 Stanley Cup Final nearing its conclusion, a number of players have separated themselves from the rest during the playoffs to be contenders for the Conn Smythe Trophy, for the postseason's most valuable player.
The winner of the Conn Smythe Trophy usually comes from the winning team, but we've seen members of the losing team win the award before. It's been a while since that's happened, however, as Jean-Sebastien Giguere from the Anaheim Ducks was the last to do so back in 2003. The Los Angeles Kings are already up 3-0 in the Final against the New York Rangers, so it's almost a guarantee at this point that the award will go to one of their players.
As the Kings look to end the series with a sweep on Wednesday, let's take a look at a few of their players who are the top contenders for the Conn Smythe.
Drew Doughty
Bruce Bennett/Getty Images
Even though he's had just one point in the Stanley Cup Final up through three games, Drew Doughty's impact on defense has been hard to ignore throughout the playoffs, and that's a big reason he's one of the top contenders for the postseason MVP.
In 24 games this postseason, Doughty has put up 17 points with a plus-minus of four. He has recorded just one goal and zero assists during this series against the Rangers, but that hasn't mattered, as he's been able to help his team win in other ways.
One of the biggest and smartest plays from Doughty came in Game 3. With Rick Nash about to score curling around the right side of the post, Doughty intentionally tripped Nash to keep him from scoring a goal. The trip cost Doughty a penalty, but it didn't matter, as the Rangers weren't able to score on the ensuing power play.
ESPNLA 710 radio host John Ireland and Bruce Arthur from the Toronto Star pointed out just how smart the penalty was.
Not sure I've ever seen a better example of a "smart penalty" than that one by Doughty. Saved a goal. Quick's best game so far #GoKingsGo

— John Ireland (@LAIreland) June 10, 2014
That is a Hall of Fame penalty from Drew Doughty.

— Bruce Arthur (@bruce_arthur) June 10, 2014
As one of the leaders for the Kings, Doughty doesn't mind not putting up points as long as his team wins, and that'll help him be a contender for the Conn Smythe.
Anze Kopitar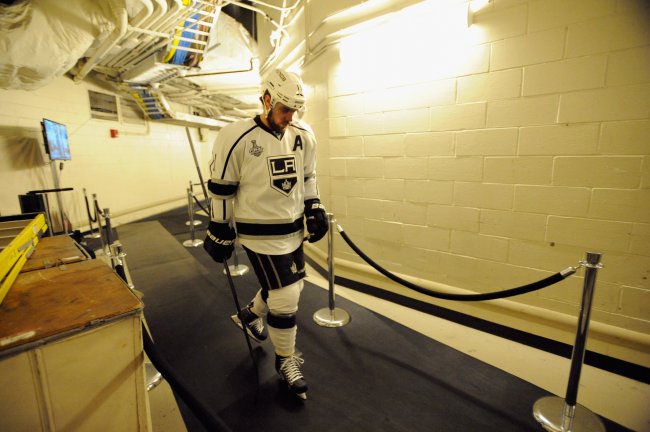 Andrew D. Bernstein/Getty Images
No player in the NHL playoffs has recorded more points than Anze Kopitar, and he just keeps piling up the points as the postseason drags on.
Which of these players has the best chance to win the Conn Smythe?
This postseason, Kopitar has recorded five goals and an NHL-leading 21 assists, giving him an impressive 26 points. He's recorded a couple of assists so far against the Rangers, setting up his teammates for some crucial goals.
What's been even more impressive has been Kopitar's play against some of the best centers in the NHL all postseason. Despite going against names like Jonathan Toews, Logan Couture, Joe Thornton and Ryan Getzlaf, Kopitar has continued to step up time and time again. With all of that success, teammates have been complimenting him quite a bit.
Willie Mitchell had some very nice things to say about Kopitar before Game 2 of the series against the Rangers, according to ESPN's Scott Burnside, saying:
I guess the biggest compliment I could give him is that I know that the eight defensemen we're carrying on the team right now, they're hoping if they're going out on the ice they're going out with Kopy because he's that responsible. On down low, you know where he's going to be, he's going to be an easy outlet for you. He's just going to always make the right play and then really he just makes everyone around him that much better.
As the leading scorer in the postseason, Kopitar may very well be this year's Conn Smythe winner, but there's another teammate that may win the award instead.
Justin Williams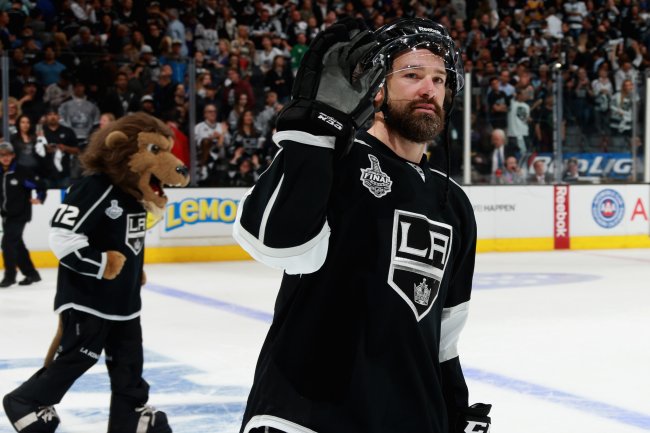 Dave Sandford/Getty Images
At 32 years old, Justin Williams has been one of the Kings' most reliable players this postseason, and he looks like the go-to choice, at least for now, to win the Conn Smythe trophy.
Williams already has 24 points on eight goals and 16 assists in the playoffs. He's been especially great against the Rangers, already putting up one goal and five assists, including three assists in Game 2. He already has the same plus-minus he had in the regular season at 14, leading all NHL players this postseason.
According to ESPN's John Buccigross after Game 1, Williams led all players this postseason with six multiple-point games, and he now has seven through Game 3.
Justin Williams' sixth multiple-point game of this year's playoffs, the most by any player. He has to be in Conn Smythe discussion now

— John Buccigross (@Buccigross) June 5, 2014
Damien Cox from the Toronto Star believes that Williams is the go-to option for the Conn Smythe, and he's not alone in thinking that.
If the vote was today, can't think of anybody but Justin Williams for the Conn Smythe.

— Damien Cox (@DamoSpin) June 10, 2014
If Williams finishes out the series with another point or two, it will be very hard for anyone to vote against him. As of right now, it looks like the award is his to lose.