The New York Knicks are going to pay Derek Fisher a whole lot of money to do something he's never done before, and that decision has come with controversy.
First, the job:
Derek Fisher has decided to accept the Knicks' head coaching position, per source.

— Howard Beck (@HowardBeck) June 9, 2014
Second, the money:
Derek Fisher is finalizing an agreement on a 5-year, $25 million deal to become the Knicks coach, league sources tell Yahoo.

— Adrian Wojnarowski (@WojYahooNBA) June 9, 2014
At first glance, it's easy to understand why Fisher's salary is causing a stir. We judge things relatively, and when comparing Fisher's paycheck to the ones being collected by peers with more experience (read: any experience), it's hard to logically justify it:
The 5 highest paid coaches in the NBA: Doc Rivers ($7m), Stan Van Gundy ($7m), Gregg Popovich ($6m), Steve Kerr ($5m), Derek Fisher ($5m)

— Sean Highkin (@highkin) June 9, 2014
The contrast takes on an even starker tone when looking at the impressive list of exceptionally talented, successful and highly regarded coaches who make less than Fisher will:
Derek Fisher will be paid $5 million/yr by Knicks, per @WojYahooNBA Short list of coaches who make less: Brooks, Thibs, Carlisle, Vogel.

— Tyler Conway (@tylerconway22) June 9, 2014
At least nobody will get bent out of shape about him making more than Scott Brooks. Zing.
At the risk of beating the issue of coaching-salary disparity to death, even guys with similarly inexperienced backgrounds don't measure up:
Knicks reportedly paying Derek Fisher nearly twice as much per year to coach as the #Nets are paying Jason Kidd. Okay then.

— The Brooklyn Game (@TheBKGame) June 9, 2014
Toss in Steve Kerr if you like—another brand new coach who's easy to compare to Fisher. Remember, though, Kerr and Fisher aren't perfectly equal as first-year head coaches. Kerr spent three years as the general manager of the Phoenix Suns. Granted, that's not a coaching position, but it certainly provided Kerr with some kind of an advantage.
At the very least, he'd been on the "other side" after finishing up as a player.
Yet Kerr's five-year deal is worth just as much as Fisher's, and he's collecting that money in a smaller market.
There's no getting around it: If we look at the NBA with any kind of critical, real-world eye, it seems crazy to give Fisher as much money as the Knicks are.
But we should know by now not to apply that kind of logic to the NBA; it's a different world to start with, and it's changing rapidly. Fisher's contract is a strikingly clear indication of that change.
Changing Times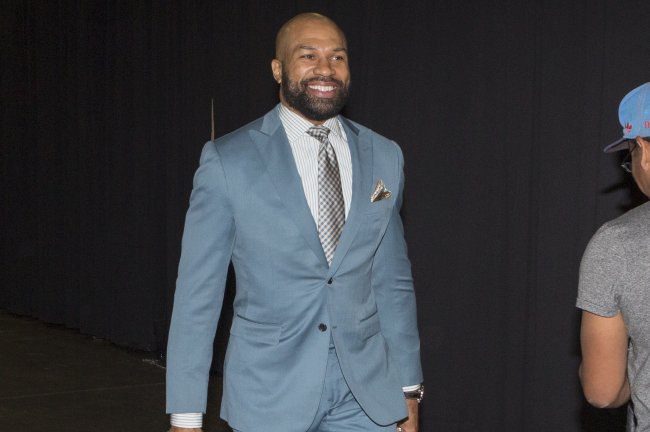 Richard Rowe/Getty Images
For starters, great coaches in the NBA are underpaid. Remember, we're now operating within the NBA's skewed reality—where somebody who makes $3 million per year can be rightly termed undervalued.
Does anyone really believe Gregg Popovich is only worth $6 million to the San Antonio Spurs? If so, congratulations, Tiago Splitter, you're worth nearly two Popoviches.
That's an exaggeration in service of a point: Coaching salaries don't make a whole lot of sense in the grand scheme of NBA payrolls. That's partially because it's easier to market players, but also perhaps partially because we don't have as firm a handle on how to evaluate coaches' value.
Interestingly, that skewed pay scale is changing—but probably not for the reason you'd expect.
Andy Lyons/Getty Images
Popovich isn't in line for a raise to $20 million per year, and extremely competent coaches aren't seeing massive spikes in salary. Instead, we're seeing teams vastly increasing the value of coaches they believe will fit into a larger basketball ecosystem.
Maybe it's the rise of analytics, or perhaps the league is only just now coming to appreciate the value of collaborative work in the difficult undertaking of building a winning NBA franchise. Whatever the case, we're seeing increases in salary for coaches who fit a vision shared—and essentially created—by ownership and management.
Kerr was one of those guys. So is Fisher.
Fisher's Value, Recalibrated
USA TODAY Sports
The league is beginning to realize that coaches are worth more than players who sit at the end of the bench. Teams are also valuing a coach's ability to connect with players and his willingness to take input from the front office more than experience, strategic acumen or any of the other usual items on the job-requirement checklist.
No, we've never seen Fisher handle a timeout or run a practice. But he ticks all the boxes Jackson wanted in a coach, and he's widely respected by his peers.
A 17-year veteran with five rings and more playoff wins than any player in NBA history, Fisher is more decorated than most who have recently made the immediate jump from player to coach. Guys like Jason Kidd and Mark Jackson were better players, but in terms of knowing how to win—to the extent that such a thing exists—Fisher has them beat.
Scott Brooks says "Derek Fisher is one of the biggest winners in NBA history."

— Mark Medina (@MarkG_Medina) May 11, 2014
And that's not all.
If we look at the big picture, we've seen NBA teams selling for hundreds of millions of dollars in recent years. The Clippers are going to sell for $2 billion—whenever the sale actually goes through. Teams are worth more than ever, and with the salary cap limiting how much they can spend on rosters, it makes perfect sense to utilize all that cash on coaches.
Surprised that people fixate so much on a coach's salary. It's irrelevant, especially for a big-market team. There's no coach salary cap.

— Howard Beck (@HowardBeck) June 9, 2014
Despite their recent struggles, the Knicks have the highest valuation of any team in the league, according to Forbes.
For Fisher, $25 million is nothing to New York. It could have paid him twice that much without batting an eye.
Macro and Micro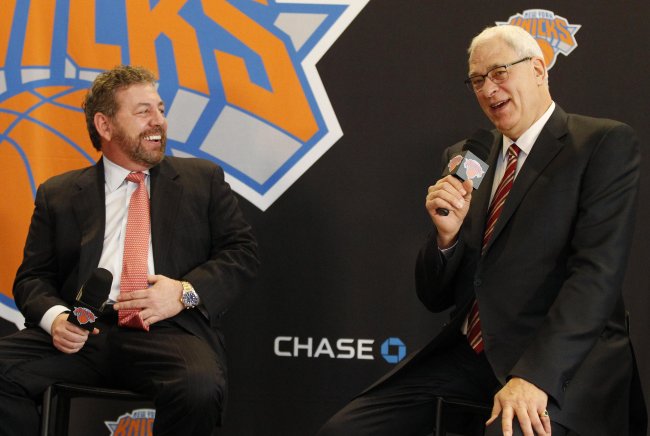 The Star-Ledger-USA TODAY Sports
The financial realities of the NBA, as well as the new trends in coaching choices, indicate that Fisher's salary isn't out of step with the norm—or, at least, what is rapidly becoming the norm.
Plus, if we hone in from macro to micro, Fisher was the guy Phil wanted. Well, the second guy, actually; Kerr was the first. The point is, Fisher will implement the system Jackson prefers and won't bristle at some hands-on input from the Zen Master.
Fisher respects Jackson and his approach and, perhaps more importantly, has experience working with him successfully. It makes sense for Jackson and the Knicks to put a high value on those qualities.
New York could certainly be wrong about Fisher. It's entirely possible he won't live up to expectations, won't get along with a star or won't be quite as collaborative a worker with Jackson as the organization hoped.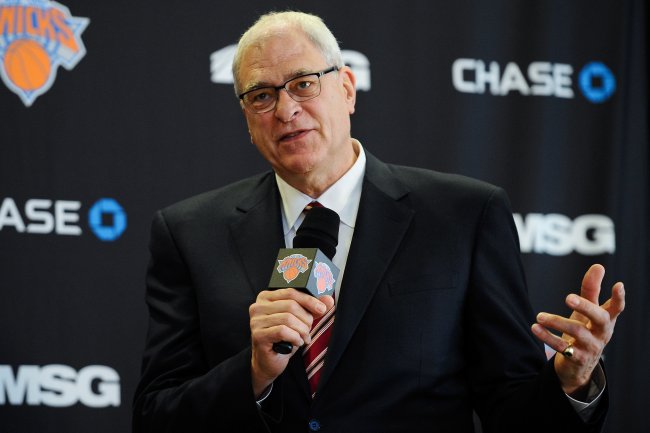 Maddie Meyer/Getty Images
Big deal.
If things go south, the Knicks can fire Fisher, find somebody else and pay him even more. We see sunk costs all the time in the NBA, and with no cap-restricting payments to coaches, cash-rich organizations like New York don't have to worry about losing a few million bucks on a failed experiment.
Right now, the Knicks think Fisher is their guy. So they're paying him.
Judging Fisher's salary by real-world standards of meritocracy and market value, it's hard to make sense of the Knicks' decision. After all, they weren't really bidding against anybody else.
But the NBA isn't part of the real world. It has its own economy and its own market, both of which are changing when it comes to how coaches are compensated.
In that sense, Fisher's not really a symbol of what's wrong with the Knicks or the NBA at large. He's a symbol of what's next.