Another week, another batch of NBA trade rumors is upon us.
Teams are trying desperately to put feelers out there before the 2014 NBA draft in an effort to either acquire more picks or more veteran talent in exchange for their own picks. It's all a part of the rigors of the NBA's offseason, as teams can go from worst to first (or darn close to first) with a solid acquisition or two.
The 2014 NBA Finals are still in full swing, but that hasn't silenced any of the rumors. The rumors will take a back seat to the Finals while the series between the Miami Heat and San Antonio Spurs continues, but as soon as the Larry O'Brien Trophy is hoisted by one of the two teams, expect trade rumors to become the focus of the weeks leading up to the draft.
Below are the latest trade rumblings from around the Association.
Phoenix Interested in Kevin Love
The list of potential suitors for Minnesota Timberwolves star Kevin Love is long, and it seems like it grows longer by the day. Per this tweet from Marc J. Spears of Yahoo Sports, you can now add the Phoenix Suns to the group:
Suns interested in Love deal w/best assets Dragic, Bledsoe & picks.NBA sources say it will take full max deal to control free agent Bledsoe.

— Marc J. Spears (@SpearsNBAYahoo) June 7, 2014
Phoenix is a serious contender for Love. It has the assets in terms of both players and draft picks, and it certainly has the pieces to entice Minnesota. Talks would probably start with guard Eric Bledsoe, who, as a restricted free agent this summer, would be appealing to the Timberwolves because he would be dealt as a sign-and-trade player.
A veteran like Channing Frye could also be appealing, though the Timberwolves should focus on the Suns' bevy of draft picks. James Herbert of CBSSports.com wrote about how these picks will impact their pursuit of Love:
Phoenix has the assets to pull off a deal, too. It owns the 14th, 18th, 27th and 50th picks in this year's draft, and it has future first-round picks on the way from the Los Angeles Lakers and the Wolves. The best-case scenario for Minnesota would be trading Love for a star and young players or picks -- the Suns can make that happen.
Adding a stretch 4 like Love into the mix will propel Phoenix to new heights. Numbers Never Lie pointed out just how effective he was last season. Actually, "effective" isn't a good enough word:
Kevin Love averaged 55.9 Pts + Reb + Ast per 48 minutes last season. Most by an NBA player since Jordan in 1990. pic.twitter.com/0ZPdAK2jT3

— Numbers Never Lie (@ESPN_Numbers) June 2, 2014
Trading away an athletic combo guard like Bledsoe would be tough to swallow, but the Suns have the picks to replace him with a rookie guard who has a high ceiling.
Denver Open to Trading No. 11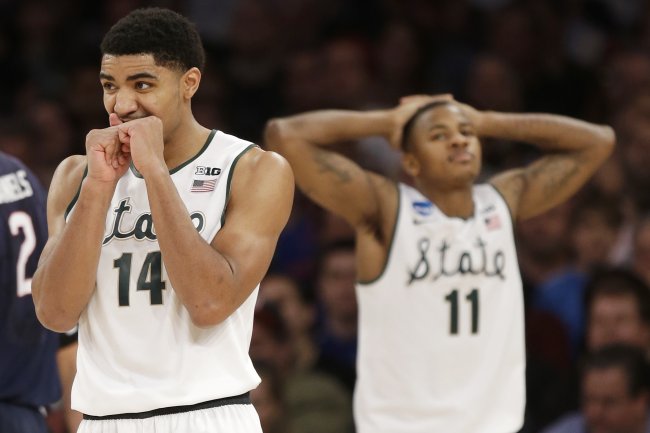 Seth Wenig/Associated Press
After a disappointing campaign, the Denver Nuggets might look to deal their No. 11 selection in the draft, reports Christopher Dempsey of The Denver Post:
The Nuggets own the 11th selection in the June 26 draft. It's their highest draft position since 2003, when they took Carmelo Anthony at No. 3. The Nuggets advanced to the playoffs 10 consecutive seasons following the Anthony selection but failed to make it this season after a 36-46 record.

So they'll retool, and they'll start by using the pick as a key cog in the improvement. Trading the selection for a veteran and moving up in the draft are the two areas of most interest to the Nuggets.
Guards like Rodney Hood, Gary Harris or Nik Stauskas would likely be in play at No. 11 for the Nuggets, but trading the pick might be the best move. Trading out of the lottery for a pick in the 20s would likely net them a quality veteran to provide more leadership on the team.
Should they choose to use the selection, Harris is probably the best fit. He fits the mold as the defensive-minded scorer that Denver needs in its arsenal. Aside from being a talented scorer, Harris was highly touted for his defense at Michigan State under Tom Izzo.
The No. 11 pick is very versatile for Denver. With multiple players available and possible trading partners to consider, Denver can really do no wrong here.
Tristan Thompson, Dion Waiters Involved in Exploratory Talks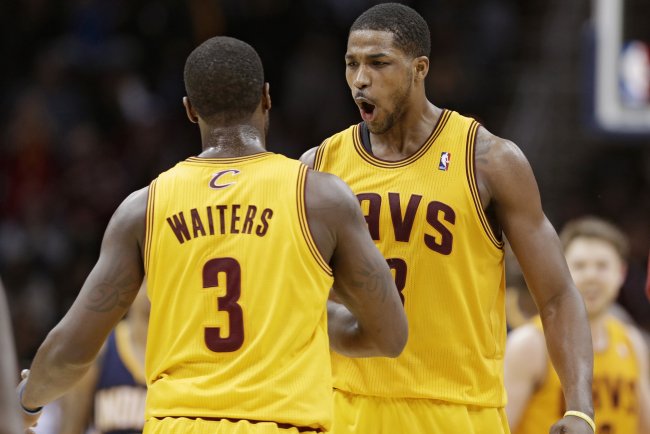 Tony Dejak/Associated Press
The Cleveland Cavaliers already own the top pick in the NBA draft, but Sam Amico of FOX Sports Ohio tweeted that Tristan Thompson and Dion Waiters could potentially be involved in a deal with another lottery team that would alter the draft order:
Team w lottery pick has also been in conversations w #Cavs, source says. Told Dion Waiters, Tristan Thompson part of exploratory talks.

— Sam Amico (@SamAmicoFSO) June 5, 2014
Thompson is looking to get paid soon, and Waiters is a quality piece for teams that need some offense. General manager David Griffin has the chance to take an extremely impactful player at No. 1 overall, however, so trading the pick may not be the best idea.
Both Andrew Wiggins and Jabari Parker would team up well with a backcourt of Waiters and Kyrie Irving. That said, we all know what happened with Cleveland's No. 1 overall pick from last year's draft, Anthony Bennett. He hasn't exactly panned out just yet.
Griffin shouldn't rush to make a move if he isn't happy with the packages presented to him. Despite having players on the roster who are looking to get paid in the future, a smart draft pick at No. 1 coupled with a quality signing or two in the offseason would do a lot to help the Cavs contend.