In front of an adoring crowd at Madison Square Garden, Miguel "Junito" Cotto (39-4, 32 KO) scored a ninth-round TKO victory over Sergio "Maravilla" Martinez (51-3-2) to claim the WBC middleweight championship on Saturday night.
Martinez didn't answer the bell for the 10th round, at which point his cornermen decided he had taken enough punishment in a lopsided bout.
When the fight was stopped, it was clear from the judges' scorecards how one-sided this one was.
Official scores: All three judges score the fight 90-77 in favor of @RealMiguelCotto. #CottoMartinez

— HBOboxing (@HBOboxing) June 8, 2014
Martinez was officially knocked down a total of four times in the bout, and never seemed a worthy opponent for a fit, determined and sharp Cotto.
The win gave Junito his fifth world title in what has been an illustrious career. The 33-year-old Puerto Rican legend was masterful throughout the entire fight.
He set up his punches with good mobility and was efficient with his power shots. Cotto kept his chin tucked and guards high to protect himself from Martinez's unorthodox attacks.
After it was over, Cotto ranked the win at the top of the list of his career accomplishments.
"The biggest achievement I've ever had in my career." - @RealMiguelCotto #CottoMartinez

— HBOboxing (@HBOboxing) June 8, 2014
Not only was this the fifth world title for Cotto, but it also marked the fourth weight class in which he's won a world championship.
He's the first Puerto Rican fighter with that distinction.
Martinez was not bitter about his corner's decision to stop the fight, and Boxing News ED also thought halting the beatdown was the right thing to do:
"My trainer sees things from the outside and he sees them much clearer than I do, and honestly I respect his decision." - @MaravillaBox

— HBOboxing (@HBOboxing) June 8, 2014
Good decision from Martinez's corner to withdraw him. Needed a KO and hadn't put a dent in #Cotto #boxing #CottoMartinez

— Boxing News (@BoxingNewsED) June 8, 2014
The fight started off with a bang for Cotto. A big left hook wobbled Martinez badly in the first round. As the champion stumbled against the ropes, Cotto pounced and floored Martinez with a myriad of power shots in close.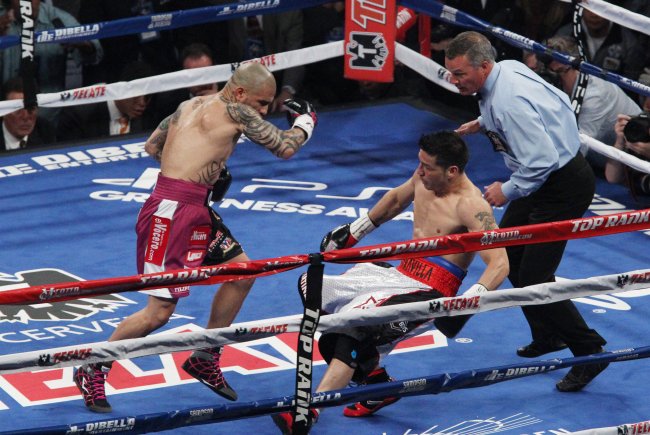 USA TODAY Sports
Martinez would get up, but he didn't have his legs. Sensing that his opponent was still dazed, Cotto didn't let up on the pressure.
He would put Martinez down two more times in the round. The second and third rounds were better for Martinez, but it seemed he was getting by on grit and determination.
His legs looked shot and unstable all night.
Cotto out-boxed Martinez thoroughly from Rounds 4 through 6. His hand speed, mobility and the snap on his punches were clearly superior.
In Rounds 7 and 8, Martinez was fading badly. It was clear he couldn't win this war. After referee Michael Griffin incorrectly scored another knockdown against Martinez in the ninth round, the champion's corner made the decision to stop the fight before the 10th began.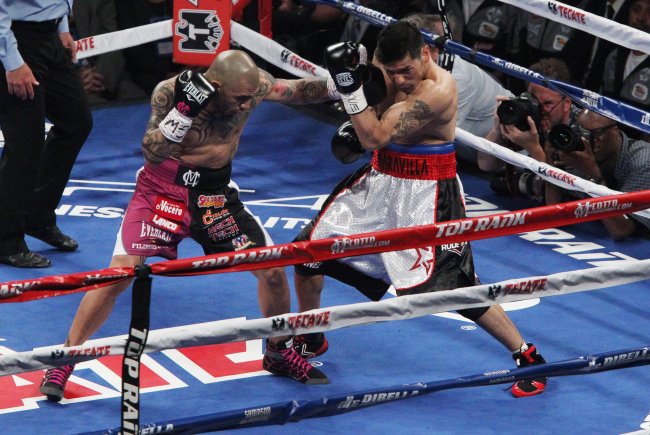 USA TODAY Sports
HBO's Max Kellerman called Cotto's performance one to remember, and former welterweight champion Andre Berto was also impressed:
Wowww!!!! Great performance by Cotto tonight #CottoMartinez

— Andre Berto (@AndreBerto) June 8, 2014
"Congratulations on a performance none of us will ever forget, Miguel." @Max_Kellerman #CottoMartinez

— HBOboxing (@HBOboxing) June 8, 2014
Looking ahead, Cotto has several options. Boxing Scene breaks down a few of them in this tweet:
I don't expect Cotto-GGG, if he beats Geale. Cotto-Canelo, if Canelo wins in July is much, much bigger. I don't see Cotto-Floyd II either.

— BoxingScene.com (@boxingscene) June 8, 2014
The winner of Gennady Golovkin vs. Daniel Geale would only be interesting if GGG wins. Geale's name doesn't carry much weight in the United States, despite the fact that he's a former world champion.
Who do you want to see Cotto fight next?
Golovkin is one of the most feared fighters in any weight class. A match with Cotto would be a significant draw, especially at MSG.
A rematch with Floyd Mayweather Jr. could be appealing, but Cotto needs another big win before that would make sense. And he'd have to go back down to 154 pounds for that to happen.
The fight that seems most logical is a battle with Canelo Alvarez, should he beat Erislandy Lara next month. Aside from adding another chapter to the Mexican-Puerto Rican boxing rivalry, it would feature two of the biggest names in the sport.
The winner of that fight would have every right to exact revenge against Mayweather.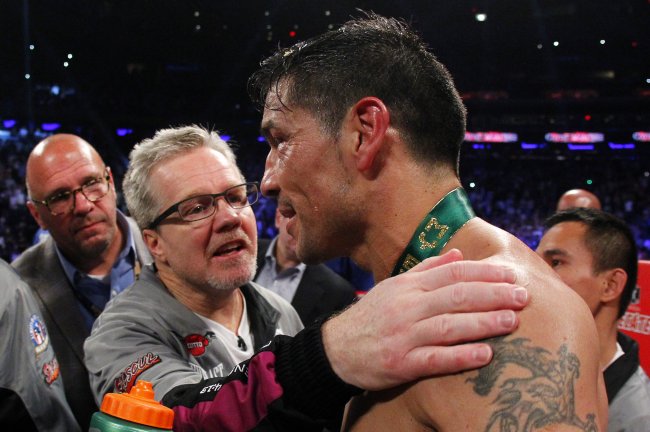 Rich Schultz/Getty Images
As for Maravilla, he looked like a man who desperately needs to call it a career. On a surgically repaired knee, he looked every bit of his 39 years in the ring.
He's had a great career and he fought valiantly against Cotto on Saturday night. But this should be the end of the road.
Follow me. I'm passionate about boxing.