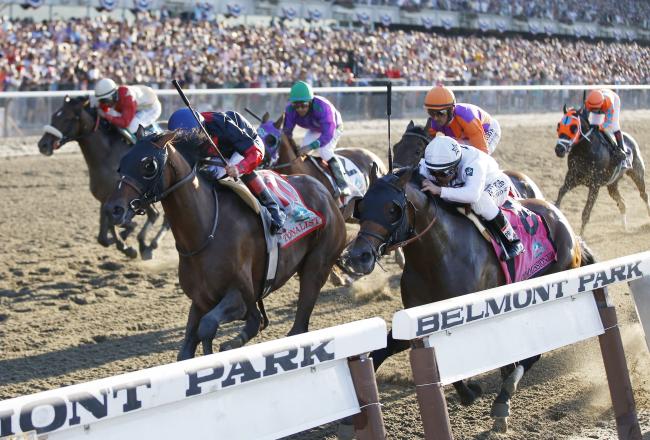 Matt Slocum/Associated Press
The 2014 Belmont Stakes provided the stage for history to be made. But it was Tonalist who stole the show.
While California Chrome was no doubt the crowd favorite who was running for history, Tonalist had other ideas. He found a way to best the Kentucky Derby and Preakness winner to claim the third leg of horse racing's Triple Crown.
Of course, it wasn't just the Triple Crown hopeful that the winner had to outrun. He charged past a field of nine other worthy contenders to write his own chapter in the history books.
Here's a look at how the race went down:
Tonalist and California Chrome weren't the only horses with surprising results. Here are the full standings from an incredible race:
California Chrome's shot at history came to an anticlimactic end. The Derby and Preakness champion took the inside track early but was forced to go to the outside in an attempt to reclaim the lead down the stretch.
While he was the beneficiary of nearly perfect trips in the first two legs of the Triple Crown, the combination of fatigue from running three races in five weeks and falling behind was a hurdle that he wasn't ready to overcome.
Tonalist, who sat out both the Derby and Belmont, appeared to have plenty of gas in the tank to outstride the field over the course of the 1 1/2-mile track. His victory continued a trend that ESPN Stats and Info noted:
Tonalist wins Belmont, 15th to win the Belmont without running in either the Kentucky Derby or Preakness Stakes since last Triple Crown won

— ESPN Stats & Info (@ESPNStatsInfo) June 7, 2014
After the race, it was this exact trend that California Chrome co-owner Steve Coburn addressed, per the New York Daily News:
"If you've got a horse, run him in all three...This is the coward's way out." -California Chrome owner Steve Coburn

— New York Daily News (@NYDailyNews) June 7, 2014
With Tonalist's win in the books, the Triple Crown drought now extends to 36 years since Affirmed captured the title in 1978. However, that might not be the worst thing in the world for the sport of horse racing. Peter Burns of The Denver Post explains:
California Chrome doesn't win. Best thing to happen for the sport of horse racing. Triple Crown continues to be almost impossible feat.

— Peter Burns (@PeterBurnsRadio) June 7, 2014
Although it's disappointing to the average fan that yet another horse failed to join the Triple Crown club, there's little doubt that the series will continue to become a focus every summer. The allure of a potential historic horse entering the field is a yearly fascination.
The skyrocketing rise in California Chrome's popularity and subsequent failure to attain legendary status is just the most recent example of the mystique that surrounds the event.