After three weeks of waiting for the moment to finally come, the 2014 Belmont Stakes has almost arrived. With 11 colts officially set to trot out at Belmont Park for the historic race, just one has captured the attention of the entire horse racing world.
California Chrome took both the Kentucky Derby and Preakness Stakes but stands just one monumental triumph away from the first Triple Crown in 36 years. Since Affirmed took the trio of races in 1978, no other stallion has accomplished the elusive feat.
Before the contenders take to the course in Elmont, let's take a look at the post positions and predictions for the Belmont Stakes.
Viewing Information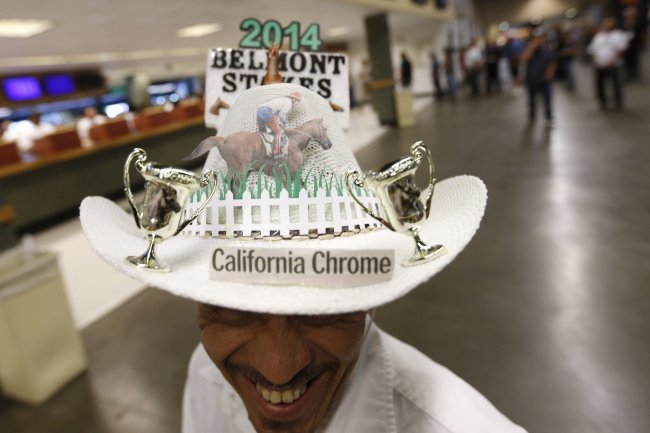 Jason DeCrow/Associated Press
Where: Belmont Park, Elmont, New York
When: Saturday, June 7 at 6:52 p.m. ET
Watch: NBC
Live Stream: NBC Sports Live Extra
2014 Belmont Stakes Post Positions

| | | |
| --- | --- | --- |
| Post | Horse | Proj. Finish |
| 1 | Medal Count | 10 |
| 2 | California Chrome | 1 |
| 3 | Matterhorn | 9 |
| 4 | Commanding Curve | 4 |
| 5 | Ride On Curlin | 2 |
| 6 | Matuszak | 11 |
| 7 | Samraat | 7 |
| 8 | Commissioner | 6 |
| 9 | Wicked Strong | 3 |
| 10 | General a Rod | 8 |
| 11 | Tonalist | 5 |
BelmontStakes.com
Winner: California Chrome
Just 1 1/2 miles separate California Chrome from history.
The Golden State stallion that has taken thoroughbred racing by storm is yet again ready to win a third straight major race on the biggest stage. Mounted by Victor Espinoza, California Chrome's jockey is also in search of history—and he's been here before.
Espinoza was aboard War Emblem, who, after winning the first two legs of the Triple Crown, fell short of the feat at Belmont Park. The 42-year-old shared his thoughts on having a second chance at the Triple Crown, per Michael Martinez, Jaqueline Hurtado and Paul Vercammen of CNN:
I am ready for it this time. I am prepared ... to go and see if I can get it done with California Chrome this time. ... I'm going to do my best, and I'm going to use all my talent and brains for that race, all the 20 years that I've been riding and that I learned.

I like to be a little outside. If the horse has speed in the race, I like to be outside of him because if I'm not outside it complicates the race for me. I have to use my brains a lot, but it's easier for me to be outside.
After claiming the first two jewels easily by pulling away on the final furlongs, expect California Chrome and Espinoza to contend down the stretch yet again. Given his strong closing speed and phenomenal burst when it counts, the California colt will once again pull ahead for the 12th Triple Crown.
Runner-Up: Ride On Curlin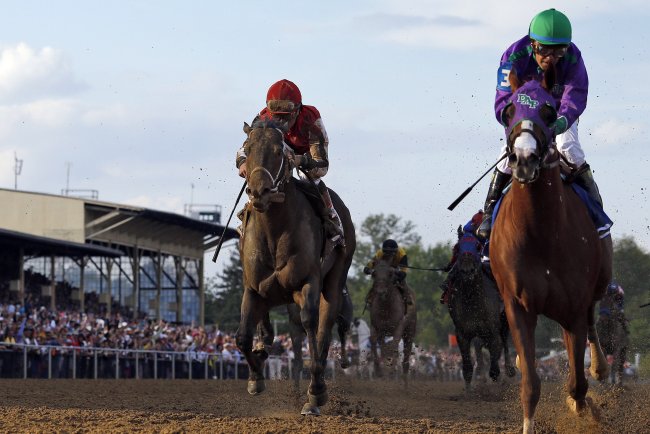 Matt Slocum/Associated Press
The third time won't be the charm for Ride On Curlin.
Following a disappointing finish at the Kentucky Derby and a runner-up finish at the Preakness Stakes, the stallion will yet again come up just short against California Chrome in Elmont. While the colt hasn't been able to overtake his horse, California Chrome owner Alan Sherman noted Ride On Curlin is still stiff competition, per HRTV:
Alan Sherman said the Belmont could be the toughest race of TC. Said Tonalist and Ride On Curlin look to be his toughest opponents.

— HRTV (@HRTVinsider) June 5, 2014
But after two races at Churchill Downs and Pimlico, will the stallion be up for the daunting task of running up near the front in the final jewel?
Leading up to the last race of the Triple Crown, Mike Welsch of Daily Racing Form notes the horse was a bit off his normal pace earlier in the week:
Ride On Curlin doesn't seem to be galloping quite as strong the past two mornings as he was prior to Sunday's work.

— Mike Welsch (@DRFWelsch) June 4, 2014
The son of former Preakness winner Curlin has proved to be one of the best horses at every track but doesn't quite have the strength to overtake California Chrome. With the historic feat being completed, Ride On Curlin will stake his claim to finishing just behind the famous colt.
Third Place: Wicked Strong
If there's one horse that has been an underdog throughout the season, it's Wicked Strong.
Who will win the Belmont Stakes?
The colt named after Boston Marathon bombing victims came into the Kentucky Derby with momentum but failed to finish near the front. Staking his claim with a Wood Memorial triumph, Wicked Strong still has the pedigree to pull off an upset at the famed Belmont Park.
Unfortunately, Boston's favorite horse runs up against a strong stallion in California Chrome. With history on the line and only a few furlongs in his way, the colt will close out Wicked Strong and the rest of the field with a masterful run.
Wicked Strong will fare much better in the Belmont Stakes than at the Derby, but winning the entire race will be much more difficult. While both Wicked Strong and Ride On Curlin will be great competitors on Saturday evening, just one horse will change the landscape of horse racing forever.
Follow R. Cory Smith on Twitter.