Sunday will see the conclusion of the 2014 French Open, and fans will get to see the matchup everyone had dreamt of witnessing in the final, as Novak Djokovic and Rafael Nadal square off with the Roland Garros title at stake.
Nadal has won an incredible eight titles on the clay courts of Paris and is 65-1 for his career at the French Open men's championship, while his opponent is looking for his first ever Coupe des Mousquetaires.
These two rivals will meet for the 42nd time in the last eight years, with Nadal leading the series 22-9.
When: Sunday 8 June
Start Time: 9 a.m. ET/2 p.m. BST
Where: Court Philippe Chatrier, Roland Garros in Paris
Watch: NBC, Eurosport
Live Stream: NBC Sports Live Extra, Eurosport Player
Nadal is 5-0 against Djokovic at Roland Garros; Djokovic has won the two players' last four meetings and has beaten Nadal in the last two finals these rivals have played on clay. Something has to give.
After eight titles and compiling a 65-1 record, Nadal is the undisputed king of the French Open. The combination of his favourite playing surface and the high chance for scorching temperatures play in the Spaniard's favour, and little appears to have changed in 2014.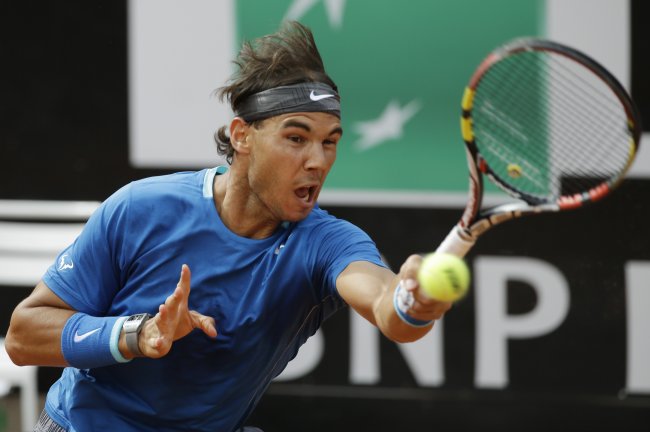 Andrew Medichini/Associated Press
The leader on the world rankings has looked excellent throughout the tournament, dropping just a single set during his run to the finals. His demolition of Andy Murray in the semi-finals was breathtaking, and with injury concerns mostly out of the way, his movement over the court has been just fine.
Things weren't very different for Djokovic, but his semi-final against Ernests Gulbis gave reason for concern. The world No. 2 looked sloppy in his passing shots and a step slower than we're used to seeing. Plus, there were too many unforced errors over the course of the match.
He was clearly frustrated as well, as this fan shared photos of the Serb smashing his racket:
#Djokovic smash his racket at today's match against #Eagle #Gulbis #RG14 pic.twitter.com/S35yhEUyTI

— Sausan (@Sausansh1) June 6, 2014
After the match, The New York Times' Ben Rothenberg revealed several of his colleagues agreed Djokovic sounded as if he might have been ill:
Verdict from several people in the press conference with me was that Djokovic sounds sick. Has two full days to recover, though. #RG14

— Ben Rothenberg (@BenRothenberg) June 6, 2014
Djokovic will have to get past his poor performance in the semi-finals in a hurry to have any chance at defeating an in-form Nadal looking for his ninth championship win at Roland Garros.
As unlikely as it may sound, nerves could have a big impact on this final. Djokovic has never won the French Open, and both players know it. EyewitnessNews.com shared the comments both made in their press conferences, and both emphasised the pressure surrounding the situation.
Nadal got things going:
He has the pressure to win for the first time. I have the pressure that I want to win and the motivation that I want to win the ninth.

I'm going to go on court with the same motivation than him. I don't know if the same pressure than him. Probably we are in different situations.
Djokovic agreed:
Of course pressure is there. Expectations are there. They are always present when you are playing on this level.

It is the finals of a grand slam that I never won, of course I'm going to give my best to lift the trophy.
Nadal has nothing left to prove at Roland Garros, but four consecutive losses against Djokovic will present a mental barrier for the Spaniard to overcome.
The Spaniard is the more complete defensive player, but on clay, he is at his best when he gets to move forward, controlling opponents with an aggressive forehand. Djokovic will want to keep his shots in the vicinity of Nadal's backhand, which has been hit-and-miss in 2014.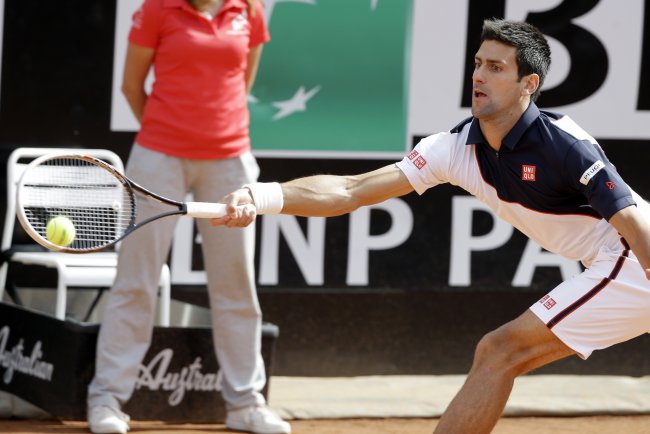 Andrew Medichini/Associated Press
His best performances against the Spaniard have come when he was relaxed, and he can't let the fact he has never won at Roland Garros before creep into his head. If he does, chances are mistakes will start creeping into his game, and there is no one better at punishing even the smallest mistake than Nadal.
How Djokovic recovers from his perceived illness will influence how the final plays out in the same way, but the same goes for the length of the match. Nadal has been able to spare his back by keeping most of his matches short so far, and if Djokovic can keep him moving and drag out this final, his chances of winning will grow.
Prediction: Never bet against Nadal at Roland Garros. Five sets and an early candidate for best match of the year, and the Spaniard gets it done in the end.