Seventh-seeded Maria Sharapova established herself as the queen of clay Saturday as she defeated No. 4 Simona Halep 6-4, 6-7(5), 6-4 to win her second career French Open title at Roland Garros.
The win marked Sharapova's fifth career Grand Slam title and established her as one of the best women's players of the past decade, according to ESPN Stats & Info:
Since Maria Sharapova won her 1st Grand Slam title in 2004, only Serena Williams has won more women's single titles

— ESPN Stats & Info (@ESPNStatsInfo) June 7, 2014
It wasn't long ago that clay was considered Sharapova's worst surface, but she has since become the best clay-court player in the women's game, as evidenced by this stat from ESPN's Chris Fowler:
Maria Sharapova has not lost a three set match on clay since 2010, winning 20 straight and four straight here to win the title. #RG14

— Beyond The Baseline (@SI_BTBaseline) June 7, 2014
Shane Bacon of Yahoo Sports further pointed out how dominant Sharapova has been:
And there it is. Maria wins her fifth Grand Slam, ties Martina Hingis for 11th all-time.

— Shane Bacon (@shanebacon) June 7, 2014
Sharapova herself tweeted about the win on Saturday:
This is the moment I dream of every single day!!! pic.twitter.com/68iEb8Ofm3

— Maria Sharapova (@MariaSharapova) June 7, 2014
Halep proved to be a worthy opponent as she gave Sharapova everything she could handle and helped put on one of the best French Open women's finals in recent memory.
Not only is Sharapova battle tested over the course of her career, but she was been taken to the brink several times this year at Roland Garros. Sharapova bounced back to win after dropping the first set to Samantha Stosur, Garbine Muguruza and Eugenie Bouchard respectively.
According to Dan Imhoff of RolandGarros.com, Sharapova brings a never-say-die attitude to every match she competes in.
I'm not sure if that's something can you work on, but I think when you're forced to be in those situations when you're either not playing good or you find yourself in a losing position, I just don't want to give up, because I work too hard to just let something go and let a match go. You put so much effort, you and your team, to get to this position. If some things are not working out, I don't just want to quit in the middle. ... That's the type of philosophy that I play with.
Sharapova very nearly had the script flipped on her when Halep won the second set after dropping the first. Sharapova's nerves of steel still managed to work in a slightly different situation, though, as she shook off the disappointment of dropping the second set to win the match.
Despite Sharapova's status as one of the most popular players in the world, it became apparent from the very start of the final that there was more support for the underdog.
According to BBC's Alison Mitchell, there was a Romanian contingent in the crowd hoping to see Halep come out on top:
Good number of Romanian flags making for a colourful scene around court for Halep v Sharapova French Open Final. Live on @bbc5live shortly

— AlisonMitchell (@AlisonMitchell) June 7, 2014
In addition to that, Halep's box was packed in comparison to Sharapova's, per Ben Rothenberg of The New York Times:
Halep appears to have around 40 people here in her box. Sharapova has only three. New Sugarpova flavor: Lonely. #RG14

— Ben Rothenberg (@BenRothenberg) June 7, 2014
It became abundantly clear right off the bat that Sharapova would have opponents in both Halep and the crowd as there was a noticeable reaction when Sharapova's first serve went out, according to Tom Perrotta of the Wall Street Journal:
Some in the crowd clap when Sharapova misses a first serve.

— Tom Perrotta (@TomPerrotta) June 7, 2014
That likely didn't affect Sharapova since she is a wily veteran at this point, but her trend of coming out flat did continue. Sharapova squandered a game point with a double fault and was ultimately broken by Halep. That came as a surprise to few, as pointed out by Barry Flatman of the Sunday Times:
Sharapova started slowly against Stosur, Mugaruza & Bouchard. Why should Halep in the final be any different

— Barry Flatman (@Barry_FlatmanST) June 7, 2014
That break was consolidated by a hold of serve for Halep, but Sharapova awoke from her early-match slumber soon after. She looked far more comfortable and assertive on her ensuing service game as she held nicely and got on the board.
Sharapova then proceeded to give Halep fits with her impressive return game. Halep was able to erase a couple break point chances, but Sharapova continued to blast forehand winners and finally scored the break to level the match in impressive fashion, according to Douglas Robson of USA Today:
Except for the DF on first point Sharapova had to earn that break, lots of winners. 2-2. #RG14

— Douglas Robson (@dougrobson) June 7, 2014
There is no question that Sharapova looked shaky to start the match, but she definitely started to find her rhythm after the second game, per Neil Harman of The Times:
I don't think Sharapova wants to lose the first set his time. Her response to trailing 2-0 has been awesome.

— Neil Harman (@NeilHarmanTimes) June 7, 2014
Sharapova and Halep engaged in a marathon game at 2-2 which lasted nearly 10 minutes. Sharapova finally secured the hold and took a 3-2 lead, but Halep made it clear that the former French Open champion would be in for a fight.
The length of the game was due partly to Sharapova's deliberate style, but Rothenberg reported that Sharapova was within the rules in terms of her time between serves:
Technically, Sharapova hasn't been going over time limits. Clock starts when score is announced, and Nouni has been slow to do that. #RG14

— Ben Rothenberg (@BenRothenberg) June 7, 2014
Sharapova's ability to salvage that hold likely gave her even more confidence as she came out firing on Halep's next service game. While the power and accuracy of her ground strokes were giving Halep more issues than anything, Sharapova even resorted to some uncommon tactics.
She busted out a gorgeous lob when Halep came to the net, which put her in control of the game. She then finished it off with yet another winner, per Roland Garros on Twitter:
#Sharapova gets a second break over #Halep with her 15th winner. The No.7 seed now serving at 4-2. #RG14

— Roland Garros (@rolandgarros) June 7, 2014
After following that up with another hold of serve, Sharapova officially had Halep on the ropes in the first set with a commanding 5-2 advantage. Halep refused to simply surrender the set, though, as she held at love for the first time in the match.
Sharapova had a golden opportunity to serve out the set, but she squandered it. Sharapova had a fairly easy look to force deuce, but she missed and allowed Halep to pick up the break, according to Nick Nemeroff of Tennis View Magazine:
Sharapova has made a ton of low percentage forehand winners then misses a high percentage forehand to concede the break

— Nick Nemeroff (@NNemeroff) June 7, 2014
Ever the competitor, however, Sharapova was able to bounce back. Halep saved one break point on serve, but she ultimately did herself in with an unforced error that allowed Sharapova to take the game and the set.
Winning the first set was a historically meaningful accomplishment for Sharapova considering how the women's final at Roland Garros has played out in recent years, per ESPN Stats & Info:
Maria Sharapova wins the 1st set; each of the last 12 French Open women's champions have won in straight sets.

— ESPN Stats & Info (@ESPNStatsInfo) June 7, 2014
Halep entered the final with every intention of staying true to her game, but she admitted that she couldn't account for how she would react in such a big situation, according to Matt Trollope of RolandGarros.com.
Now, I have to be aggressive again, to play fast, like my style, and to stay there with the nerves. It will be a tough moment for me. I know. I'm sure that will be. But I have to be happy and just to enjoy. I cannot say how I will feel Saturday. I cannot now. I don't know how is it to play a final of a Grand Slam.
Although the moment didn't appear to be too big for Halep by any means, there is no doubt that Sharapova's Grand Slam experience and overall grit gave her an advantage over Halep in the opening set.
Sharapova had a ton of momentum entering the second set and that was quite apparent in her opening service game as she blasted Halep off the court and held in dominant fashion.
Halep initially appeared to have things in hand during her first service game of the second set, but Sharapova battled back with a litany of forehand winners and forced deuce. Sharapova was able to secure the break due largely to Halep's inability to get first serves in, per Christopher Clarey of The New York Times:
Halep broken again to 2-0. Playing some great defense but 51 % 1st serve not going to cut it against Sharapova today

— Christopher Clarey (@christophclarey) June 7, 2014
With Halep starting to fade, Sharapova had a chance to put a stranglehold on the match by holding to go up 3-0. The Russian star's erratic serving issues flared up once again, though, and Halep received new life after appearing to be down and out, according to Carole Bouchard of L'Equipe:
6-4,2-0 and Sharapova missed à chance to kill that match. Bad Serbie game whereas Halep was having a rough time out there.

— Carole Bouchard (@carole_bouchard) June 7, 2014
Halep followed that up with a routine hold and started to turn the tide in her favor. Sharapova went down 0-30 on hold with a pair of double faults and things were certainly trending in the Romanian underdog's direction. Sharapova battled back, though, and even fought off another double fault to secure a much-needed hold.
Sharapova's time in between serves appeared to increase during that particular game, which caused Live Tennis to question whether that might come back to bite her eventually:
Somehow, despite three double-faults in the game, #Sharapova manages to hold her serve. But is time violation looming?

— Live Tennis (@livetennis) June 7, 2014
Halep answered with a hold of her own, and Sharapova held once again as well to go up 4-3. Sharapova seemed to have the game well in hand with a 40-0 lead, but Halep played a couple beautiful points to get back in it. Unfortunately for her, Sharapova dug in and came through with the hold to put pressure back on Halep.
Sharapova fell behind 0-30 during Halep's next service game, but battled back to win three straight points. She earned two break point opportunities, which would have put Halep's back against the wall, but Halep battled back and scratched out an absolutely huge hold.
After taking a 40-15 lead on serve, Halep again troubled Sharapova. The biggest point of the game featured Halep's brilliant defensive acumen at deuce as she stayed in the point with high lobs and waited for Sharapova to make an error.
Halep then scored the break and pulled to within one game of forcing a decisive third set, according to We Are Tennis:
Simona #Halep doesn't give up! The Romanian breaks #Sharapova at the best moment to lead 5-4 in the 2nd set #RG14

— We Are Tennis (@WeAreTennis) June 7, 2014
Sharapova wouldn't go quietly, though, as she had a break point chance on Halep's serve for the set. She had luck on her side as her shot hit the top of the net and trickled over to give her the break back, per ESPNW:
Sharapova breaks back on a net cord sorry-not sorry shot. You could be mad except she's played so well all day. #RG14 ~JM

— espnW (@espnW) June 7, 2014
The sudden break fest continued in the next game as Sharapova fell behind 0-40 on serve. She came through with a couple big serves to erase two of the break points, but Halep was too steady as she broke Sharapova and gave herself a chance to serve for the set again, according to ESPN.com's Steve Tignor:
Halep creating some points on her terms now. Will serve for the 2nd set a 2nd time at 6-5. #RG14

— Steve Tignor (@SteveTignor) June 7, 2014
Perhaps the pressure of the situation began to get to Halep, however, as the next service game was her shakiest of the match. Sharapova broke her with ease, which led to a tiebreak to either end the match for Sharapova or extend it for Halep:
First real sign of nerves from Halep is a big one. Tight as a drum, she's broken at love by Sharapova. Second set tiebreak coming. #RG14

— Ben Rothenberg (@BenRothenberg) June 7, 2014
Both players struggled mightily to win their points on serve in the tiebreak, which was an extension of the rest of the second set. Sharapova seemed to be in control with a 5-3 lead, but Halep looked like the one with Grand Slam final experience despite the fact that this was her first foray.
Sharapova didn't win another point for the rest of the tiebreak as Halep battled back and forced a third set in surprising fashion, according to Tennis Now:
Wow!!! Simona Halep wins the final four points of the breaker, and... We. Are. Going. Three. #RG14

— TennisNow (@Tennis_Now) June 7, 2014
It would have been easy for Sharapova to get frustrated and demoralized after letting the second set slip away, but she came out in the third with plenty of energy. Halep's opening service game was uneven, and Sharapova took advantage of it by picking up a big break to kick off the set:
Sharapova takes a long break after losing the second set,gets some dry clothes and cold mind..and breaks 1-0 to start the third. fistpumping

— Carole Bouchard (@carole_bouchard) June 7, 2014
Sharapova was unable to take advantage on serve, though, as Halep broke back once again. The most notable occurrence of Sharapova's service game came when she was finally given a time violation warning by the umpire.
According to Joe Fleming of USA Today, NBC announcer Mary Carillo felt it was long overdue:
"I feel like giving a time violation to Kader Nouni," Mary Carillo says, after Nouni finally gave Sharapova one

— Joe Fleming (@ByJoeFleming) June 7, 2014
Halep consolidated with what felt like the first hold in an eternity and Sharapova seemed poised to answer. She let a 40-15 lead on serve slip away, though, and faced a litany of break points.
Sharapova showed her grit and determination, however, as she turned them away and managed to prevent Halep from scoring what would have been a match-changing break.
Halep's failure to close out the break may have impacted her mentally as she didn't come out sharp in her next service game. Halep allowed Sharapova to take a 40-0 lead, and while she staved off two of those break points, Sharapova came through and took a 3-2 lead.
It was a huge turn of events after Sharapova seemingly started to fade in the previous game, and it thoroughly impressed Clarey:
Love her or loathe her, applaud her or want to mute her, you can only admire Sharapova's competitive spirit

— Christopher Clarey (@christophclarey) June 7, 2014
The break was huge for Sharapova's confidence as her ensuing service game was as good as any in the entire match. Sharapova overwhelmed Halep with blistering ground strokes and held at love to go up 4-2.
Halep had some shaky moments on serve following that game, including a double fault, but she was able to hold as well and keep things close in the third set.
The volatility of Sharapova's serve was once again evident as she served with a chance to take one step closer to the title. Sharapova twice double faulted, which allowed Halep to tie things up and caused Erik Gudris of ATN Tennis to acknowledge the unpredictability of the match:
Another Sharapova DF hands break back to Halep 4-all. What's next? #RG14

— Erik Gudris (@ATNtennis) June 7, 2014
In keeping with the theme of one of the wildest women's tennis matches in recent memory, Sharapova broke right back. She was aided by a reversed call from the umpire as a shot that was initially called out was correctly called in.
That gave Sharapova momentum and helped her finish off the break, which gave her a chance to serve for the championship.
Sharapova let some opportunities fall by the wayside in the second set, but she refused to make that same mistake in the third as she served out the match emphatically and celebrated an incredible victory.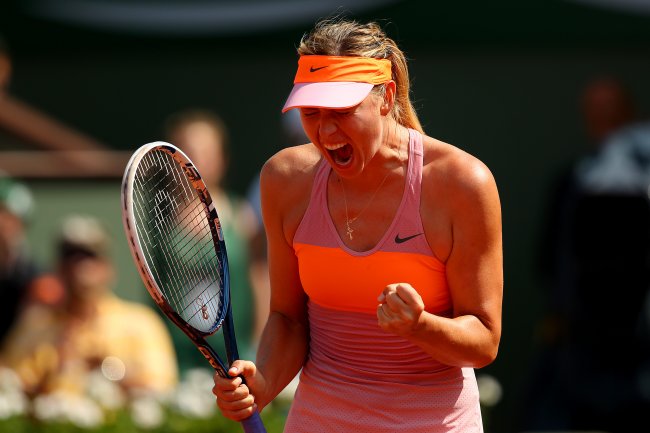 Clive Brunskill/Getty Images
With the French Open in the books, the focus now shifts toward Wimbledon in a little more than two weeks. Sharapova won her first career Grand Slam title at Wimbledon in 2004, but her results have been inconsistent since then.
In fact, she has advanced past the fourth round just once over her past seven tries. Sharapova definitely has some issues she needs to work out prior to Wimbledon, most notably her serving inconsistencies.
She displayed the heart of a champion in the French Open, though, and found ways to win matches against tough opponents even when things weren't necessarily going her way.
How many career Grand Slam titles will Sharapova ultimately win?
Serena Williams figures to be the Wimbledon favorite despite flaming out early at Roland Garros, but Sharapova is next in line and absolutely has what it takes to knock off the dominant American.
It will also be interesting to see how Halep performs. She proved that she belongs among the elite players in women's tennis by pushing Sharapova to the brink, and it seems very likely that Grand Slam titles are in the 22-year-old star's future.
Halep has never made it past the second round at Wimbledon, but she is playing with confidence and has the skill set necessary to excel.
Sharapova proved Saturday that she is still among the dominant forces in women's tennis, but Halep isn't too far off. The French Open final was very much a case of the present vs. the future, and while the present won out this time, the future is approaching fast.
Follow @MikeChiari on Twitter