The best WWE-related social media of the week welcomed some unique perspectives.
Corey Graves commented on Daniel Bryan's dilemma at Payback, and the DiGiorno's Pizza Twitter account dished out a unique look on Seth Rollins betraying The Shield. The best tweets, viral videos and Instagram photos from the WWE world also provided striking images from Payback and Raw. A clip of a thrilling dive and shots of contemplative wrestlers spread across the Internet.
Not surprisingly, much of the buzz was about Sunday's pay-per-view.
Bryan was not in action, but he had to face a familiar foe—Stephanie McMahon. She forced him to choose between his world title and his wife. He had to either vacate the belt or watch Brie Bella lose her job.
WWE's Instagram account showed Bryan backstage before his huge moment. Heavy shadows fall on him, adding a somberness to the photo.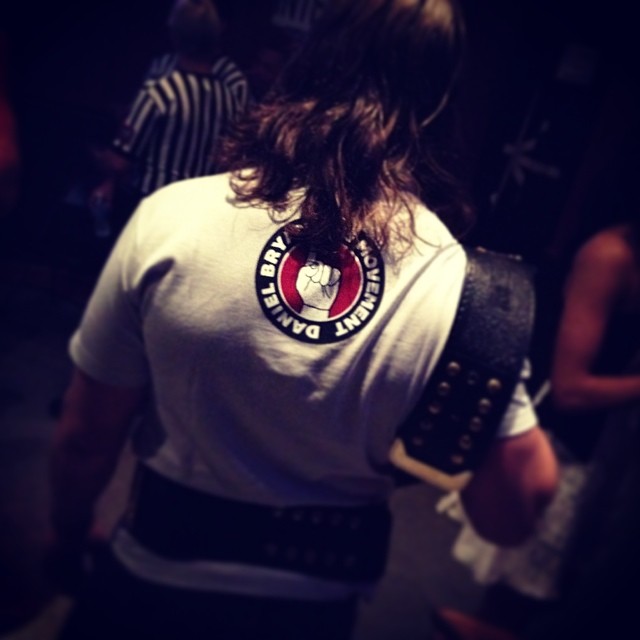 Photo from Instagram
In Graves' mind, there wasn't any reason to be down, though. He offered his take on why it was a breeze of a decision.
I say @WWEDanielBryan keeps the title. If his wife leaves him, it's ok. She has a twin sister. #Payback @wwe

— Corey Graves (@WWEGraves) June 2, 2014
Bryan ended up keeping the title thanks to Brie quitting. He may end up giving it to McMahon anyway, though, as his recovery from neck surgery is taking longer than expected. Payback managed without a world title match, but WWE can't continue to keep the belt inactive.
Payback's main event thrilled without a championship on the line and put the lack of a title bout out of many fans' minds.
The war between The Shield and Evolution had a plethora of highlights, but the biggest one belonged to Rollins. That's not surprising considering the same was true for their battle at Extreme Rules.
Rollins dove from the balcony during that match and found a new launching point at Payback.
Just in case you missed it... @wwerollins, @wweromanreigns, @thedeanambrose #noholdsbarred #WWEPayback https://t.co/MpUh5NuVLM

— WWE (@WWE) June 2, 2014
That turned out to be The Shield's last match as a trio. Rollins aligned himself with Triple H and Randy Orton the next night, bashing Roman Reigns and Dean Ambrose with a steel chair.
A band of warriors was no more. Rollins left "The Hounds of Justice" for the dark side.
The video of that act of treason is at over 700,000 views and counting.
Reigns provided an unsettling look at the damage that Rollins' beating left behind. His words speak to the non-physical damage it did to him.
The Shield's splintering inspired a number of hilarious tweets. For many, that seemed to be the best way to deal with the shock.
@KevinGetsRad used Wolverine to express how much some fans miss The Shield already.
MORRRRRRPH!!!!! I believed in The Shield... *sniffles*...once. #TheShield #bereaveintheshield #wwe #whysethwhy pic.twitter.com/RDUPcUHWva

— Kevin Silva (@KevinGetsRad) June 6, 2014
@HeeL_FMC_WWE turned to a sad Batman to do the same.
The Believers of the Shield understand Batman... #WhySethWhy #BelieveInTheShield #RAW @WWEUniverse pic.twitter.com/KbCRUA8EsS

— WWE_FMC (@HeeL_FMC_WWE) June 3, 2014
Fans weighing in like that is expected. The Twitter account for a brand of frozen pizza sharing its thoughts, not so much.
The folks behind the DiGiorno's Pizza Twitter had a comforting message for Reigns and Ambrose.
DON'T WORRY AMBROSE AND REIGN, PIZZA WILL NEVER TURN ITS BACK ON YOU #THESHIELD #RAW

— DiGiorno Pizza (@DiGiornoPizza) June 3, 2014
They also threw in some thoughts on how WWE is handling Ziggler's talent.
If @HeelZiggler doesn't get a title shot soon I am going throw a perfectly good pizza on the ground I'M SERIOUS DON'T MAKE ME DO IT #RAW

— DiGiorno Pizza (@DiGiornoPizza) June 3, 2014
That's a sentiment shared by many. He continues to flourish regardless of the brightness of the spotlight, including in a qualifying match for the Money in the Bank Ladder match on Monday's Raw. He and Alberto Del Rio, as they have been together just about every time out, were fantastic.
WWE posted a close-up of him backstage before that bout began on Instagram.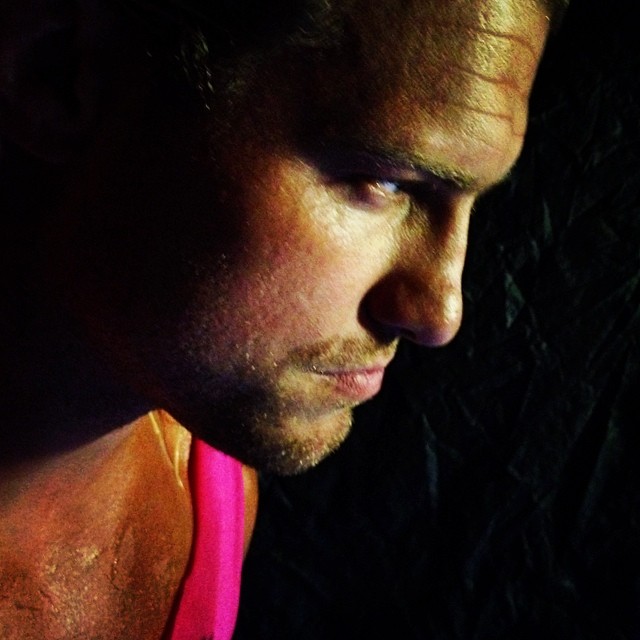 Photo from Instagram
It looks as if he's preparing for something huge, as if he just needed to focus and gut it out to make it to the next pay-per-view with a chance at gold. He didn't win, though. Del Rio is headed to the show instead.
He will join a yet-to-be decided field looking to add to WWE's collection of memories born from Money in the Bank ladder matches.
The latest "Five Things" video reflected on some of these, including Kane winning and cashing in on the same night and Mr. Kennedy winning before losing the briefcase to Edge.
It's always fun looking back at these stories and reliving the crash of flesh against steel. It's something fans will hear once again very soon.
Money in the Bank will arrive in a matter of weeks, an event sure to offer thrills worth sharing on social media.