Though 81 teams started their respective Challenge Cup campaigns with dreams of holding the famous trophy aloft, just eight teams now remain as we enter the competition's climax.
Widnes Vikings, Keighley Cougars, Leeds Rhinos, Leigh Centurions, Wigan Warriors, Castleford Tigers, Bradford Bulls and Warrington Wolves will battle it out for the semi-final spots, with the prize of a final appearance at Wembley edging closer.
Here, we take a look at the quarter-final fixtures as a thrilling weekend of rugby unfolds.
Challenge Cup 2014 Quarter-Final Fixtures/Results

| | | |
| --- | --- | --- |
| Date | Match | Venue |
| June 5 | Widnes Vikings 56-6 Keighley Cougars | Select Security Stadium |
| June 6 | Leeds Rhinos 25-12 Leigh Centurions | Headingley Carnegie Stadium |
| June 7 | Wigan Warriors 4-16 Castleford Tigers | DW Stadium |
| June 8 | Bradford Bulls 10-46 Warrington Wolves | Provident Stadium |
BBC Sport
Bradford Bulls 10-46 Warrington Wolves
Warrington Wolves comfortably took care of Bradford Bulls on Sunday, winning 46-10 to become the final team to qualify for the semi-final of the Tetley's Challenge Cup.
ISC Sport had the final result:
FULL TIME: Bradford Bulls 10 Warrington Wolves 46

— ISC Sport (@ISCSport) June 8, 2014
Sunday's match was played in picture-perfect conditions, via BBC Sport' Dave Woods:
Sunny day at Odsal. Bulls v Wolves on bbc1 coming up. @BBCSport pic.twitter.com/RwuIF5eDCT

— Dave Woods (@DaveWoodsSport) June 8, 2014
Wolves started the match on fire and scored after 15 minutes, Richie Myler taking advantage of a gap in Bradford's line to score the try. Chris Bridge added the conversion, giving the visitors a 6-0 lead. Prop Chev Walker had to leave the pitch for Bulls, making their push for the semi-finals even harder.
Bradford refused to let the loss of Walker get in their heads, however, and some excellent passing work led to a try of their own, Elliot Kear being the one to touch down. The conversion was unsuccessful, however, and a quick answer from Ryan Atkins saw Warrington's lead extended to six points.
Matthew Russell then found some space under the sticks to make it 18-4, but Bulls would dig in defensively and stop the visitors from adding any more points before half-time, as shared by the Tetley's Challenge Cup official Twitter account:
HT score is @OfficialBullsRL 4-18 @wolvesrl Can the Bulls come back or will Wolves be 80mins from Wembley? pic.twitter.com/AY8y0HK0FM

— TetleysChallengeCup (@TetleysChalCup) June 8, 2014
An early score in the second half by Luke George gave life to Bradford, and the long scamper down the wing brought the home crowd back to life. Both teams seemed content keeping the ball in the centre of the pitch for a while, knowing full well the next score would probably decide the fixture.
It would be the visitors scoring to preserve the lead, Gene Ormsby finding the corner. Myler's second try of the match broke the spirits of the Bulls, and Wolves showed no mercy to their opponents, pushing on to score even more tries.
Michael Monaghan scored two more tries and Ben Currie added a score of his own to make it 46-10.
Chris Bridge was brilliant distributing the ball in the centre of the pitch, and he was rightfully crowned Man of the Match. Former Super Leaguer John Stankevitch thought the choice as rather interesting:
Chris Bridge Man of the Match. Interesting choice there from Jonathan Davies #bravwar

— John Stankevitch (@johnstankevitch) June 8, 2014
Manager Tony Smith spoke to the BBC about the pressure of playing in the Challenge Cup before the match, a tournament that has been very kind to his team in recent years:
We try hard in every competition we're in and we've had an affiliation with the Challenge Cup recently.

We enjoy it. It's either perform, or get out of it. You can't afford to be too far off your best. If you are, you run the risk of being bundled out.

Hopefully we can handle that pressure again. As we all know, it's sport and anything can happen on the day.
The draw for the semi-finals was made immediately following the match, and the Challenge Cup's Twitter account had the results:
Here is your Semi Final draw: @WidnesRL v @CTRLFC and @leedsrhinos v @wolvesrl #tetleyschalcup

— TetleysChallengeCup (@TetleysChalCup) June 8, 2014
Warrington have to be one of the favourites to make it to Wembley Stadium following their easy win over Bradford, and with Leeds having played such a tough, physical match against Leigh, the Rhinos could perhaps be vulnerable going into the semi-finals.
Wigan Warriors 4-16 Castleford Tigers
There will be a new champion crowned in the Challenge Cup, as the 2013 winners were dumped out by the Castleford Tigers at the DW Stadium.
The game was an extremely tight affair, with neither side looking to give an inch with a semi-final place up for grabs. But it was the visitors who handled the pressure better, as they looked more composed and more incisive throughout.
The vanquished holders were quick to wish the victors well ahead of the semi-final:
Thank you to @CTRLFC for a tough game today and all of their fans for making the trip over. Good luck in the Semi-Final.

— Wigan Warriors (@WiganWarriorsRL) June 7, 2014
In sodden conditions, James Clare put Castleford ahead when Luke Dorn and Michael Shenton combined superbly nine minutes before the break. Wigan, by comparison, looked a little short of ingenuity in the attacking areas of the pitch. They failed to create any genuine scoring chances, as the Tigers adapted to the testing conditions a lot better.
Thanks to Clare's try, Castleford went in 6-0 up at the break, but it should have got better for them almost immediately after. Dorn was once again at the heart of proceedings, and he played a superb pass into the path of Shenton. But with the line gaping, he couldn't cling on.
The Tigers' official Twitter account was quick to bemoan his profligacy with the ball:
Oh so close! Dorn passed to Shenton, it went off his hands to Sneyd but it went marginally forward. Darn #ccwigcas http://t.co/EmuHDux3yh

— Castleford Tigers (@CTRLFC) June 7, 2014
It was a much needed wake-up call for Wigan, and as the game wore on, the holders began to grow in confidence, establishing themselves in the match. The Warriors' George Williams looked set to touch down midway through the second half, but a vital intervention from Oliver Holmes kept the Tigers in front.
But Holmes and his teammates' were eventually beaten, when Liam Farrell stormed through a tackle and over the line. Castleford were off the hook however, as Matty Smith missed the subsequent conversion after losing his footing, meaning they still preserved a slender 6-4 advantage.
After that let off, Castleford came roaring back, and with 70 minutes on the clock, they increased their advantage, through Kirk Dixon. Wigan heads dropped and it was left to Castleford's Lee Jewitt to seal victory.
Naturally delighted, the Castleford players were happy to pose with the swathes of travelling support at the final whistle:
.@sneyd23 and @JamesClare91 were excited to win! #ccwigcas pic.twitter.com/jUmWUi14Ve

— Castleford Tigers (@CTRLFC) June 7, 2014
After going to the home of the holders and winning, Castleford will feel supremely confident of going all the way in this tournamnet. They could yet come up against the might of Leeds, Bradford or Warrington in the semi-final, but at this juncture they'll feel as though they can topple anyone and take their place at the Wembley showpiece on Aug. 23.
Leeds Rhinos 25-12 Leigh Centurions
Championship side Leigh put forth a phenomenal effort against cup-facourites Leeds for 70 minutes, but two late tries saw Leeds walk away with a hard-fought win and a ticket to the Challenge Cup semi-final.
Even the club's official Twitter account paid tribute to the fantastic performance from Centurions:
Final score Leeds Rhinos 25 Leigh 12, huge credit to Centurions, an outstanding display that showed they'll be back in the big time soon

— leedsrhinos (@leedsrhinos) June 6, 2014
The visitors started very lively, undaunted by their opponents' status as clear favourites. Good work from Stevie Ward quickly gave the upper hand to Rhinos, however, and following some good work from the forward, it was winger Ryan Hall who opened the scoring with a try in the corner.
Kevin Sinfield was successful on the conversion, giving the hosts an early 6-0 lead.
The lead would be short-lived, however, with Tom Spencer taking advantage of excellent positioning following a penalty, and Martyn Ridyard hitting the conversion to tie things up. Sinfield's kick-off then went out on the full, and Leigh were smelling blood in the water.
Attacking furiously, they eventually worked the ball wide to Tom Armstrong who powered his way over the line, giving the Championship side the lead. Ridyard made it 2-for-2, for the 12-6 lead.
Ward gave Leigh's defence fits every time he touched the ball, but the visitors played with admirable enthusiasm and put up an excellent fight against the tournament favourites, surviving several close battles near their own line to hold onto their lead for much of the first half.
Dave Woods was very impressed by what he saw from the Championship team:
Can't imagine that Leeds have faced a better side than Leigh in any 1st half this year. Not just enthusiasm, leigh have played terrifically

— Dave Woods (@DaveWoodsSport) June 6, 2014
Mick Gledhill even took things one step further:
Anyone who is against the return promotion and relegation needs to have a serious look at that first half; Leeds 12-12 Leigh.

— Mick Gledhill (@TheGameCaller) June 6, 2014
Ridyard was in full control distributing the ball, and Leigh nearly scored a third try midway through the first half, only denied by excellent defensive work from Ryan Hall.
Liam Sutcliffe appeared to have tied things up for the hosts with a fine try following a break by Ward, but Ryan Bailey was called for obstruction despite not interfering with the play.
It was only stay of execution, however, with Rhinos this time taking advantage of a penalty, leading to a try from standout Ward. Sinfield stepped up for the conversion, and both teams were tied 12-12, as shared by the Tetley's Challenge Cup's official Twitter account:
Great game unfolding at Headingley! Nothing between @leedsrhinos & @LeighCenturions at HT it's 12-12 #TetleysChalCup

— TetleysChallengeCup (@TetleysChalCup) June 6, 2014
Both teams looked like making a statement as they came out of the dressing rooms, and things briefly spilled out of control early in the second half. Punches were thrown, with Jamie Peacock and Matt Sarsfield seeing yellow cards.
Centurions had a fantastic chance 10 minutes into the second half, a try-saving tackle from Sinfield knocking the ball loose just inches away from the goal line.
Leigh started to pressure the Rhinos wings more and more, but several kicks just failed to find a Centurion near the goal-line. With no way through wide, the ball was brought back inside, as this fixture turned into an absolute slugfest.
Both teams refused to give up an inch and kept looking for any kinks in the opposing team's armour, but with 10 minutes left to play, the score was still 12-12.
Leeds' edge in stamina started to become visible, as Leigh found themselves pinned back against their own zone. Absolutely exhausted, Leigh tried to jump an exchange and failed to recognise Robbie Ward smartly timing his run as opposed to playing the pass, scoring with eight minutes remaining, via Rhinos' Twitter account:
Robbie Ward has made it two tries in two Headingley Carnegie appearances as he goes over from dummy half to score

— leedsrhinos (@leedsrhinos) June 6, 2014
Sinfield's conversion made it 18-12, and a drop-goal just minutes later finally broke the spirits of a valiant Leigh squad. Zak Hardaker found a way to get his name on the score sheet late, the scoreline now looking rather harsh.
Chris Clarkson knew the underdogs would put up a sensational fight, as he told the people at Thechallengecup.com:
Leigh are in great form and we are aware that it will not be easy by any means. They have been one of the top Championship teams for a while now and they will be ready for the game I'm sure.

I have played in two Challenge Cup finals and lost both which has been heartbreaking. I remember going to the 1999 final when Leeds played London Broncos and it was just an amazing experience. I was playing rugby at the time as a kid and remember thinking I want to play in a game like this.
Leigh will return to the Championship with their heads held high, going toe-to-toe with the team punters are backing to win the cup this year. Leeds will have to recover from a very physical match, with just 80 minutes now separating them from the final at Wembley.
Widnes Vikings 56-6 Keighley Cougars
Widnes Vikings eased into the Challenge Cup semi-finals with a routine victory over Keighley Cougars on Thursday at Select Security Stadium.
There's the hooter. FINAL SCORE: WIDNES VIKINGS 56 - 6 KEIGHLEY COUGARS. The Vikings are 80 minutes from Wembley! #ChallengeCup

— Widnes Vikings (@WidnesRL) June 5, 2014
As BBC Sport reported, Widnes made history by making the semi-finals on Thursday, as it's the first time they've reached the last four since way back in 1996, where they lost to eventual champions St. Helens.
Though this quarter-final was always going to be a one-sided affair, Widnes performed admirably and were out of sight by half time.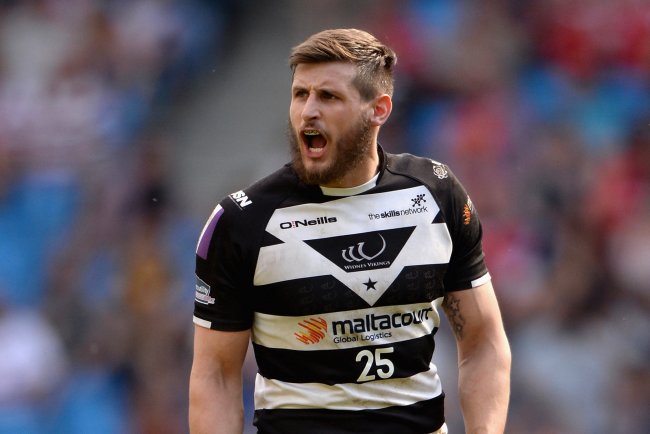 Gareth Copley/Getty Images
It took the Viking just over two minutes to edge into the lead, with Declan Hume going over after good work from Stefan Marsh.
Marsh, Tom Gilmore, Kevin Brown, Jack Owens and Hulme then added further tries to put the hosts 32-0 up at the interval.
HALF TIME: Widnes Vikings 32 - 0 Keighley Cougars. Very good display by the Vikings so far #COYV #RoadToWembley2014

— Widnes Vikings (@WidnesRL) June 5, 2014
With one foot in the semi-final after half time, Widnes seemed to ease up on the gas, and Keighley were given something to cheer shortly after the break as Daley Williams crossed the line.
Williams worked his way through after capitalising on some poor Widnes handling, but that's as good as it got for the visitors, as Widnes romped to a easy victory.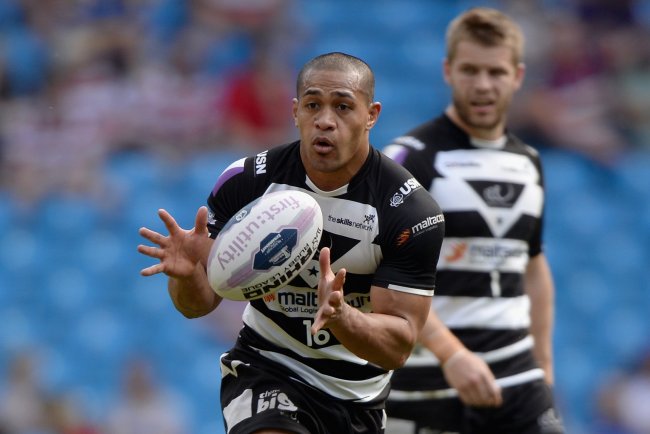 Gareth Copley/Getty Images
Tries from Willie Isa, Danny Craven and two more from Gilmore meant the Vikings dotted down 10 times in the match, with eight goals between Danny Tickle and Owens sealing a fine victory.
Following the match, Widnes head coach Denis Betts spoke to the club's official website and said that it was "job done" for his side:
It is what it is. We scored some good tries and got ourselves in some good positions as well, and to be honest I'm disappointed we conceded 6 points. They got an opportunity and a bit of fire in their bellies and they scored their try, but it's not the 'be all or end all'. The objective today wasn't points for or against it was about getting our name in the hat for the semi-finals and we got the job done.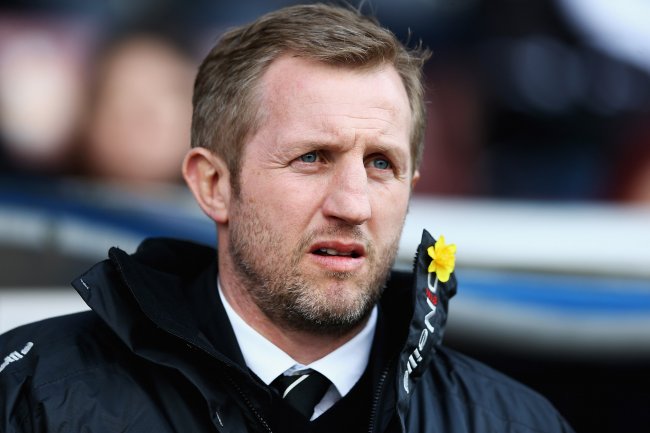 Matthew Lewis/Getty Images
Though Widnes have won the Challenge Cup seven times in their history, they haven't lifted the trophy since 1984, making a victory this year the perfect way to mark the 30-year anniversary of their last triumph.
Widnes' triumph was a fantastic start to the quarter-finals, but with the big-name sides still to be in action, the Challenge Cup fireworks are far from over.