Updates from Monday, June 9
Matthew Cowley of The Wall Street Journal has the latest news on the Sao Paulo strike:
*BREAKING* Sao Paulo subway workers temporarily suspend strike -- they will meet Wednesday to decide whether to strike again on the 12th

— Matthew Cowley (@MattCowleyBR) June 10, 2014
Updates from Sunday, June 8
Gabriel Elizondo of Al Jazeera has the latest update on the strike:
Court in São Paulo today unanimously rules metro strike illegal, R$100,000 per day fine to union(s) if they don't go back to work.

— Gabriel Elizondo (@elizondogabriel) June 8, 2014
Updates from Friday, June 6
Simon Romero, Brazilian bureau chief for The New York Times, has the latest on the strike:
Not what Brazil needs right now: Scary video of São Paulo police attacking striking subway workers http://t.co/8OoSk4rKDM

— Simon Romero (@viaSimonRomero) June 6, 2014
Original Text
Arena Corinthians in Sao Paulo, Brazil, is scheduled to play host to the first match of the 2014 World Cup on June 12, but mass transit strikes have left transportation in the surrounding area in question.
According to The Associated Press (via The Guardian), underground and overland train operators have officially gone on strike, which could greatly impact the ability of fans to arrive at Arena Corinthians and watch Brazil take on Croatia in the World Cup's opening match.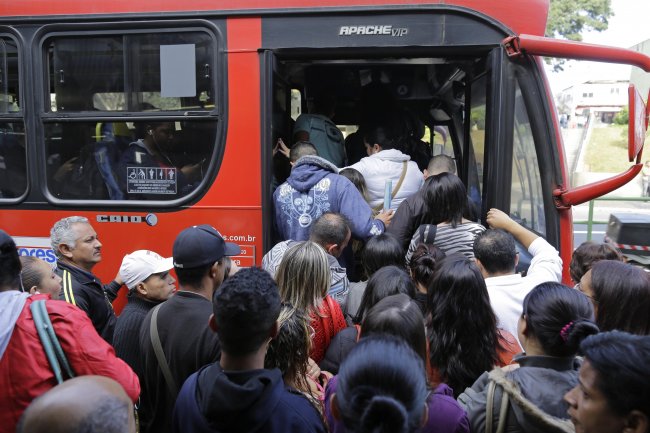 Nelson Antoine/Associated Press
Per the report, the strike caused roughly 3.5 million people to be stranded in Sao Paulo. It is just the latest in a long line of transportation strikes, and it has weighed heavily on Sao Paulo residents, according to the AP.
"The strikes...are getting on my nerves," said Sao Paulo coffee shop manager Silvia Rodrigues da Silva. "The underground station nearest my house was closed so I had to wait for more than an hour to get into an overcrowded bus to come to work."
Considering the significant issues the strike caused on a normal day in Sao Paolo, one can only assume that the problems will be exponentially greater if it persists during the World Cup.
There is also no telling how long the strike will last. BBC contributor Ben Tavener reports that it is indefinite in nature:
Meanwhile, #metro workers on lines 1, 2, 3 & 5 in São Paulo announce start of strike action tomorrow for indefinite period of time

— Ben Tavener (@BenTavener) June 4, 2014
Although Brazilian officials eased restrictions on passenger cars in the central part of Sao Paulo, according to the AP, the traffic has been a major issue.
According to former Sunday Tribune writer Ewan MacKenna, Sao Paulo is in a class all of its own in terms of traffic congestion:
The World Cup that keeps on giving. Sao Paulo metro on strike from tomorrow, no specified period of time in city with world's worst traffic.

— Ewan MacKenna (@EwanMacKenna) June 4, 2014
This isn't the first issue that Brazil has encountered during the lead-up to the World Cup relating to Arena Corinthians. According to Geraint Hughes of Sky Sports, construction of the venue was still not completed as of Monday.
Many questioned whether Brazil was capable of hosting an event as large as the World Cup. That won't be apparent until the World Cup comes and goes, but early returns aren't good.
It's important to note that while the World Cup itself is a huge deal for Brazil, it also serves as a precursor to the 2016 Summer Olympics in Rio de Janeiro. If the World Cup turns out to be a disaster, then hopes won't be particularly high for the Rio Games.
Brazil has an opportunity to show the world how good of a host it can be, but unless it is able to sort out the transit strike effectively, this is shaping up to be a flawed World Cup experience.
Follow @MikeChiari on Twitter