The first game of the 2014 Stanley Cup Final gave the Rangers and Kings everything they could handle. There was blood, own goals on a shorthanded breakaway and a wild, overtime thrill ride that saw the NHL's best teams provide the best possible representation of the sport on the grandest stage.
Oh, and there was Mr. Game 7.
Justin Williams came through again for the Kings on Wednesday night, beating Henrik Lundqvist top shelf to give Los Angeles a 3-2 overtime victory over the Rangers in Game 1 of the Stanley Cup Final.
KINGS WIN GAME 1! Justin Williams is OT hero as LA beats New York, 3-2, taking 1-0 series lead in Stanley Cup Final. pic.twitter.com/p8x8KYi2JQ

— SportsCenter (@SportsCenter) June 5, 2014
The Kings hold home-ice advantage heading into Saturday night's Game 2 in Los Angeles. In the best-of-seven format, Game 1 winners have gone on to take the Stanley Cup 77 percent of the time, per ESPN Stats & Information.
For Williams, this was all in another night's work.
The Kings winger, who has earned the nickname "Mr. Game 7" for his heroics in deciding games, again found himself in the right place at the right time. Standing alone in the slot after a failed clear by the Rangers, Mike Richards fed Williams the puck and he unloaded a shot past Lundqvist—New York's own barometer of clutchness.
Williams was just three days removed from his latest heroics, an assist on Alec Martinez's game-winning goal that sent Los Angeles to its second Stanley Cup Final in three seasons.
I forgot that we're all living in Justin Williams' world. So clutch.

— Josh Yohe (@JoshYohe_Trib) June 5, 2014
"The legend continues," Jarret Stoll jokingly told reporters on Sunday.
The loss is a crushing blow to the Rangers, who held a 2-0 first period lead and are already playing against historic and recent odds. It's been two decades since New York has reached the Stanley Cup, which itself was a manifestation of five decades of putridity. Those Rangers, led by center Mark Messier, ended a Cup drought that began in 1940.
These Rangers are battling two lost decades and what could be a burgeoning dynasty in Los Angeles. The Kings won the 2012 Stanley Cup and went through a seven-game battle with the defending champion Chicago Blackhawks to even make it to Wednesday night.
For much of the first period, New York played like a team motivated by slights.
The Rangers dictated the pace on the ice from the opening faceoff, quickly covering ground and making life difficult on both ends. Martinez drew the game's first penalty, a hook on Carl Hagelin as he tried to mitigate the attack. While New York would not capitalize on its advantage, four minutes later Benoit Pouliot put the Rangers on the board.
Pouliot knocked the puck away from Drew Doughty and then sent a shot roaring past Henrik Lundqvist for his fourth goal of these playoffs.
Good job by Pouliot not to high-stick Doughty, or Quick, or the linesman before he scored.

— Bruce Arthur (@bruce_arthur) June 5, 2014
It wouldn't be much longer until the Rangers were on the board again—albeit under far different circumstances.
Down a man after Mats Zuccarello was called for a tripping violation, Hagelin added a shorthanded goal in one of the stranger plays of the entire playoffs. Breaking away from the Kings' penalty unit to get a one-on-one, Hagelin's shot attempt was stopped by quick, only to be knocked into the net when Slava Voynov's momentum carried him into the pick.
Another short-handed goal for Carl Hagelin. That dude can fly. 2-0.

— Chris Johnston (@reporterchris) June 5, 2014
The pseudo own-goal gave New York a 2-0 lead with less than five minutes left in the first. With momentum decidedly in the Rangers' favor, it was beginning to look like everything that could go wrong would for the Kings.
And then, in typical fashion, they struck back.
Kyle Clifford lit the lamp with 2:27 remaining in the first off a beautiful pass from Jeff Carter for his first goal of the postseason. Clifford had only three goals in 90 regular-season and playoff games combined in 2013-14. The Kings went into intermission down 2-1 but in a decidedly more comfortable spot given all the first period mistakes.
Doughty atoned for his own foibles by tying the game four minutes into the second period. Clifford and Justin Williams received assists, the latter passing the puck to the Kings defenseman, who made an excellent individual effort to get the puck by Lundqvist.
If there's a better defenseman in hockey than Drew Doughty, I haven't seen him this year. Perfect balance of skill, physicality and smarts.

— Josh Yohe (@JoshYohe_Trib) June 5, 2014
Doughty's goal both evened up the score and allowed the Kings to play at a more controlled pace. While neither side added to their total, it stylistically tended toward Los Angeles' more measured style of play—a trend that would continue in a thrilling third period.
The Kings flat-out dominated the third. There's no other way to put it. They outshot the Rangers 20-3, kept the puck deep in the New York zone almost the entire period and came within inches of a game-winning goal a number of times. The first 10 minutes went by without New York even attempting a shot.
Henrik Lundqvist on third period: "It was intense but they threw a lot of pucks from the outside."

— Chris Johnston (@reporterchris) June 5, 2014
Lundqvist, again, served as the barrier between yet another Rangers opponent and victory. The 32-year-old Swede did all he could amid a barrage of shots, stopping 40 of the 43 that came his way. It was a matchup Lundqvist had envisioned. The coast-to-coast rivalry, the pageantry of the nation's two biggest markets and the chance to take down a past champion.
"When you knew you were playing L.A., the adrenaline started coming a little bit more," Lundqvist told reporters after arriving in Los Angeles. "You've been thinking about this ever since you beat Montreal, but now knowing we're going to L.A., it was easier to focus on what's coming."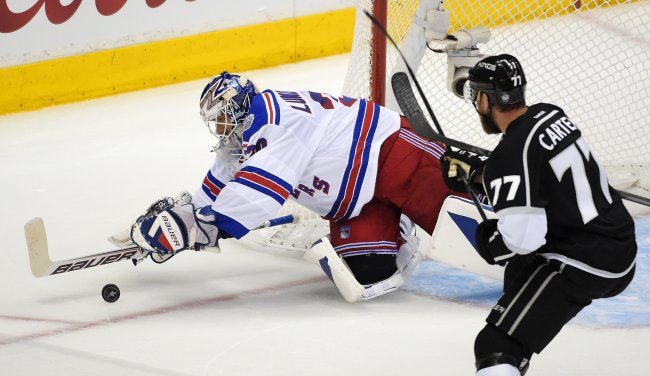 Mark J. Terrill/Associated Press
Lundqvist's teammates didn't have enough in them to keep the pace of the first period. Quick faced a relatively minimal 27 shots by contrast, only five of which came in the game's last 24-plus minutes.
If the Rangers are looking for an area of improvement, it starts there. Goal-scoring has been an issue throughout the season for New York, but this talented and high-profile team needs to find a workable solution. Alain Vigneault's team is no longer facing the decidedly weaker Eastern Conference. The West has taken each of the last two Stanley Cups, and Wednesday night, the Kings made themselves a 77 percent favorite to make it three.
Lundqvist has carried them this far. Game 1 made it clear someone else will have to help pick up the slack for New York to have a chance.