College football is changing by the minute.
Not just in the way the game is played—in its tempo and the size of the players who succeed at it—but in the way it looks.
Uniform aesthetics have developed gradually over the past decade or so, but the result of that steady, gradual change is something radically different than what we had before.
We live in a new, chrome-filled, stand-out-by-any-means-necessary era where something such as this new NC State helmet with wolf eyes on the back of the head can actually exist in real life:
PHOTO: Did you see North Carolina State's new football helmet design? - http://t.co/xpTYPftzZ2 (via @PackFootball) pic.twitter.com/DPtdb4jqZs

— CBSSports.com (@CBSSports) May 19, 2014
Whoa.
Fortunately for us, the "eyes in the back of our heads" conceit is not likely to catch on. Perhaps this is wishful thinking, but it seems more like a gimmick than a trend that will inspire future imitations.
The same, however, cannot be said for some of the other trends that will continue or begin in earnest next season.
Let's take a look at some of them.
Jarring Sleeve Patterns
Phil Knight and Nike have helped Oregon redefine what a football jersey can—and perhaps should—look like. Part of that design has included an emphasis on the shoulders, where Oregon has sported everything from wings to metallic-colored tire marks in past seasons.
This year's "Mach Speed" uniforms have the next iteration of sleeve pattern: something close to the winged look but a little bit lower and, especially in the case of the black jersey, a little more intricate.
The wings on the shoulder used to be a gentle accent on the fringe of the uniform. Now they have expanded their breadth, creeping down to the chest area and dominating the front of the jersey.
Take a look:
Oregon Ducks have the sickest uniforms in all of sports. Nike killed it on the 2014 uni design. pic.twitter.com/35jP9gjH3y

— TeeG (@Aero_TeeG) June 1, 2014
And because Oregon jumped the gun and debuted the white version of the Mach Speeds during the 2013 Alamo Bowl, here is a look at how those jerseys come off with a live, game-ready model: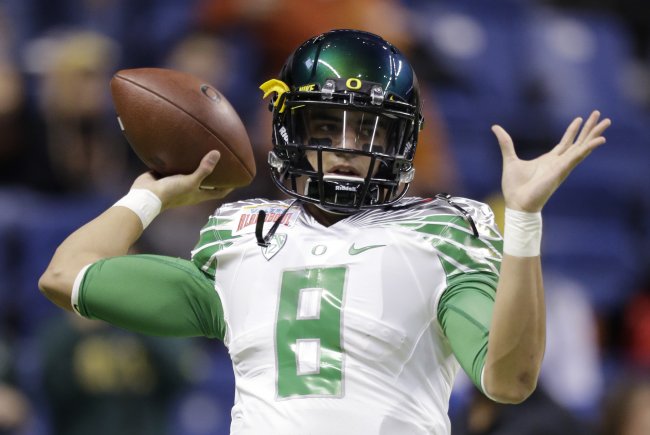 Eric Gay/Associated Press
But it's not just Oregon partaking in this trend anymore.
The intricate shoulder pattern has made its way to the opposite corner of the country—way down to Tallahassee, where the defending national champions have decided to update their style.
Check out the Seminole-themed print on the shoulders:
New #FSU Uniform #IgnitionTradition pic.twitter.com/HgCSluBz6d

— NOLE JUNKIE (@FLSportsJunkie) April 11, 2014
According to the Atlanta Journal-Constitution, the patchwork on the sleeves "contain the Seminole Tribe of Florida's symbols for arrow, man on horse, and fire, with the helmet spears crossing in the back representative of the crossed bars of the state flag."
That's actually pretty freakin' awesome.
Also awesome is the integration of the Ibis mascot on the shoulders of the new Miami uniform update (better angle here):
What do you think of the new look for the Miami Hurricanes? http://t.co/7Nvik48k4t pic.twitter.com/Dmw0mAhfxN

— FOX Sports Live (@FOXSportsLive) April 12, 2014
Well done on all three fronts.
Secondary Logos
Jerseys change from week to week.
That is a historical reality of sports. All sports. Not just football.
Teams need to wear different colors, and because there are so many teams (and so few viable colors), each team needs at least two jerseys to ensure that always happens.
Until recently, however, the logo was supposed to stay consistent. There is no practical reason for an alternate logo, which is not needed to differentiate one team from the other during the run of play. And if anything, logic might dictate that it hurts any sort of branding.
But, alas, Arkansas might be helping to start a new trend with a soft introduction of its new secondary logo:
New Arkansas logo demands eye contact. http://t.co/3qHegvr7Ea pic.twitter.com/M62bgyt91s

— Eye on College FBall (@EyeOnCFB) April 22, 2014
(Which may or may not look like Pumbaa from The Lion King):
Arkansas' New Logo Is Essentially Angry Pumbaa pic.twitter.com/2Zwiq7ft2b http://t.co/9FNqZ07gNE

— The Big Lead (@thebiglead) April 22, 2014
The forward-facing hog will not replace the profile shot of the hog on the Razorbacks' helmet, but it will be placed below the neck on the front of the updated jerseys:
Arkansas reveals new logo and uniforms http://t.co/S5qUst6KTm pic.twitter.com/C2HjD3ZEvZ

— For The Win (@ForTheWin) April 22, 2014
Another SEC team, Georgia, did a similar thing in 2013:
I gotta say, I'm liking the new Georgia Bulldog Logo: pic.twitter.com/q0dkxEvmRl

— The SEC Logo (@SEC_Logo) April 3, 2013
Secondary logos might seem frivolous, but they are in fact a smart piece of marketing. They allow the school a chance to roll out and crowdsource an update—perhaps with the intention of making it a full-time change—without the risk of a massive public flop.
Arkansas' forward-facing hog, for example, has been mocked a bit since its introduction. But, for the time being, it is only an alternate. It's only displayed in a tiny little spot below the collar of the jersey.
Had Arkansas rolled out that logo as a new, full-time change, placing it on the helmet, it would have put itself at risk of public scorn and a debacle such as the one Florida State had with its own new logo.
Expect this kind of thing to catch on.
"Group of Five" Chrome Domes
College football's fascination with chrome helmets began to penetrate the NFL this offseason. It also continued spreading among itself.
Now more than ever, it seems, schools from the "Group of Five" are adding chrome domes to their repertoire—ostensibly to look hip and to aid with recruiting, where they are already at a disadvantage.
Just look at Florida Atlantic, which unveiled these (surprisingly cool) chrome-red and -blue helmets back in March:
All chrome red lids for @FAUEquipment #uniswag pic.twitter.com/tyr3MG35AO

— Uniswag (@Uniformswag) March 15, 2014
FAU is also one of the biggest stories of the young recruiting cycle, having landed a commitment from 4-star running back and top-100 overall player (per the 247Sports Composite) Jordan Scarlett and placing ahead of Oregon, Virginia Tech, Ohio State, Washington and Stanford at No. 47 on the current 247Sports team rankings.
Do the helmets have everything to do with that? Of course not.
Florida is the ripest recruiting ground in the country, and new head coach Charlie Partridge knows the area well and is an excellent recruiter. Those are bigger factors than the helmets—no doubt.
But the chrome domes definitely don't hurt.
Which is why FAU isn't the only smaller school on fertile recruiting soil that is trying this tactic. Akron put out new chrome helmets as well:
Check out these new Akron gold chrome helmets. (Photo: @VRizz52). http://t.co/6zT5nnL80H pic.twitter.com/iNX1cJ2u8T

— Dr. Saturday (@YahooDrSaturday) April 1, 2014
As did Houston way down in Texas:
University of Houston's 2-tone chrome helmet... (Via @Uniformswag) pic.twitter.com/23Jz3hIC3n

— Stay Positive (@PReinforcement) March 25, 2014
And South Florida, which is coming off a disastrous 2-10 season and competing with the likes of FAU for the deep class of prospects in the Sunshine State, got creative with its usage of the chrome:
@JCLees Doin' It BIG! WATCH OUT IN 2014! pic.twitter.com/4dopKnKibN

— Stu Holt (@coachstuholt) January 25, 2014
Don't expect this trend to go away anytime soon.
Black For Black's Sake
Because it is ostensibly the most "menacing," "macho," "masculine" color, black jerseys are something many teams fancy—whether the shade of black is part of their school's color palate or not.
Paul Lukas of Uni-Watch.com has coined this phenomenon "Black for Black's Sake" (BFBS for short), and it has continued with many of the new uniform updates that will hit college football in 2014.
Take, for example, this new Arizona State Florida State kit:
New black uniform #FSU #Noles #Nike pic.twitter.com/JkPFcRYkF7

— Seminoles Recruiting (@FSU_Recruiting) April 11, 2014
Or this updated look at BYU:
BYU Blackout Football Uniform #FearTheGear pic.twitter.com/S1tSXQiECL

— Fear The Gear™ (@FearTheGear_) February 17, 2014
Or the clashing sleeves and shoulders that go along with the midnight-purple update at Washington (on the left) in addition to the traditional BFBS update the Huskies will sport (on the right):
No dog runs alone. The @UW_Football uniform redesign harnesses the speed of all 11 Huskies on the field. pic.twitter.com/QhXCNTZE4t

— Nike Football (@usnikefootball) April 18, 2014
Why does a team such as Florida State need a black uniform? It made sense, for example, when Georgia helped begin the "blackout trend" against Auburn in 2007, because the Bulldogs have black featured centrally in their logo. But the Seminoles only have the black in their logo's hair, and their Garnet home uniforms are iconic.
Why try to shoehorn in the "cool factor" when you're already cool?
This is not a new but expanding trend in college (and all levels of) football. It will continue creeping from niche to norm in 2014, leaving those who refuse to indulge in the minority.
And for that, we thank them.
Follow Brian Leigh on Twitter: @BLeighDAT