In its final preparation before the World Cup, Bosnia and Herzegovina handled Mexico, 1-0, at Soldier Field in Chicago on Tuesday night.
The Dragons looked far better for much of the night and were a bit unlucky not to add to Izet Hajrovic's first-half goal. El Tri, on the other hand, looked a bit lost trying to find cohesion with Juan Carlos Medina and Luis Montes sidelined with injuries.
As ESPN Stats & Info noted, this marks the first defeat for Mexico under its new head coach:
Mexico 1st soccer loss under Miguel Herrera (6-2-1)

— ESPN Stats & Info (@ESPNStatsInfo) June 4, 2014
Bosnia and Herzegovina were the better side immediately from the opening whistle. The Dragons overwhelmed Mexico in the midfield, creating a slew of chances in the opening minutes.
The only thing that was missing was the final product, but they were clearly outworking El Tri. ESPN's Janusz Michallik was among the many impressed:
Well, Bosnia-Herzegovina will be fun to watch and if they put it altogether that group maybe upside down.

— Janusz Michallik (@JanuszESPN) June 4, 2014
Mexico seemed to survive the onslaught after the first 20 minutes, though, and started looking far more dangerous on the counter. The best chance came in the 24th minute, when Miguel Layun swung in a long ball over the top of Bosnia's high-playing back line right to the feet of Javier Hernandez.
Chicharito brought the ball down with a brilliant first touch, but he sent his shot blazing off the post.
Play moved back and forth before Bosnia and Herzegovina would finally strike in the 41st minute. A nice piece of combination play freed the ball on the left side of the box for Sejad Salihovic, who sent a low cross weaving through Mexico's defense to Hajrovic.
From there, the 22-year-old Galatasaray midfielder knew what to do with it, slotting it home past Alfredo Talavera.
ESPN's Tom Marshall summed up the play from both sides:
Shoddy defending from Mexico, nice move from Bosnia. Mexico 0-1 Bosnia.

— Tom Marshall (@mexicoworldcup) June 4, 2014
The majority of the second half was pretty lackluster, but Mexico began to increase the pressure in the final moments. El Tri nearly tied things up multiple times, but several big saves from Asmir Begovic solidified the clean sheet and win for the Dragons.
While the end was encouraging for Mexico, Bosnia still deserved the victory thanks to the far more complete performance. A second straight friendly win over a World Cup opponent should establish some important momentum for Safet Susic's side.
Bosnia and Herzegovina's propensity to push forward and leave the backline vulnerable to a counter could be troublesome against Argentina's slew of attacking weapons, but it's clear that this squad is the favorite to finish second in Group F.
As for Mexico, Fox Sports' Kyle McCarthy summed it up:
Mexico improved in the late stages, but a decent final 15 minutes does not make a complete performance. Not good enough tonight. Work to do.

— Kyle McCarthy (@kylejmccarthy) June 4, 2014
Group A is wide open after Brazil, but Miguel Herrera has some work to do in the next 10 days finding the right combination of players.
Following the game Herrera commented on Bosnia's play, per ESPN's Tom Marshall:
Miguel Herrera: Bosnia is a solid team with good players, but not of gentlemen, of fair play like FIFA says.

— Tom Marshall (@mexicoworldcup) June 4, 2014
Player Grades
Edin Dzeko, Bosnia and Herzegovina: B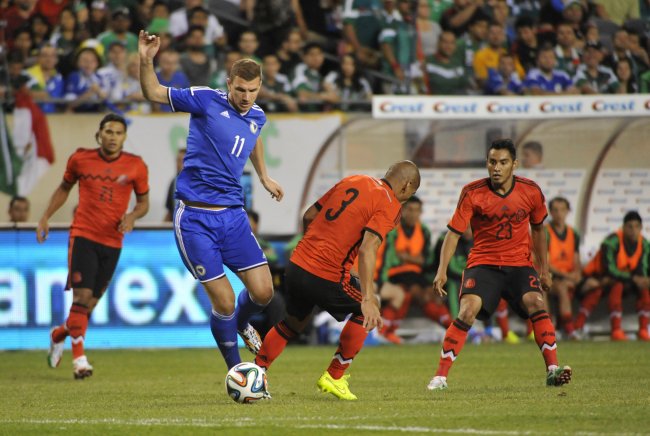 USA TODAY Sports
A gorgeous turn on one of the first meaningful plays of the game opened up a clear shot for Dzeko, and he went on to collect three chances in the first seven minutes. It looked like the Manchester City forward was going to give Mexico nightmares.
But he skied the last of those three chances—it was one he surely should have finished—and was pretty quiet for the rest of the match.
Miguel Layun, Mexico: B+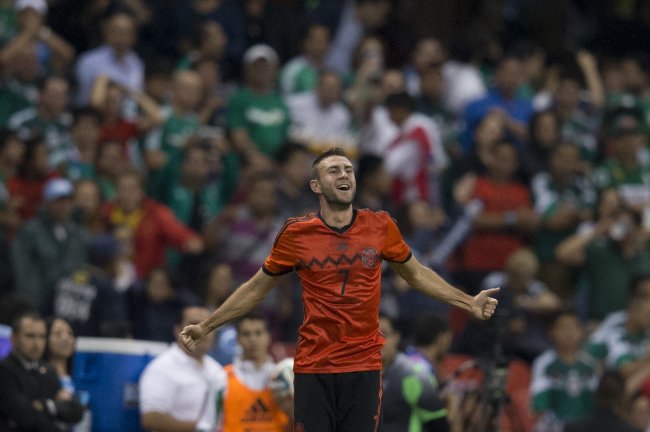 Eduardo Verdugo/Associated Press
In the third minute of the game, the 25-year-old Club America defender cut through Bosnia and Herzegovina's defense and delivered a grounded cross into a dangerous spot right in front of goal. Chicharito wasn't able to quite reach it, but Layun had set the tone for the kind of impact he was going to make.
He continually made long runs down the right side, delivered in another dangerous ball to Hernandez and served as Mexico's best player for much of the game.
ESPN's Tom Marshall put it simply:
Miguel Layun a major threat on counter-attacks. Will feature high up in oppositions' plans to stop this Mexico side.

— Tom Marshall (@mexicoworldcup) June 4, 2014