The 2014 NBA Finals between the Miami Heat and San Antonio Spurs begin on Thursday, and as the Vegas odds begin to be released, there are several interesting props to bet on heading into Game 1.
For all of the drama in this year's playoffs, the same two teams will be playing in the Finals that did last season. The Heat have now gone to four straight Finals since bringing in LeBron James and are looking for their third straight NBA title, but they'll have to get through the most established veteran team in the Association.
With the series set to start on Thursday, let's take a look at some of the latest Vegas odds along with predictions for what will actually happen.
Note: All odds are provided by Odds Shark.
Game 1 Winner: Miami at San Antonio (-3.5)
With the first game in San Antonio, the Spurs are a 3.5-point favorite to start the series with a win, but they may have a bit of trouble dealing with the Heat.
The biggest question heading into Game 1 for the Spurs will be how effective Tony Parker can be. The veteran point guard twisted his ankle in the last series against the Oklahoma City Thunder, but according to the Chicago Tribune, Parker said that he'll be ready for Game 1:
Today, I spend my days in treatment. But the good news is that I will play the first game of the Finals on Thursday against the Heat. I may not be 100 percent but I'll be there. In 13 years, I played seven conference finals and I have the chance to play my fifth Finals with Spurs. This is really great. I continue my dream, this is really something great.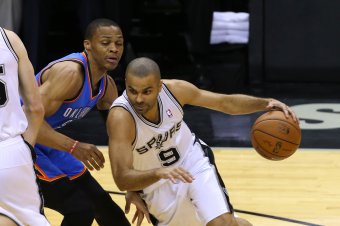 Chris Covatta/Getty Images
Parker is normally deadly, but if he's hobbled even a bit by the ankle, that could be a problem in this series. The Spurs depend on Parker to drive to the basket not only to score, but to open up the floor for the team's perimeter shooters. If Parker can't go inside as often as he usually does, then the Heat will have an advantage in the backcourt.
That backcourt advantage will be helped out even more by a revitalized Dwyane Wade, as he continues to play like he's back in his prime. He was deadly against the Indiana Pacers in the Eastern Conference Finals, averaging 19.8 points and 4.7 assists per game while shooting a very impressive 54.5 percent from the floor.
If Wade can outplay Parker in Game 1, then the Heat should be able to walk away with a win in the first game assuming that LeBron James doesn't have an off night.
Prediction: Miami Heat win 95-90
Odds to Win Series
Heat: 10-11
Spurs: 10-11
Both teams head into the Finals with identical odds to win the series, and given how close last year's series was, it makes sense to have the two so close.
With their backs against the wall in Game 6 of last year's Finals, the Heat were able to come back and eventually win the series in seven games. The series went back and forth throughout, with each team getting convincing wins early before the series started to heat up in Game 5.
This year's Finals will be filled with plenty of intensity, as the Spurs feel like last year's title was stolen from them. Bleacher Report's own Kevin Ding tweeted the following quote from Tim Duncan, who appears very motivated to take down the team that kept him from winning his fifth NBA title last season:
Tim Duncan: "We're happy that it's the Heat again. ... We've got that bad taste in our mouth still."

— KEVIN DING (@KevinDing) June 1, 2014
Even at 38 years old, Duncan will be a major factor in this series against a weaker Heat frontcourt. This postseason Duncan has averaged 16.5 points and 8.9 rebounds per game. As ESPN Stats and Info points out, his 51.3 field-goal percentage is this highest he's had in the playoffs since the 2009-10 season:
Tim Duncan is shooting 51.3% from the field so far this postseason, the highest playoff FG pct for him since 2009-10 (52%).

— ESPN Stats & Info (@ESPNStatsInfo) June 3, 2014
While the Spurs have players like Duncan and Parker, they don't have the transcendent player that the Heat have in LeBron. It'll be a close series throughout, but with LeBron on the court, it's hard to see the Heat failing to three-peat.
Prediction: Heat win series 4-3