With the 2014 Belmont Stakes post draw set for Wednesday, the early odds for Saturday's race feature a few obvious favorites, but a sleeper or two might find their way into the money during the final leg of the Triple Crown.
The post positions will be key for the long race, as the inside horses tend to do much better than those on the outside. According to Belmont-Stakes.info, 23 winners have come from the No. 1 post, the most by a considerable margin, with the No. 2 and No. 3 spots picking up another 24 combined wins.
Before the post positions are officially set, let's take a look at the latest Vegas odds and predictions based solely on each horse's skill rather than positioning.
2014 Belmont Odds
2014 Belmont Odds

| | |
| --- | --- |
| Horse | Odds |
| California Chrome | 11-10 |
| Ride On Curlin | 11-2 |
| Commanding Curve | 15-2 |
| Tonalist | 15-2 |
| Wicked Strong | 17-2 |
| Medal Count | 16-1 |
| Social Inclusion | 20-1 |
| General A Rod | 22-1 |
| Samraat | 22-1 |
| Commissioner | 33-1 |
| Matterhorn | 33-1 |
| Matuszak | 50-1 |
Odds Shark (as of 6/3)
Predictions

Show: Samraat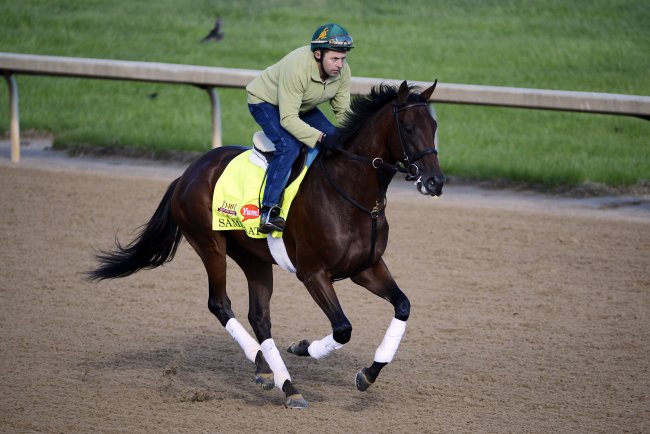 USA TODAY Sports
An incredibly hot start to Samraat's career has cooled down a bit over the past couple of months, but that doesn't mean this horse will have any trouble staying near the front of the pack at the Belmont.
Samraat started his racing career with an impressive five straight wins, including a pair of Grade 3 wins at Withers and Gotham. He then came in second at the Wood Memorial in April before finishing fifth at the Kentucky Derby.
In the longest leg of the Triple Crown, stamina will be the most important aspect of the race. With Social Inclusion likely not competing on Saturday, the softer pace will benefit Samraat along with a couple of other horses, as Jeff Siegel of HRTV points out:
With Social Inclusion not likely for Belmont, pace scenario just got a whole lot softer. Samraat, Tonalist, & California Chrome benefit.

— Jeff Siegel (@HRTVJeff) June 2, 2014
While he doesn't come into this race as one of the favorites, Samraat should be able to stick with the front of the pack and potentially pull away down the final stretch to finish in the money.
Place: Commanding Curve
Commanding Curve didn't get a lot of love heading into the Kentucky Derby, but anyone who put money on the horse was likely quite happy after his surprising finish at Churchill Downs.
At the start of the Kentucky Derby, Commanding Curve was near the back of the pack. However, because of his solid endurance, the horse was able to surge all the way up to second by the end of the race, finishing behind California Chrome. It may have taken the horse four races to break his maiden, but his constant improvement since doing so bodes well for Commanding Curve.
With a couple of workouts in heading into the Belmont, trainer Dallas Stewart is feeling good about his horse's stamina in the 1.5-mile race. "I've never seen him work any better," Stewart said on Sunday, according to Jennie Rees of The Courier-Journal. "He came back not blowing. That's the thing about him: He never gets tired."
A long race like this one will give Commanding Curve an edge over a number of horses in the field, but even that might not help him take down the potential winner.
Win: California Chrome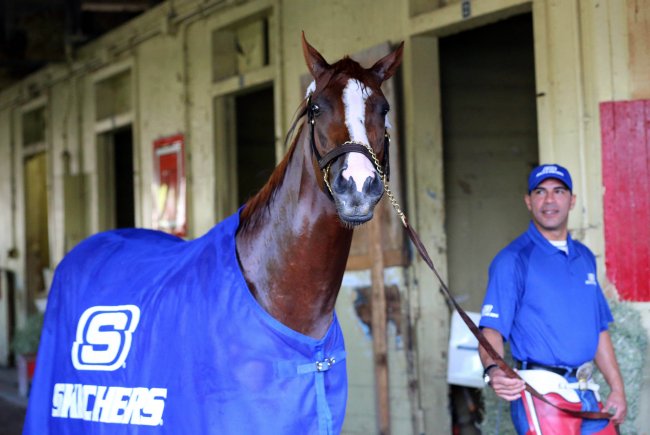 USA TODAY Sports
No horse has won the Triple Crown since Affirmed did so in 1978, but since no one has yet proved capable of taking down California Chrome, I'm taking the horse to make history this weekend at the Belmont.
With 12 races under California Chrome's belt so far, the horse has already won eight and finished second in one other. Even more impressive are his six straight victories, as California Chrome has been simply unstoppable, dominating the competition on even the biggest stages.
According to Melissa Hoppert of The New York Times, California Chrome had an impressive workout on Saturday that had everyone talking. "He's ready, he galloped out great, exactly what we wanted today," assistant trainer Alan Sherman said. "I'm confident in this horse and always have been."
It's hard to count against a horse that hasn't lost since November, especially one that has done so in such dominating fashion. It may be the popular choice, but that's because it's probably the right one, as California Chrome looks like he's ready to make history.