New York Giants: The Five Things To Watch in 2009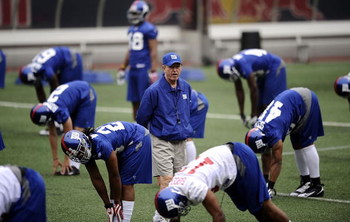 Let's face it, there is more going on with this team than plugging the hole left by Plax.
Going into the 2009 season, the Giants look like they could be in a position to collect another ring. But being a Giants fan, I know that its still way too early to make those predictions—more than a dozen games too early, actually.
But, there are a few things that I'm keeping a close eye on, and if the Giants perform admirably in these areas, I am confident that they will be in a good position to reign supreme again.
Eli Manning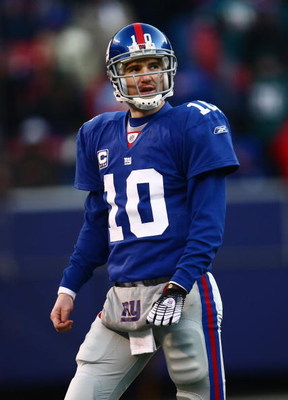 This topic is beaten to death, so I won't spend long covering it. But, the truth remains: The Giants need Eli to step up his performance.
I'm a huge fan of No. 10, mostly because he brings an intangible quality to the table that I believe helps the Giants in ways that most critics don't concede: his quiet, persistent, and non-egocentric personality keep the ship sailing smooth in the turbulent New York environment.
He doesn't need to put up Peyton-esque numbers to be a success. Eli really just needs to work on settling down, and not forcing throws out of desperation (at least, that's what it looks like on TV).
The Team Mentality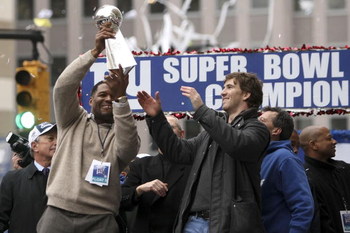 One of the most noticeable changes to the Giants, aside from roster moves, has been Coughlin's [successful] implementation of the "team first" model.
It was undeniably evident during the 2007 incident, and perhaps more subtly so in the relative lack of turmoil during their late 2008 decline. If Tiki or Shockey had still been on the team in January 2009, the New York press would have been rolling in juicy quotes that could divide the locker room.
If the Giants remember that they're really playing for each other, then their battle will already be half won.
Ahmad Bradshaw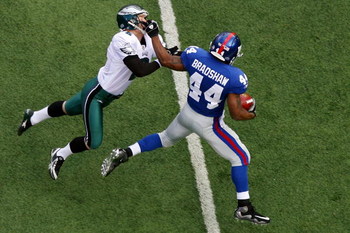 As I saw No. 44 racing down the field in the snowy win at Buffalo in 2007, the game that clinched a playoff berth for the Giants, I thought the coaching staff would realize they had something special in Ahmad Bradshaw.
His performance throughout the postseason, even more incredible given his rookie status that year, seemed to mark him as a rising star.
And then came the 2008 smashmouth season that featured the dual 1,000-yard backs of Brandon Jacobs and Derrick Ward. With their success, Bradshaw averaged only 4.5 attempts per game over 15 contests.
Now that Ward is gone, we need Bradshaw to step up and fill his role of taking advantage of defenses late in the game, after they've been pushed and prodded by Jacobs and the Giants O-Line.
If he can't do that, and show us the talent that displayed in 2007, the diminished ground attack will affect the rest of the team's performance.
The Front Four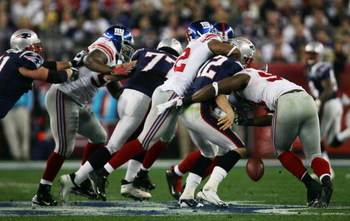 The 2009 squad's defensive line is filled with enough quality starters and backups that, at least on paper, should be enough to absolutely suffocate opponents' offensive plans.
With two Pro Bowl ends (Osi Umenyiora and Justin Tuck) this looks like it will be a fun group to watch.
Of course, there are also the often overlooked tackles—Fred Robbins and Barry Cofield—who are coming back after a stellar season. While both are going through slight injury problems during the offseason, the influx of new talent during free agency should be enough to lock down that position.
If the DE's and DT's can put things together this year (and stay healthy), the less-stellar backfield (especially the LBs) will not be a great burden for the team. Plus, those of us at home may be treated to another season of Big Blue leading the sacks column.
Bill Sheridan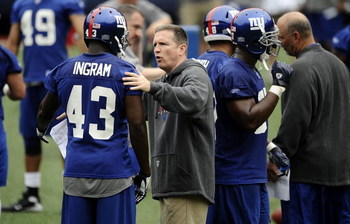 It wasn't until Week Three in the 2007 season when Spags' illustrious unit stepped up against Washington, and showed fans that "New York Giants" is still synonymous with "defense," that we knew the season could be special.
The biggest question on my mind going into the season is this: Can new defensive coordinator Bill Sheridan measure up to Spags? He has said a number of times that his schemes will be very similar to those from the last two seasons, but there is more to the equation than just the coaching plans.
For one thing, Sheridan has already stated that he will be coaching from the booth. Call me superstitious, or as Eli might say, "a little -stitious," but I'm nervous about what will happen without that leadership presence on the sidelines that we always got from Spags.
Keep Reading

New York Giants: Like this team?